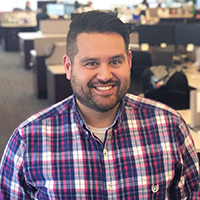 ---
3 Alternative Avenues to Acquiring New Technology
At GreatAmerica, we consider financing incredibly important for you and your customers, however, we understand there are several options available to your customers for their technology acquisition. In this short blog, we equip you for conversations with your customer by providing education around the available choices.
Avenue #1: Leverage Cash Reserves
Utilizing on-hand cash is a common strategy for equipment acquisition. There are obvious benefits assuming that your customer already has the cash on hand, ready to be put to work by purchasing a new, much-needed technology solution. But is it the best use of their funds?
It's true that financing does come with a cost, but if you're able to leverage a monthly payment to see a higher return on investment and free up monthly cash, it's important to examine if that would make more sense for them.
Your customer's operation, like many others, has goals each year – maybe adding two new outside sales people, a new marketing resource, and a new accounting platform top the list for them. At the same time, their network infrastructure needs to be updated. Depending on your customer's cash reserves, they'll have to choose: network upgrades or moving forward on key initiatives. Why should they have to choose? This scenario is where an affordable and convenient monthly payment option come to the rescue.
Avenue #2: Utilize a Bank Loan or Line of Credit
Working with a traditional bank towards equipment acquisition is another option. When an organization has an established relationship with their local bank, it's not difficult to get a business loan or line of credit. However, during that process, collateral is often required, such as the owner's personal assets or guaranty. Download this PDF to compare a loan to a lease or cash.
Time is another key factor to consider when seeking a loan from a bank. It can take months before funds are available, even with perfect credit.
When speaking with the CFO of a heating and cooling company recently, we were comparing GreatAmerica's monthly payment solution to that of a traditional business loan or line of credit. I suggested that businesses face various challenges and opportunities throughout the years and that the financial solution will vary depending on each situation. That same CFO provided this as an example: a business line of credit is something to leverage when your revenue team brings in a large opportunity. You may need to order extra materials, hire new staff or purchase specific software to onboard a new customer. This is a perfect time to use your business line to capture the opportunity, pay off your suppliers and employees, and pay back the line as the opportunity comes to fruition.
RELATED: What is the Difference Between a Lease and a Loan?
Avenue #3: Seek Out a Finance Company
You have choices as you seek out finance solutions for your customers. Before committing to a financing partner, we recommend you understand how GreatAmerica is different than other leasing companies, and ask yourself these seven questions.
When evaluating the best fit, there are many factors that impact both you and your customer. You need a finance partner who represents your company well, while simultaneously providing you with the resources you need.
RELATED: What Your Customer Can Expect Upon Saying "Yes" to GreatAmerica
No one wants to see unexpected charges on their invoice. How transparent is your finance partner around charges being invoiced to your customer? There should be no mystery around financing. One of the biggest questions we get is around pricing and fees for financing, so we wrote a blog detailing exactly that: What Fees Should Your Customer Expect on Their Technology Lease or Rental?
Does your finance partner provide expectations in writing? GreatAmerica was founded on principles that lead us to operate a little differently from other finance companies. Our mission is to "help our customers achieve greater success." We do that by delivering finance solutions that help Managed Service Providers, Unified Communications Providers, System Integrators and other Technology Solution Providers stand out from their competitors. While other finance companies may look solely at the end-user as their customer, GreatAmerica focuses on helping you grow through a mutually-beneficial relationship. And yes, we provide expectations in writing.
RELATED: Why Does GreatAmerica Need to Approve You, the Technology Provider, too?
Do What's Best for Your Customer
At the end of the day, both your goal, as the Solution Provider, and ours, as the Financing Provider, are to best serve the customer. One size does not fit all. Proactively ask questions to understand your customer's current circumstances. Work diligently on providing them a solution that will increase efficiency, productivity, and ultimately the quality of their work life – through a bank loan, cash, or a finance lease with GreatAmerica.
Need additional help to educate your customers on their options? Reach out to us – we'd love to help!
Mike Langfald
Mike Langfald is a Director of Business Development in our Unified Communications & IT Group at GreatAmerica, focusing on Solution providers across the Southeastern United States. Mike dedicates his time to helping partners achieve greater success by building recurring revenues through customized solutions. He came to us in 2013 as a Vendor Relationship Manager in our Office Equipment Group after almost 18 years in retail management and graduating from Iowa State University with a degree in Management. When he is not at GreatAmerica, Mike enjoys smoking meat, cheering on Chicago sports, nerding out on the latest superhero movie, and spending time with his family.