---
At GreatAmerica, You Are Essential
A company comes to life through the words and actions of their people. To create a specific and unique environment, great care and organizational design are critical elements for culture to align and flow through the people.
Turning a Vision into Reality
From the beginning, GreatAmerica's founder, Tony Golobic, was passionate about creating a place unlike any other. A place where customers and team member were treated fairly. He wanted people to have no boundaries on what they could achieve and no limits on their potential. GreatAmerica was designed to maximize human flourishing so that flourishing would pour into their work and others with whom they worked.
In the organizational design, core processes were created to enable this success. Tony envisioned many ways to produce the optimal environment. From the way people are hired, developed, and rewarded all processes reinforce the same core of how GreatAmerica operates: with integrity, hard work, and excellence.
The Team-Based Structure
Above all, one of the ways GreatAmerica has been able to produce such strong performance results year over year for the last 27 years, is the team-based concept. Every single role in the company is positioned to critically impact performance outcomes. What does this mean exactly?
By organizing employees into a small, team-based structure, each role becomes critical – you are a core, contributing member of the team and have increased accountability and empowerment to provide an exceptional customer experience. This type of structure may be slightly less efficient than that of a functionalized organization, however it directly and positively impacts the company culture by creating an environment where everyone is rowing in the same direction. The teams row diligently, with excitement and enthusiasm toward a future they can see they are an important part of. Efficiency is a small price to pay for exceptional delivery of experiences. Because of the team-based structure, every team member experience first-hand just how they are an essential piece of GreatAmerica.
Our mission at GreatAmerica is, "We Help Our Customers Achieve Greater Success" and we have ten core principles we live by, in word and deed!
We deliver on our commitments and provide excellence.
We are solution driven, tenacious, and rise to the occasion.
We live our values with utmost integrity.
We trust and treat each other with respect.
We build enduring relationships and are committed to mutual success.
We create an environment conducive to greatness and to a positive image of GreatAmerica.
We celebrate successes, share rewards, and make time for fun.
We continuously enhance value through innovation and improvement.
We look at the whole picture.
We create opportunities for growth and take charge of our future.
When asked how team members within each function lives these values and the impact of doing so, the answers were swift and crystal clear: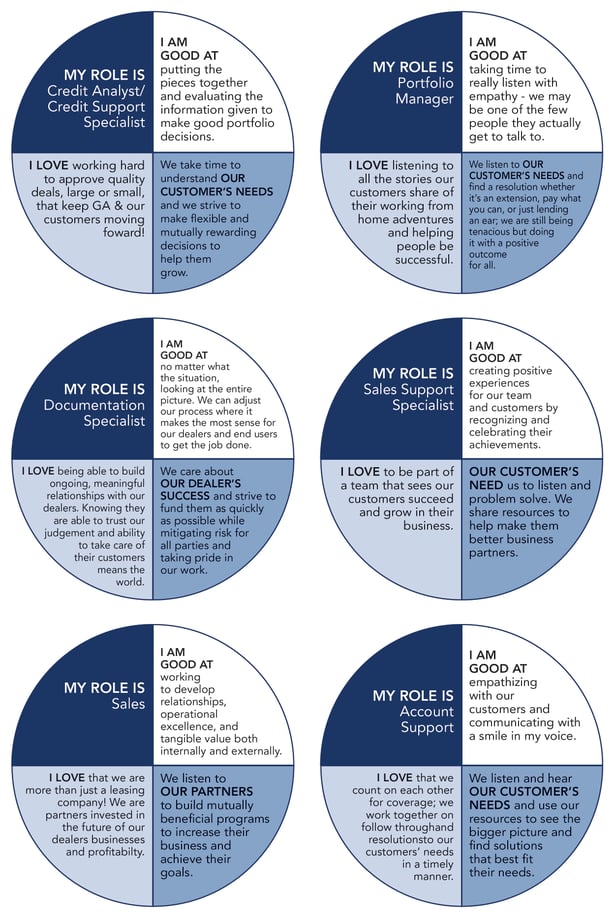 Find Your Opportunity to Shine
In the upcoming weeks, we will spotlight one function and share various perspectives on how team members within that function make a difference to their customers, team members, and yes, even the world.
We hope this encourages those team members, because they are truly amazing at what they do. If you are looking for a place to shine, to make your mark, and to be an essential part of something bigger than yourself, perhaps we might be the place for you, too!
Check out our GreatAmerica Careers page at https://www.greatamerica.com/careers.
GreatAmerica
GreatAmerica is the largest independent, family-owned national commercial equipment finance company in the U.S. and is dedicated to helping manufacturers, vendors, and dealers be more successful and keep their customers for a lifetime. A $2.5+ Billion company with life-to-date finance originations of over $14 Billion, GreatAmerica was established in Cedar Rapids, Iowa in 1992 and has a staff of over 600 employees with offices in Iowa, Georgia, Minnesota, and Illinois. In addition to financing, GreatAmerica offers innovative non-financial services to help our customers grow.