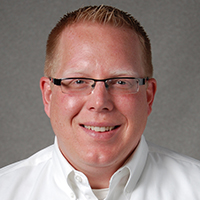 ---
"Can You Just Work Directly With My Client?"
Understanding Why the Three-Sided Relationship is Important
When working with technology companies new to leasing, they often ask us to work directly with their client. Similarly, they ask how the referral program works when referring their clients.
Our approach may be slightly different than traditional financial institutions and we'd like to show you why we value the three-sided relationship and how it helps you maintain an important relationship with your customers.
No, we don't just take referrals. Here's why:
We don't just take referrals and work directly with a customer because GreatAmerica is unlike a traditional bank that has loans available for any business need. Instead, we work with resellers of equipment or technology, provide financing solutions and help them sell more. This keeps our priority on assisting our customer (the Solution Provider) while instilling a sense of trust that we will treat their customers with the same care and professionalism that they do.
Related: What is the difference between a lease and a loan?
Yes, we will work with your clients, but here's how:
Where does that leave you if you aren't prepared to talk about the ins and outs of the financing process? No problem. We can communicate directly with your customer to explain the financing process or a credit decision. Spoiler alert: we keep it super simple.
Related: What is the finance process?
What advantages can you expect when you lead with a monthly payment option?
We encourage Solution Providers to stay involved with the customer at all stages of the sales process – even the financing part. This helps to expedite decisions, maintain urgency, and avoid a competitor sneaking in. It's also shows your customers that you care about establishing a long-term relationship with them.
Related: When to Introduce Financing in the Sales Process
Advantage #1: Hang Onto Your Customer Base
When your customer opts for a monthly payment option as a method for acquiring their technology, as their Solution Provider, you create "customer stickiness." Rather than struggling to support a customer who is simply "getting by" on their existing technology solution, you help prepare them for a perpetual technology experience on a predictable monthly budget. You also have the opportunity to offer three options at the end of term:
Renew – continue using the equipment for an additional period of time, given it is still fully functioning and supportable;
Refresh – hang onto some of the technology, but upgrade a portion of the fleet due to obsolescence or additional business needs; or
Upgrade – replace the entire solution with brand new technology.
Related: How I Created a Perpetual Technology Budget for My Customers
Advantage #2: Build Trust with Your Customer Base
By investing time to ensure you are presenting them the best option(s), you illustrate that you are dedicated to finding the best solution for your customer and become their trusted advisor. Working with your finance provider to build a program that best fits your equipment or technology offerings demonstrates a strong desire to help clients find greater success.
Related: Five Reasons Your Customer Resists Financing
Advantage #3: Standardize Your Sales Process
Your involvement and understanding of your customer's finance program grants you the ability to create a payment solution that caters to your sales process and objectives. Again, the biggest benefit of having a portfolio of customers that have financed their solution is your ability to help manage their monthly technology budget. By you driving a customized finance solution that was developed around your own sales objectives you have gained the ability to manage your customer's IT solution for the long term. You are not only catering to their immediate needs with a simple acquisition sales model.
This approach can be applied across your sales team to ensure a simple, effective method of winning deals.
Let the monthly payment be a strategic tool in your sales tool belt!
It is important for your long-term business success to drive as many of your customers to a monthly payment as possible. We commonly see over 50% of end users on a lifecycle management-type program opting to upgrade at the end of their term. This generates a new sale for you, provides a predictable budget number for your customer to plan on, and gives them the assurance that the technology will continue to be fully supportable. The result? Everyone is happy.
Related: Why Leading with a Monthly Payment Provides Value in Any Economic State
Mark Conrad
Mark Conrad is a Vendor Relationship Manager for the Communications and Data Group at GreatAmerica Financial Services. He focuses on developing strong relationships within the technology space, educating new partners and creating programs that drive reoccurring revenues and strengthen their long term business strategies in an ever changing market space. Mark has been a member of the GreatAmerica team for over 5 years, developing relationships with GreatAmerica Partners in both the Healthcare and Technology markets. Previously, Mark worked within the Healthcare industry as a orthopedic device sales representative.