---
Creating a Successful Onboarding Plan to Train – and Keep – New Hires
You've set up the job posting, recruited, interviewed, narrowed down your list of applicants, and have finally extended an accepted offer to your top-rated candidate. The hard part should be over, right?
In today's competitive hiring market, securing a qualified candidate for a job opening is only half the battle. From the moment of acceptance, priming your new hire for assimilation into their new role – and their new company – may determine their tenure and success.
Creating a welcoming, engaging, and intentional onboarding process establishes the foundation any employee needs to thrive. Through tactful actions and conversations, your employee will blend seamlessly into their role and avoid the dreaded hiring treadmill.
Onboarding Starts Prior to Day One
Once you've hired a new employee, it's important to welcome them into your company before they walk through the doors or log in their first day of work. As exciting as it may be to start a new job, entering an unknown environment can be intimidating and many new employees still feel ties to their old workplace.
Encouraging your existing team members to reach out to new hires prior to their first day on the job creates a welcoming environment your new employee looks forward to joining. Sending a card, note, short video, or a quick phone call demonstrates you're excited for this new hire to become a part of your team.
The more opportunities your new hire is given to form personal relationships within your company, the more likely they will be to see themselves as a part of your team. Small actions may make all the difference in getting a new hire in the front door before a competitor can sway them into a different role - leaving you back at square one. Onboarding sets employees up for success and serves as a defensive measure to keep them away from the competition.
Intentional Onboarding is More Than a Checklist
Many onboarding processes focus on getting the new employee set up as quickly as possible rather than investing time in getting the employee acquainted with their role, the company, and its culture. A structured onboarding process that directly serves new hires increases employee retention. In turn, you'll spend less time and money hiring.
According to Gallup Research, employees with an exceptional onboarding experience are 2.6 times as likely to be extremely satisfied with their place of work.
Successful onboarding programs share company knowledge and allow the new hire to demonstrate what they've learned. Discern what information is critical for your new hire to learn about your company and be best prepared to take on their new role. Ask yourself: What do you want your new hire to do successfully at the end of their onboarding period? What do they need to accomplish?
It's important to have a solid foundation when building your onboarding process. Consider all the things a new hire needs to know as the, "Building Blocks to Success" (BBS). Align your onboarding plan with each building block, then create a detailed plan that maps out your training sessions, goals, activities, and projects to demonstrate knowledge learned.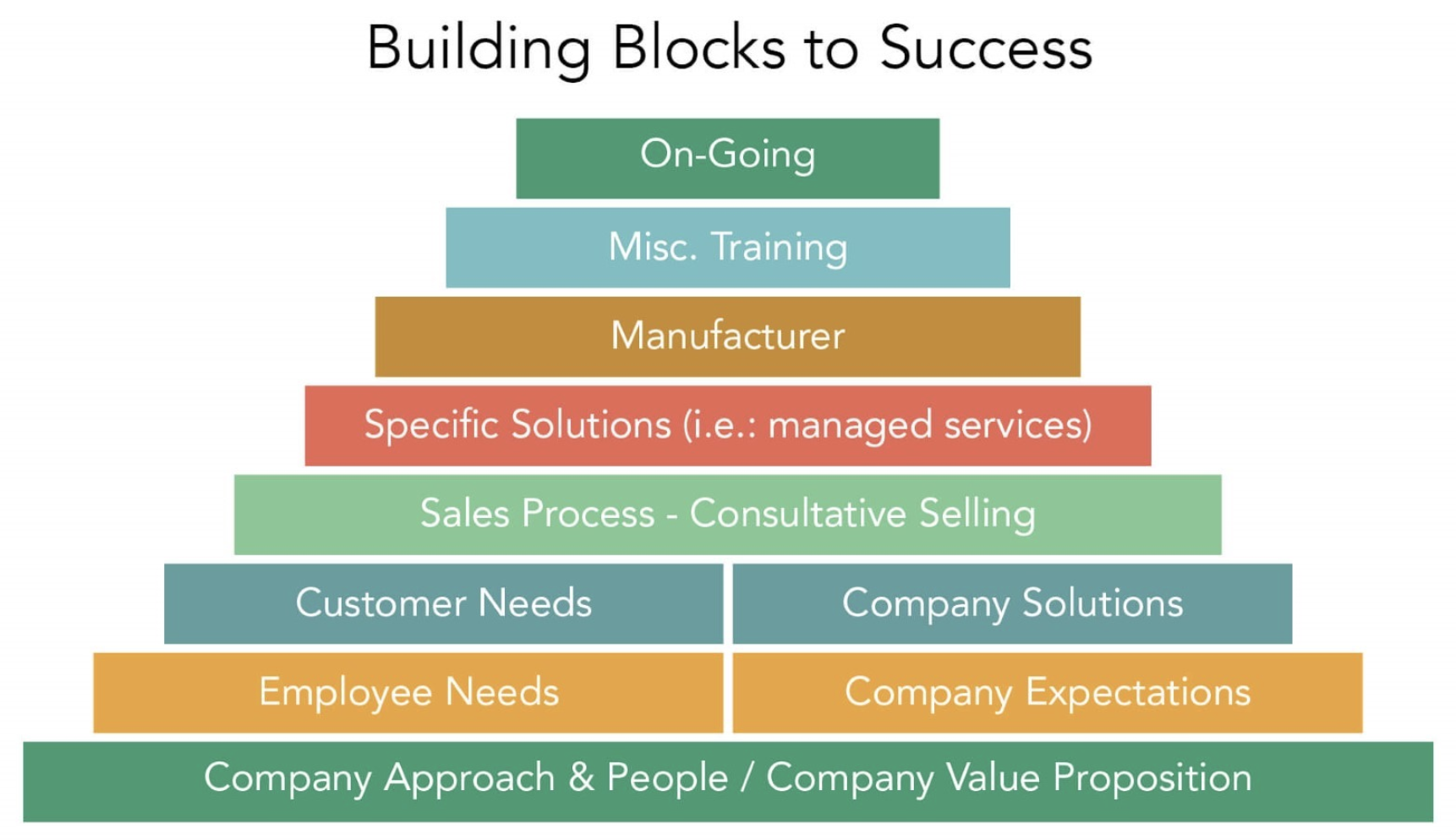 Your onboarding training should start with general company information and become more specialized as your new hire gains exposure and background knowledge on relevant topics. You can't expect an employee to understand how to address customer needs without first understanding your company approach. The full plan should demonstrate all an employee learns throughout the onboarding process.
Identify the best employee ambassadors to speak on each building block - they create the best new hire experience. Instructors for each block should not only teach new hires the information, but also coach on applying the block in the workday.
In addition to providing your new hire with formal company knowledge and skill-related training, ensure they're provided with the "unwritten rules" of your company. This may be what to expect in the office, company attitudes and responses to customers, or workplace traditions. Think about things you wish you would have known when you started at your company or things others shared with you when you started. Ensure your new hires understand and feel comfortable adhering to company culture.
"One of my favorite parts of the onboarding experience was the stories and videos that helped me see company culture in action." – Sylvia Clubb, Marketing Intern at GreatAmerica Financial Services Company
Beyond Onboarding – Conduct Regular Stay Interviews
The key to maintaining effective onboarding processes is continual review. As your business evolves, information and trainings included within your onboarding process should also change. Ensuring you're giving your employees (and your business) effective onboarding and follow up gives you both the best chance for success.
After completing the onboarding process with your new hire, start integrating semi-annual stay interviews into their schedules. These purposeful conversations discern what's important to individual employees and how your business can best serve their professional goals.
GreatAmerica
GreatAmerica is the largest independent, family-owned national commercial equipment finance company in the U.S. and is dedicated to helping manufacturers, vendors, and dealers be more successful and keep their customers for a lifetime. A $2.4 Billion company, GreatAmerica was established in Cedar Rapids, Iowa in 1992 and has a staff of over 600 employees with offices in Iowa, Georgia, Minnesota, and Illinois. In addition to financing, GreatAmerica offers innovative non-financial services to help our customers grow. www.greatamerica.com