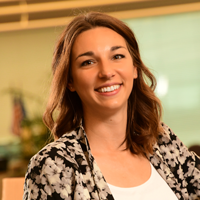 ---
Prospecting: Three Strategies to Gather New Leads
Win Sales Using Financing and Marketing
Last month, we sat down (virtually) with a few of our Technology Provider customers to gather feedback on what it's like operating in a post-pandemic environment. The topic of prospecting came up – specifically the challenge balancing the business focus from simply staying afloat to finding new ways to engage prospects who are clinging tight to their available cash.
Offering a monthly payment alone significantly benefits companies with scarce resources. I wanted to also offer some strategies on the marketing front when it comes to prospecting.
Three Strategies for Securing Net New Business
So what are the things you can do today to kick start your lead generation efforts? Capitalize on these three marketing strategies to capture new customers in need of the solutions you offer.
Strategy 1: Position Your Business as a Team of Experts
What would it mean to your business if you could walk into prospective businesses that already knew what you did, liked your business and trusted your abilities? Earning trust should be one of the objectives of your marketing efforts. You can do that in two steps:
Share Helpful Information
When you share useful information, potential clients see your company as more than a sales organization. Make an effort to capture the most frequently asked questions about the services you offer, and build trust with future customers by answering these questions on your website. One example of useful, helpful information you can share with clients is this free end-user flyer, which you can download and brand as your very own.
Get Endorsed by Current Clients
As you grow your business, endorsements are critical to building the trust you need. Put case studies and testimonials on your website, and ask your customers to provide reviews on search engines and sites where prospects might find you.
Strategy 2: Gather Leads
Once you are on your way to building trust in your community, you'll need to gauge the interest of the people who have expressed a need. Think about your prospects in two categories: prospects and existing clients.
Prospects
Once you've grabbed the attention of the prospect, make sure they can tell you they are interested:
Put clear calls to action on your website. Visitors to your website should have an opportunity on every single page to raise their hand and ask for more information.
Utilize Search Engine Optimization (SEO). Your clients will do their research – make sure they can find you.
Build website landing pages. Employ "mini websites" focused on one topic geared toward a specific call-to-action.
Existing Clients
Never underestimate the power of your existing base of clients. According to Bain & Company, it costs anywhere from 6-7 times more to gain new customers than to retain an existing one. Expose clients to new opportunities by talking about new products and services during support calls, and ask them to fill out surveys or provide feedback to gauge interest.
If you currently offer a monthly payment option to clients through the help of GreatAmerica, you can access your full portfolio in our portal, Info-Zone. This platform offers several reporting capabilities, one of which being the Contract Expiring Report. Stay on top of those customers nearing the end of their finance agreement to ensure they are as excited about acquiring a new tech stack as you are to provide it to them.
Related: [Webinar] Sharpen Your Tech Refresh Strategy
Strategy 3: Create a Practical Action Plan
To get the most out of the first and second strategies, you'll need to create a plan to keep you on track and accountable to generate leads. Here are four critical steps to create a marketing action plan:
Identify and document how your marketing strategy will back up your business goals.
Find out what kinds of information your customers and prospects want to hear from you.
Set up an online marketing ecosystem that includes a blog, social media, landing pages, emails, etc.
Create a calendar to keep track of all of the content and timing of posts.
Along with the marketing action plan, ensure you're following a consistent sales process to engage with interested leads. If you don't have anything in place today, you're not alone. This is why we've paired up with CharTec to offer a two-day seminar to empower sales teams to fill the pipeline, justify the cost, and overcome objections to close more deals. Learn more about Sales Simplicity Seminars here.
Your Future Customers Need You – Go Find Them!
If you are motivated to kick start your marketing plan and begin gathering leads, take advantage of not only this blog, but the below resources we are happy to provide for you:
Although a great deal has changed in both the industry and economy in the last 12 months, one thing remains the same: businesses need your productivity-increasing technology.
Are you on the fence about starting a relationship with GreatAmerica? Reach out to us, and we can have a short conversation on what the first step looks like.
Jackie Schmid
Jackie Schmid is the Director of Strategic Marketing of the Unified Communications & IT Group at GreatAmerica Financial Services located in Cedar Rapids, Iowa. Jackie is responsible for building brand awareness and gaining strategic relationships through creative marketing. Prior to joining GreatAmerica, Jackie worked in the TV News industry as a producer and executive producer at the local CBS and FOX stations where she helped shape the programs delivered to the market. Jackie's finance career began in 2011 when she joined GreatAmerica to support the sales team serving the Office Equipment space.