---
Signaling the End to Sticker Shock Managed IT Services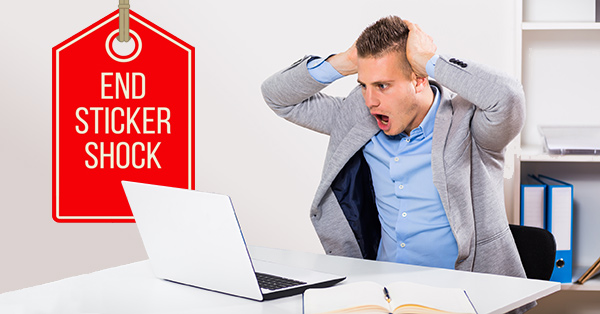 Office equipment dealers have been looking for ways to diversify revenue with adjacent solutions to offer their customers. Software and Managed IT solutions have jumped to the top of that list. (Read mo
re about software in a recent post by Mitch Leahy.) As dealers grow in these offerings, we hear their concerns about upfront costs being too expensive. Some say it could take a year for one contract to breakeven. There is also a fear that money will be left on the table. I can tell you that's not the case!
Our sister business unit conducted a survey of their solution providers who sold Hardware as a Rental® (HaaR®) similar to an As-A-Service model. With HaaR, GreatAmerica pays you upfront, easing the burden on your dealership's cash flow. The survey results show that those selling HaaR® were able to overcome the sticker shock of combining IT hardware, software, installation, and service by combining it into a manageable monthly payment option. Read more about how they're able to close deals easier, enhance their cash flow, and create higher margins.
(Originally posted by Stephanie Steimel on the Unified Communications and IT Blog.)
We commissioned a survey last quarter to gauge how much of an impact monthly payment models, similar to As-A-Service, were having on technology businesses and if it's worth changing your model to adopt it. The 200 partners in our survey responded with a resounding YES: Hardware as a Rental® (HaaR®) and other monthly payment approaches that combine hardware, software, installation and services into one invoice are helping sales AND margins.
Here's what Solution Providers like you say are the top benefits:
In a nutshell, Solution Providers say it's easier to close deals, and that the frequency, size and margins of their deals have all increased when they offer financing. By leading with a single monthly payment price, their customers don't experience the sticker shock that leads to negotiation. Instead, the customer sees a monthly recurring payment they can fit into their budget, making it easier for them to say "Yes" and for you to close the deal.
"The rental program is perfect for our market place. We are winning deals because of GreatAmerica!" – Mark Machan, Division Manager at VIP Technology Solutions
HaaR gives you the power to offer an As-A-Service model to your customers without the financial risk. Our Solution Providers report larger transaction sizes because adding on hardware or services is easier when it's only an additional $X per month.
"Since working with GreatAmerica, we get better sales margins and our cash flow has improved tremendously." – Brian Hawk, Senior Executive at Vertical Communications
If you're ready to start achieving your company's potential, then reach out to us to learn more about HaaR or visit our Resources Page to learn more.
This may seem new to the office equipment industry, but we've been doing HaaR for a while at GreatAmerica. Make Managed IT easier for your customers!
GreatAmerica
Founded by CEO Tony Golobic in Cedar Rapids, Iowa in 1992, GreatAmerica is a $2 billion national commercial equipment finance company. GreatAmerica is dedicated to helping manufacturers, vendors, and dealers be more successful and keep their customers for a lifetime. GreatAmerica is family-owned and provides financing, third party portfolio servicing, and niche market-focused services in all fifty states and several U.S. Territories and has a staff of over 500+ employees with offices in Iowa, Minnesota, Missouri and Georgia.