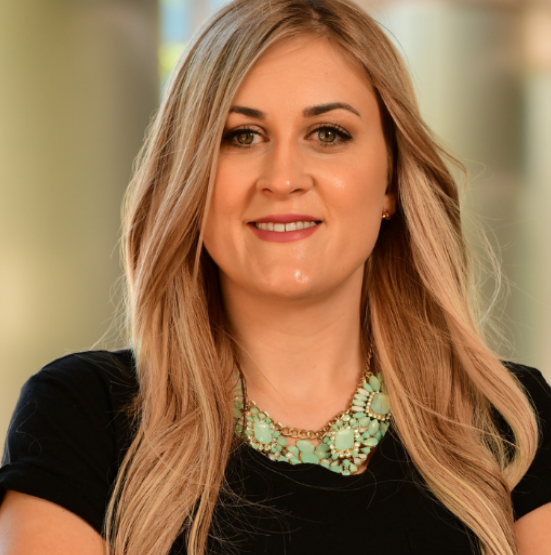 ---
Selling IT with Technology Financing – Q&A
During our recent webinar focused on selling Information Technology (IT) solutions, Nick Von Ahsen from our Office Equipment Group and Lee Rozeboom from our Connected Technology Group answered pressing questions about selling IT with a monthly payment and the challenges you may encounter doing so. Vice President of Corporate Sales Operations Lindsay Bohon, facilitated the session. During the webinar, Nick and Lee explained how this approach can provide a leg up to image providers evolving into IT and the positive impacts it can have on total cash flow, business valuation, and the overall health of your business. Check out some of the highlights below and be sure to watch the full recording!
Webinar Facilitated by Lindsay Bohon with Nick Von Ahsen and Lee Rozeboom
3:03: Why Are Technology Providers Challenged to Offer a Financing Option?
In the printing space, monthly payments and contracted revenue are commonly understood and imperative to long-term sustainability and profitability. That's why financing is such a big part of your sales strategy as a provider in the office imaging space. It's also what your customers are accustomed to: service and hardware offerings have been married for years. The IT space has traditionally sold its solutions for cash. Because of this difference, you'll encounter friction using that same methodology within the IT side of your business as you progress into the IT space. It's important to understand that the preference toward cash isn't primarily driven by consumers: IT sales professionals are comfortable selling cash. Making the switch to financing is often a difficult adjustment.
At the end of the day, printer companies and IT companies sell to the same customer. Given the option, most will appreciate the value of a monthly payment. View this as an opportunity to change the conversation around how your customers and prospects could be acquiring IT hardware and services.
5:06: Why Is Reverting to Cash Problematic?
There are several reasons why defaulting back to cash is problematic. Let's touch on three.
A cash sale is a roadblock for future upgrades. Monthly payments build in the opportunity for an upgrade, leading to happy customers who can enjoy the benefits of updated technology (productivity, security, etc.) in a cost-effective way. It creates "a natural event" to have a discussion with your customer on how you may be able to keep their technology refreshed and potentially lower their monthly payment. Happy customers mean future business.




Cash sales leave your customer relationships more vulnerable to competition because the purchase is not tied to a contract. At any point, your competitors can swoop in at a slightly lower price and take that customer away.




Monthly contracted revenue helps build your business valuation more than cash sales.
DOWNLOAD: Benefits of Financing Cheat Sheet
7:24: How Can Providers Avoid Reverting to Cash?
The challenge is introducing the monthly payment approach into the IT side of the business in a way that sticks. Technology providers need to implement a change management plan to introduce the monthly payment early and in a way that drives adoption. Finding the right compensation model can help solve this issue.
8:04: When We Talk About Technology in the IT Space, What Does that Entail and What All Can Be Financed?
Most technology can be financed just like printers and copiers: things like servers, firewalls, network equipment, PCs, and laptops. In addition, most software that is tied to hardware, labor associated with installation, and manufacturer warranties can typically be financed.
RELATED: Everything You Need To Know About Software Financing
RELATED: Identifying New Revenue Streams Outside of Print
9:59: Can Project Work Associated with IT Placement Be Financed?
Although projects are inherently different from traditional leasing of hardware or equipment, they can be financed. They require separate consideration and evaluation of the actual work completed, the timing of project completion, and end-user documentation. When project work and traditional managed IT onboarding is combined, we may ask for more insight on the scope of work but will almost always be able to accommodate the request to allow the end-user to pay overtime rather than upfront.
10:54: How Can the Value of Financing Be Communicated to Incentivize Use Within the Sales Process?
Establish an understanding within your organization about why a monthly payment approach is better for the customer. Put simply, a monthly payment approach makes upgrades much less cost prohibitive. When it's time for your customer to refresh their technology, no large cash outlay is required. Your customer can get what they need when they need it.
Expectations for the refresh are set right out the gate, providing salespersons with a sense of stability and confidence when it comes to retaining earned business.
12:14 How Do You Approach Financing from a Compensation Perspective?
There is no magic bullet or a perfect compensation model, but a major component of successful compensation models comes from Paul Dippel, a highly credible benchmarking expert in the MSP space. He says to truly incentivize change, your model must not only compensate more for a financing approach, but also compensate less for cash.
14:33: What Change Management Philosophies, Training, or Adoption Practices Have Helped Providers Shift into this Mindset?
Start with baby steps. If making a full switch from cash to a monthly payment isn't realistic, simply start by providing a monthly payment option alongside the cash option.
Another step may be to make sure you engrain financing in your sales process. Quoting integrations are a must. Without automating this step, you'll slow down the sales process and hinder adoption. It can be helpful to lean on a financing company who has made the investment to partner with various quoting software providers in your industry. They'll implement integrations that automate quoting so it's quick and painless for reps to include a monthly payment in their proposals.
17:40: What Suggestions or Best Practices Can Help End-Users See the Value of the Monthly Payment Approach?
Your customers already buy copiers, cloud subscriptions, and other components on a lease. IT is no different: you just need to offer the option and communicate the benefits. Start laying the groundwork upfront within the discovery phase and carry it through the entire sales process. Ask questions like, "Do you want to own this technology when the lifecycle is only three to four years, or do you prefer a monthly payment with the opportunity to upgrade at the end of your term?" Actively planting these seeds along the way will help you be successful.
RELATED: Leading with a Monthly Payment: Monthly Recurring Revenue Benefits You and Your Customers
DOWNLOAD: 12 Questions To Differentiate Your Sale & Position Financing
22:08: Does the Finance Process for IT Look Different than for Printers? What Do End-Users Need to Do Differently to Finance an IT Transaction?
The credit approval and documentation process is very similar to IT. The big difference is many IT companies are used to doing their own documentation. When financing with GreatAmerica, we own that process. For salespersons unfamiliar with sending something to a financing company, it's pretty simple. The salesperson submits a credit application, ensures a monthly payment quote is presented, and verifies the location of the solution once installed.
24:40: What Can You Tell Us About Quoting Integrations and Automating the Sales Process?
GreatAmerica has developed APIs (Application Programming Interface) with various software companies serving the technology space. These APIs tie rate cards to the integrations, pulling in real-time data to quote monthly payments. The details are setup in the software you use, like ConnectWise or QuoteWorks. You have the flexibility to set up templates, bundle in your managed services, provide different term options, and choose to show or not to show the cash price option.
Keep in mind, it's best not to overload the customer with too many options. Depending on the lifecycle of the equipment, we'd advise picking one or two options to include in the proposal.
RELATED: Best Practices when Presenting a Monthly Payment Option
30:16: What Are Some Best Practices to Refresh Technology on a Consistent Basis?
Quarterly Business Reviews, or QBRs, are a must as you build out a technology road map. From the beginning, be transparent in talking about the technology's lifecycle and when upgrades should be made as a part of that roadmap. Communicate that the monthly payment approach is the most cost-effective way to acquire your technology. QBRs give you the opportunity to listen to your customers' needs and future plans while establishing what's ahead, what technology is changing, and how it can keep your customers secure from a cybersecurity standpoint.
RELATED: QBR 101: Tips, Tricks, and Best Practices to Creating a Review Cadence that Keeps Clients Happy
34:50: If a Provider is Already Offering IT Services as a Copier Company, Are They Able to Put the Full Solution on One Document?
A master agreement approach works well for customers that have a high probability of buying multiple types of offerings. This approach means you'll only need their legal team to approve the agreement once. From there, you can tie different equipment schedules (IT, imaging, or other technologies you sell) to that agreement which ensures all main terms and conditions are met.
RELATED: Common Questions around Bundling and Single Invoice Solutions
43:30: What Do You Recommend if Providers Are Not Ready to Acquire a Company or Build One Themselves to Get into the IT Space?
Partner with someone who does it well. GreatAmerica has our own MSSP (managed security service provider), Collabrance, that is an exceptional resource within the MSP space. Collabrance offers a white glove experience with an extreme focus on caring for the customer. Collabrance has a remediation rate of over 90%, as compared to others in the space who come in at 60% remediation.
---
Read About AIS and Their Evolution from Copier Dealer to Complete Technology Provider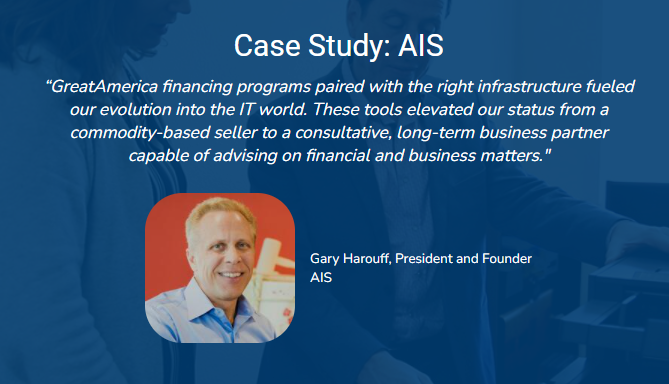 Not sure how to leverage a monthly payment as you grow and scale your IT offering? Gary Harouff, President and Founder of AIS, recalls how the right strategy helped them transform into a full-fledged technology advisor.
Katie Lanpher
Katie Lanpher joined the GreatAmerica Office Equipment Group in 2018 as a Content Marketing Specialist. With a background in digital marketing, she employs many tactics that contribute to the growth of the Office Equipment Group's online presence, including social media, e-marketing, and search marketing. Katie works closely with team members from varrying departments to write, edit and distribute content that our office technology dealers will find valuable as they grow their businesses.