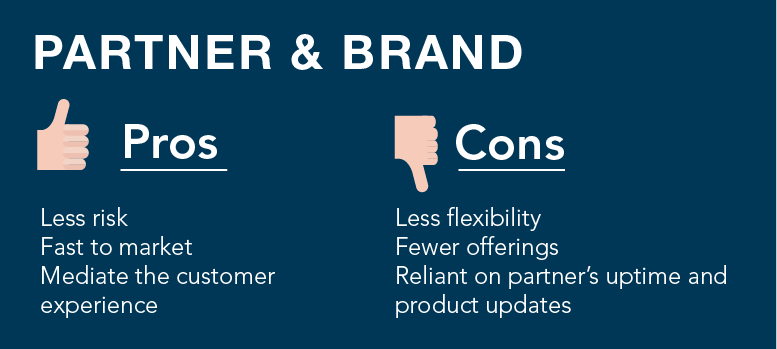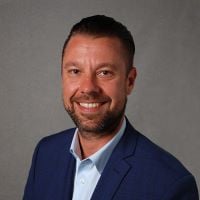 ---
4 Models for a UC Cloud Recurring Revenue Stream
Technology has largely migrated to the cloud, but in Unified Communications (UC) there is a big gap between futurists and traditionalists. When it comes to cloud communications, many Solution Providers live in that gap – just dabbling in cloud offerings. According to a survey from Grand View Research, more than 50% of UC solutions were on-premise in 2016. By the year 2024 (in 6 years), the market is projected to reach $143.49 billion, and hosted solutions will dominate sales.
For UC providers who haven't yet made the move, their patience is paying off. With time, more options have emerged and partners are gaining clarity on which model may be the best fit for their business. There are four Unified Communications as a Service (UCaaS) delivery methods we see today and below we've outlined the pros, cons and impact of each.
Build & Brand
This is typically the first model many UC partners consider. Traditional communications resellers are accustomed to owning the customer experience, and this model most closely matches the experiences they have provided in a premise-based environment. Another major consideration are the margins. After the initial investment, built solutions can bring in a lot more to the bottom line.
Although there are many benefits to building and branding a UCaaS solution as your own, most UC business partners have never built technology solutions, they have resold others. With that said, this path isn't easy and requires new skills, tools, and risk.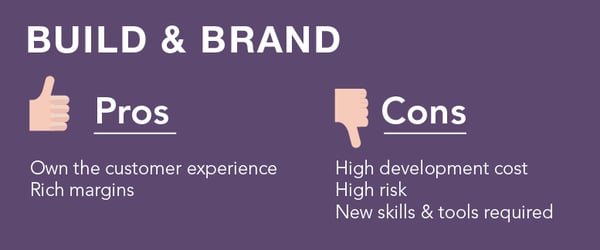 | | |
| --- | --- |
| PROS | CONS |
| Own the customer experience | High cost |
| Rich margins | High risk |
| | New skills and tools required |
Partner & Brand
If building and branding isn't for you, many Solution Providers choose to partner with a UCaaS provider with an established solution. Partners would simply put their own logo on the offering and resell it to their customer base, allowing them to control much of the user experience.
Channel partners we spoke to say this path allows them to get to market faster, but they lacked the same flexibility of that those who built their own. Feature sets, portal, contracts, and other elements are more restricted in this model.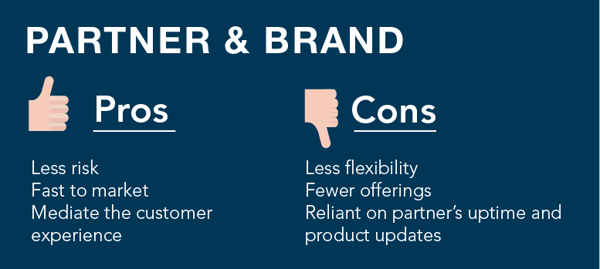 | | |
| --- | --- |
| PROS | CONS |
| Less risk | Less platform flexibility |
| Mitigate customer experience | Reliant on technology provider's uptime and product updates |
| Fast to market | Fewer offerings |
Resell Manufacturer
Whether you decide to execute on options one or two, many partners say they still maintain a strong relationship with the premise-based manufacturer they have resold in the past. Having a strong plan to migrate their existing customers to cloud was core to their UCaaS strategy.
Often a customer can use their same endpoints, keep most of their customized programming, and limit the change in which and ensure would typically experience when changing communications platforms.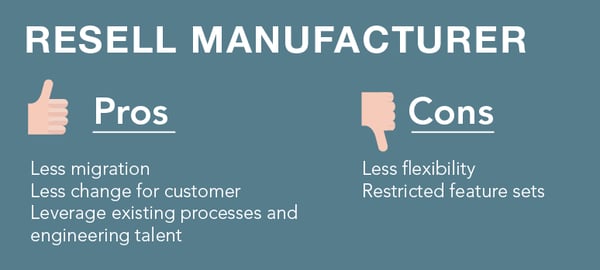 | | |
| --- | --- |
| PROS | CONS |
| Less migration | Less flexibility |
| Less change for customer | Restricted feature sets |
| Ability to leverage existing process and engineering talent | |
Resell as an Agent
The agent model continues to challenge the partner community due to what is perceived as reduced commissions and the loss of control of the customer experience. Whether we like it or not, born-in-the-cloud UCaaS providers are here to stay.
Many successful UCaaS players are marketing giants. They are feeding their message to the marketplace to consider these solutions and from what we can tell, their technology offering is strong. These providers channel programs and strategies are still "under construction", yet they understand that it's critical to partner with channel partners, since they own so many of the customer relationships.
Whether your primary UCaaS strategy includes an agent model, it is in your best interest to be able to provide these options to your end user. This model is quickly becoming the most simple, feature-rich offering the market offers and it is important that you keep an eye on the providers.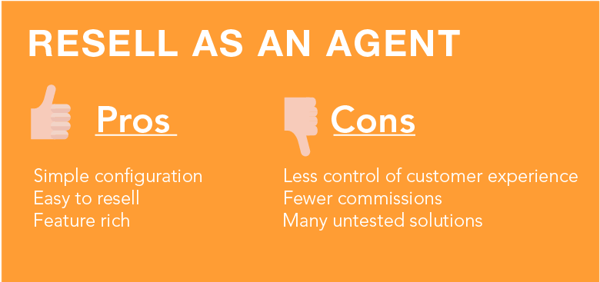 | | |
| --- | --- |
| PROS | CONS |
| Simple Configuration | Less control over customer experience |
| Easy to Resell | Fewer commissions |
| Feature Rich | Many untested solutions |
| Market Recognized Brand | |
| Competitively priced | |
Related Content
Instantly Add Value to Your UCaaS Sales with These Four Practices
Ian Pugh
Ian Pugh is the Director of Strategic Programs for the Unified Communications & IT Group at GreatAmerica Financial Services. Ian is responsible for the GreatAmerica UC and IT manufacturer programs strategy and serving as a liaison between GreatAmerica and the telecommunications industry, including manufacturers and service providers. Prior to GreatAmerica, Ian spent 15 years of experience in the leadership, sales and marketing roles at Gsolutionz Inc., a UC and collaboration provider in California.