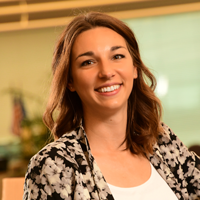 ---
Anatomy of a Prospecting Email & Making Yours Stand Out
Since adding "Marketing" to my title around four years ago, I get countless daily emails offering one product or another. Typically, I scan the email and hit delete. I just don't have time to respond to every solicitation that I'm not interested in (is that rude?!).
Are your emails getting the same treatment?
There are three filters I put on any email before I delete, or respond.
Do I know what they are offering?
Do I need the product or service?
Am I the right person?
You'd be surprised by how many emails I get that don't even make it past the first filter. Those prospecting emails are so generic I have no clue what they offer or why it matters to me. Are they trying to lure me in with mystery or build suspense? It doesn't work. Here's an example of a bad prospecting email:
"Would you be interested in taking a sneak peek at XYZ Product? It's an exclusive system built to meet the expectations of your Operation. If yes, 30 minutes is more than enough for us to show how XYZ Product can add value to Great American Financial Services. Please let me know."
What? No, I'm not interested in taking a sneak peek at your product - exclusive or not. Especially if all you are promising is that it will meet the expectations of my operation. In fact, my operation is already meeting expectations, and I would prefer to exceed them. If you can't tell me how you plan to do that; I don't have time to respond.
I was curious if it was just my inbox getting clogged with generic emails, so I asked around and apparently these bad emails are in abundance.
However, there are also a few great prospecting emails out there. Every once in a while, one makes it way to the right person at the right time, and it uses elements any salesperson can put into their own prospecting emails. I break down an example of a great email below that our General Manager received and responded to!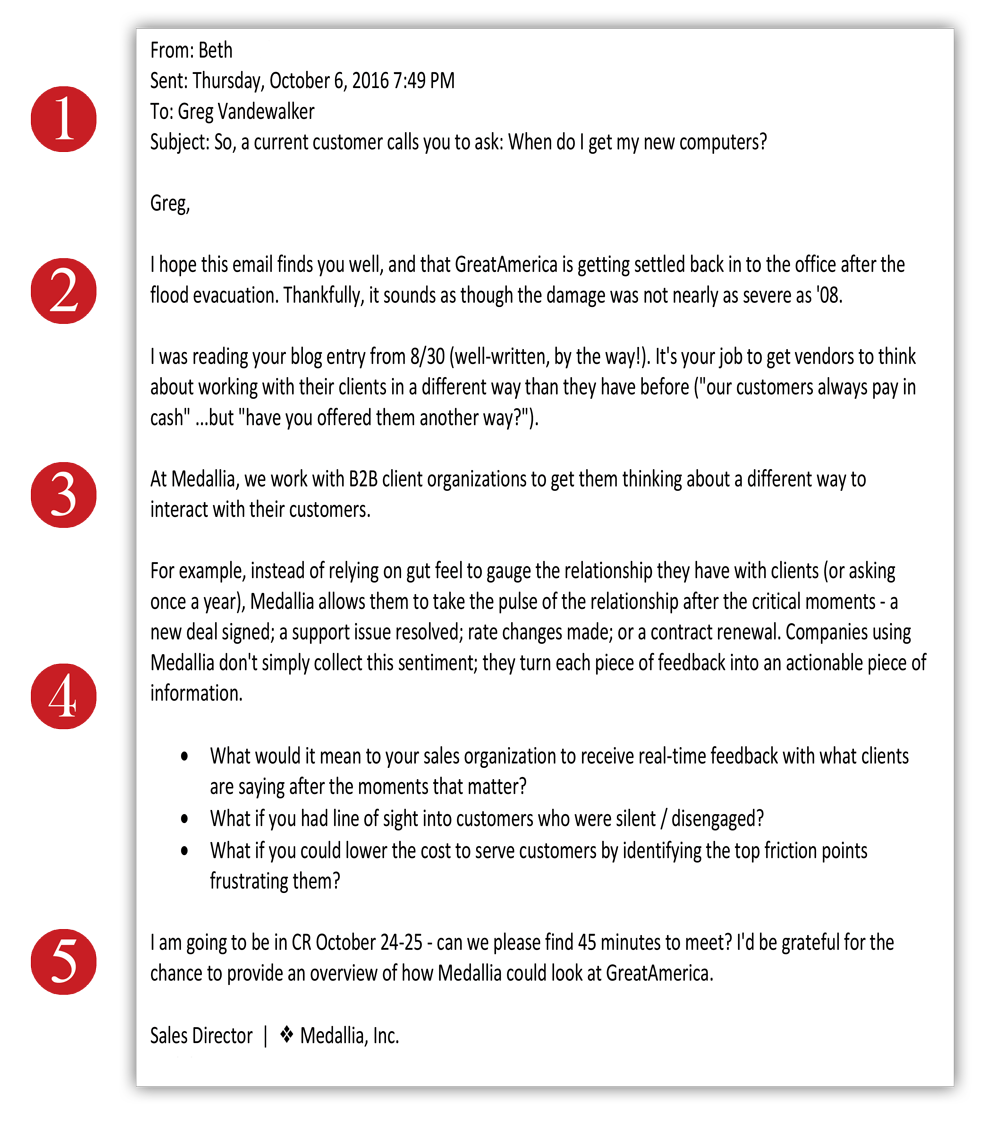 Subject Line: The sales person found a blog that Greg wrote and used that as the subject line.
Opening Content: She did her research on our company. Her first couple sentences were about the flooding that had just happened the week before at our headquarters. In the second paragraph, she circles back to the blog Greg wrote and displays her understanding of it, knowing it's clearly a topic Greg values highly.
The Pitch: She continues to reference the blog and makes a connection to it when she introduces the product she sells.
The Service: She doesn't just spew on and on about how the product works. Instead, she talks about the results companies get from using it, and is very specific about what the future could look like. She even uses examples that are specific to our company on how we could use their service: "a new deal signed; a support issue resolved; rate changes made; or a contract renewal."
The Ask: She respectfully asks for a meeting when she'll be in town. Regardless of whether those dates worked, I know she got a response to her email.
With a prospecting email you quickly lose, or gain, the attention and respect of the person you need for the sale. If you want people to actually read your emails – or even better, respond! – invest the time to research who you are targeting and craft a meaningful value proposition around that.
Jackie Schmid
Jackie Schmid is the Director of Strategic Marketing of the Unified Communications & IT Group at GreatAmerica Financial Services located in Cedar Rapids, Iowa. Jackie is responsible for building brand awareness and gaining strategic relationships through creative marketing. Prior to joining GreatAmerica, Jackie worked in the TV News industry as a producer and executive producer at the local CBS and FOX stations where she helped shape the programs delivered to the market. Jackie's finance career began in 2011 when she joined GreatAmerica to support the sales team serving the Office Equipment space.