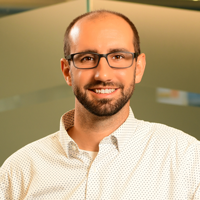 ---
How Monthly Recurring Revenue Benefits Unified Communications Solution Providers and MSPs
It's no secret that monthly recurring revenue, or MRR, is the wave of the future and is expanding across multiple industries. All you have to do is take a look at some of the most ingenious As-A-Service models of 2018 to see how true this is. After all, monthly recurring revenue is a predictable and reliable source of income that you accrue when you sell your products, services and more on a monthly payment plan. There are a variety of methods to achieve it, including subscriptions, leases and Hardware as a Service contracts, but the end goal is the same: monthly recurring revenue.
The idea of charging a recurring monthly payment for a product or service is not new. Just look at the explosion of subscription models in the commercial world, software, and the cloud. You're not alone in wanting to capitalize on this steady business model, which explains the rise we've seen in managed services and Hardware as a Service models in technology channels such as networking, unified communications and professional audio-visual (Pro AV).
Benefits of Monthly Recurring Revenue (MRR) Business Models
Consider the potential of adding more recurring revenue to your business. From increasing your overall business value, to making your customers happier and improving your employee retention, here are a few of the top benefits of monthly recurring revenue.
Increased Business Valuation and EBITDA Multiplier with Recurring Revenue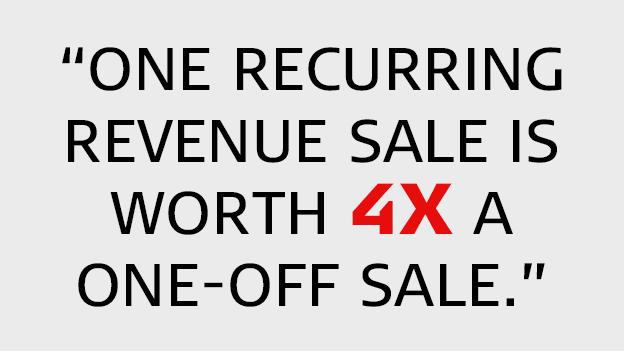 The valuation and EBITDA of a business with a strong MRR portfolio is greater than one without because recurring revenue is a big factor in the calculation of your EBITDA multiplier (Service Leadership). A large amount of total recurring revenue carries more weight than overall sales.
How much weight? There was a session at CompTIA's ChannelCon with a panel of companies that switched entirely to recurring revenue or As-A-Service models. They concluded that one recurring revenue sale is worth 4 times the value a one-off sale. Four Times.
Recurring Revenue Promotes Better Customer Relationships
It makes sense that customers on a monthly payment plan will be stickier than those who outright own the equipment you sold them. However, when you're selling recurring revenue you also have better alignment with your customers. You're not trying to convince them to buy another system in a few years because with monthly payments the refresh is built in. Instead, you can focus on adding value to your services and their business. This creates a more positive, long-term relationship.
Increased Retention for Sales Reps with Steady Recurring Revenue Stream
Although training your sales reps to sell monthly payments is one of the more difficult pieces in transitioning to a monthly recurring revenue model, better retention is one of the perks after you make the switch. That's because, depending on your sales compensation model, your sales reps may have a long-term income and revenue stream that will make it more difficult for them to leave versus when they're getting their total commission right away from a cash sale.
Want to calculate MRR sales quota? The Rule of 78 will show you how. If you are used to having an annual sales goal, you can take that number divided by 78 to determine how much they need to sell in recurring revenue each month to meet the same numbers. Confused on how this works? (I was too!) This article explains it.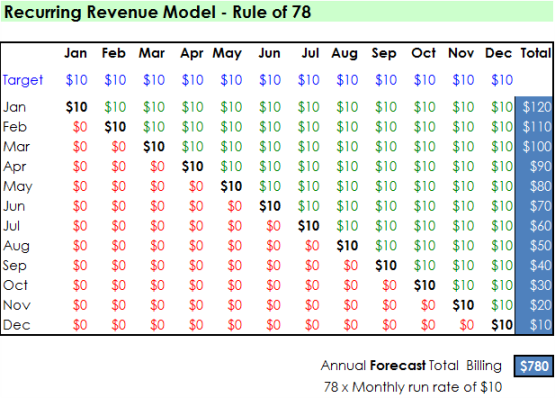 Stable and Predictable Recurring Revenue
Monthly recurring revenue is a consistent and reliable stream of income. Companies who have traditionally relied on those one-off product sales and made the transition to MRR have been able to say goodbye to the stress and headaches of worrying whether or not they'll make enough sales each month to pay the bills.
Without all that stress, you'll have more time for other areas of your business such as product development, training and business strategy.
Adding Monthly Recurring Revenue (MRR) to Your Business Model
With all those benefits and more, it's clear that if you don't have recurring revenue stream as a part of your business, then you should start (Not convinced? Here are 5 signs to look for in your business to see if you should invest in recurring revenue). If you're already bringing in steady monthly recurring revenue, then why not expand to parts of your sales that aren't yet recurring?
Admittedly, the initial process of adding in monthly recurring revenue can be tough when you're waiting for those monthly payments to start adding up and coming in. Without the usual upfront cash, you might find your income temporarily restricted. Fortunately, there are ways to transition your business model to monthly recurring revenue without hurting your cash flow.
Cody Jandik
Cody Jandik is the Vice President of Sales for the Data Group at GreatAmerica Financial Services. He focuses on the strategies behind the sales team, helping them grow and be the best sales reps in the financing industry. Cody started his career at GreatAmerica in 2011 as the Director of Vendor Relationship Development and maintained that role until moving into his current position in 2017. He has spent all six years in the Communications and Data Group, and only 3 months outside the Data team.