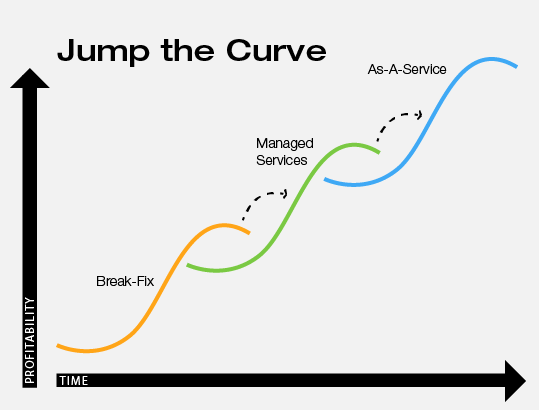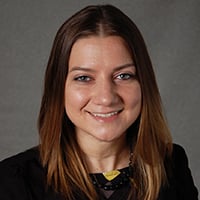 ---
Jump the Curve from Break-Fix to As-A-Service
Most sales models, products and services have a natural life cycle, but rarely is that life cycle a loop. Instead, the life cycle is often an s-curve. Initially, sales are low and adoption is slow. However, sales steadily increase and profitability rises until the product reaches its peak: the height of its popularity. From there, it begins to decline as it becomes old and outdated, abandoned for something new and better until eventually it's obsolete.
For example, we will examine the various lifecycles of what is currently the Managed Service model.
It used to be that you could make a lot of money selling PCs. So much money, in fact, that you could give away your installation and services for free. Those days have long passed as big box stores slashed the margins on computer sales, spelling the death of this sales model. But on the heels was the break-fix model, where companies began charging for ad hoc services. It was how they differentiated themselves from the big box stores.
That was the start of a new curve.
Now, selling your services on an "as needed" basis is rapidly declining and is replaced with managed services, offering a budgeted monthly price for unlimited access to your services.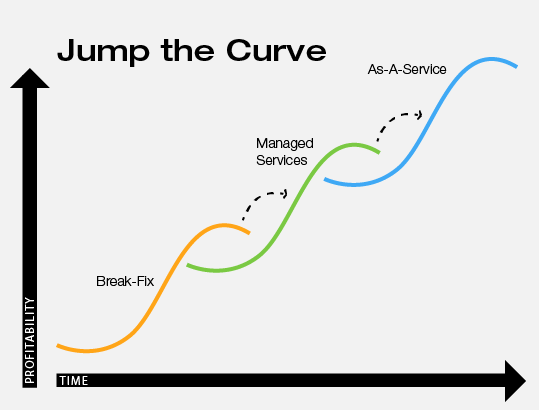 Moving from one of these models to the next is known as 'curve jumping' and it requires a complete shift in your mindset. In the example above, the value went from being placed on the PCs, to the services. These switches require strong leadership to guide a team from the familiar to the unfamiliar. If successful, you can jump curves to ever-growing profitability and avoid sticking with a declining model until it dies out – and potentially the business does too. The more you dedicate to strategy and your management structure, the faster your able to make the jump.
However, it's still important to note that these things take time, and learning something new is never easy. A good rule of thumb is to plan for 18 months when making these transitions.
So what is the next curve for the IT channel? Aside from the technology changes like security and IoT, we see the As-A-Service model being adopted globally as the next product and services delivery method. The signs are pointing to this with the growing popularity of monthly payment models in the commercial industry, and the trend we've seen in IT resellers toward As-A-Service model for a variety of managed service offerings.
Jumping a curve is a big change that can't be rushed, and skipping curves is almost unheard of. There are incremental changes you can make to position your business for the next curve jump, and they almost always require keeping your finger on the pulse of the industry.
Stephanie Ragsdale
Stephanie Ragsdale is the Marketing Specialist for the Unified Communications & IT Group at GreatAmerica Financial Services located in Cedar Rapids, Iowa. She provides creative marketing support and helps build brand awareness. Stephanie started her career at GreatAmerica in 2014 when she joined the tax department. Prior to joining GreatAmerica, she designed billboards locally and received her B.B.A degree in Business Marketing and her B.F.A degree in Graphic Design from the University of Iowa.