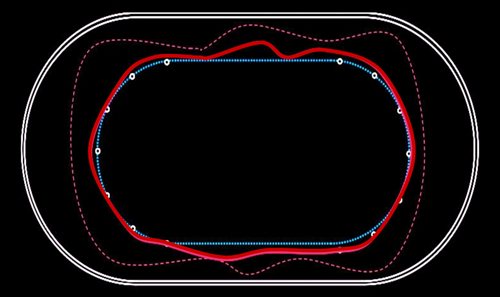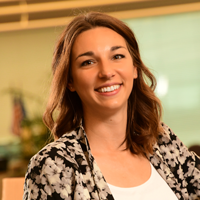 ---
Race Your Strengths, Design Around Your Weaknesses
We all have tried to find the secret that allows us to spend the bulk of our time on things that maximizes our strengths. The flipside of that argument is not spending time trying to "fix" your weaknesses. Many times, the message is boiled down to: find your strengths and ignore your weaknesses.
"You will excel only by maximizing your strengths, never by fixing your weaknesses." Buckingham, Clifton: Now, Discover Your Strengths
During an event GreatAmerica hosted a few weeks ago, John Coyle, Olympic Silver Medal Speed Skater and Founder of The Art of Really Living told his story about how he learned that he not only had to race his strengths, but also design around his weaknesses in order to compete and win.
Discover Your Strengths and Recognize Your Weaknesses
As a boy, John Coyle was a fast skater, but when he began seriously training for competition, he was pushed to skate like the rest of his team. The thing was, Coyle wasn't like the rest of the speed skating team. Coyle was taller than most speed skaters and complex athletic assessments revealed that, unlike many athletes, his endurance wasn't great. He also discovered he had above average explosive power in short bursts. He needed rest between those bursts, or he couldn't keep up.
An Olympic-Grade Design
This diagram shows the typical pattern of a speed skater who has average power and endurance. Every time Coyle raced like this pattern, he would lose.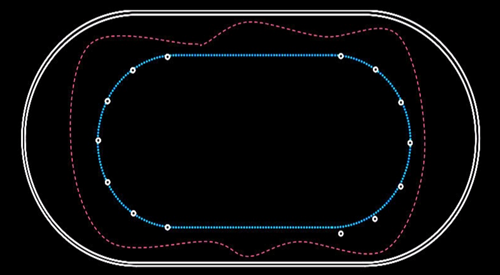 Source: John Coyle
Eventually Coyle figured out the concept of "Design For Your Strengths" and decided that instead of racing the typical pattern, he'd skate his own pattern; a pattern that allowed him to race according to his strengths, and that was designed around his weaknesses.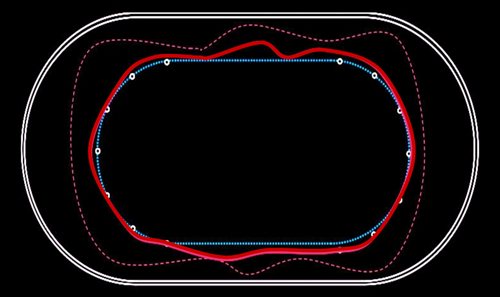 Source: John Coyle
The solid red line shows the skating pattern that optimized Coyle's strengths.
Hear and watch John tell the story himself during a TEDx talk.
How to Identify Strengths and Weaknesses
When you start to think about your strengths and weaknesses, Coyle urges each of us to be as specific as possible. For example, if your strength is a communicator, does that mean you are good at communicating in large groups or small? Are you a quick thinker on your feet, or are you best communicating on a topic you've prepared for and rehearsed? Is your strength in communicating verbally or maybe via the written word?
If you are like me and need a little help with discovering some of your strengths, try one of these free strength finder tools aggregated by Personal-Success-Factors.com: http://www.personal-success-factors.com/6-best-free-strengths-test-sites/
How Weaknesses Can Be Strengths
Once you have an idea of your strengths and weaknesses, it is good to determine how each can be good or bad in any given situation and how to design around it.
Coyle recommends looking at your strengths and weaknesses to find correlation. Can you draw a line between those that are the same?
For example: if you identify a weakness of yours as being blunt or rude, did you also have the strength of being direct and honest? If you said you're meticulous, did you identify being a perfectionist as a weakness?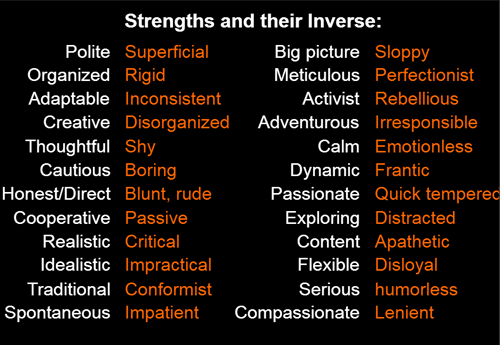 Source: John Coyle
Strengths, Weaknesses and Teams
With any well-functioning team, strengths and weaknesses find balance. A favorite story that exemplifies this is the relationship between Walt and Roy Disney. When speaking about building Walt Disney World, Roy said to reporters, "[Walt] did the dreaming. I did the building." They made a great team because they had contrasting strengths and weaknesses.
Find the Roy to your Walt and start designing your teams around each person's strengths and weaknesses.
Jackie Schmid
Jackie Schmid is the Director of Strategic Marketing of the Unified Communications & IT Group at GreatAmerica Financial Services located in Cedar Rapids, Iowa. Jackie is responsible for building brand awareness and gaining strategic relationships through creative marketing. Prior to joining GreatAmerica, Jackie worked in the TV News industry as a producer and executive producer at the local CBS and FOX stations where she helped shape the programs delivered to the market. Jackie's finance career began in 2011 when she joined GreatAmerica to support the sales team serving the Office Equipment space.