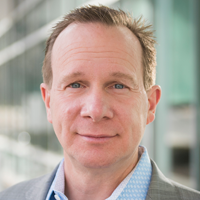 ---
The Alta Group Podcast with GreatAmerica on the Evolution of Captive Leasing Programs
How a snoozer of a topic for a podcast got interesting…
What does leasing have to do with blockchain, big data and artificial intelligence? The seemingly boring topic of captive leasing programs got interesting in a recent discussion.
It all started when I was asked if I would participate in The Alta Group Podcast series on the topic "How Captive Leasing Programs Have Evolved." The Alta Group is a very well respected organization in the leasing world. It piqued my interest and I said, "Yes, I'm your guy!"
The host for The Alta Group Podcast was a total pro. He sent me the questions a couple weeks before the call, and as I perused them I saw we were not just going to talk about leasing. I want to highlight two parts of the podcast that not only apply to leasing, but also the market(s) you serve because two things we all have in common regardless of industry is… 1) complexity and 2) technology.
The Complexity of Leasing Over Time
Early in The Alta Group Podcast we talked about what has changed over the years with respect to leasing programs today versus twenty years ago.
Back in the day, things were much simpler. We would create leasing programs to help sell a box. Really simple. An equipment manufacturer, or OEM, would want a payment option to go along with a capital expenditure (cap ex) option. There were not a lot of moving parts of the program between the OEM and the leasing company.
Today, customers demand a solution not a product. To accentuate the point, a manufacturer we have a relationship with brings a solution to the marketplace. The program aggregates elements from eight different companies – all behind the scenes to deliver that solution to the customer. So how can eight different companies deliver a product, be competitive in the market, and be profitable at the same time? Thank you complexity. The instant gratification culture we live in wants things to work now. It might take months, if not years, for that customer to build that same solution. If the solution works and customers can benefit from it immediately, they will pay.
Fortunately for companies who seek to provide solutions that the market needs, many companies are not big enough, nor do they have the diversified expertise to do it all themselves.
I believe some companies think they have to do it all themselves. Many times that is a wrong strategy. Cooperation helps slay the complexity dragon.
The Future of Technology and Leasing
Things got really interesting when the topic turned to technology during the The Alta Group Podcast! The host asked if blockchain or AI was on the horizon for our company and the industry. In short, Yes!
Futurist Jay McBain Talks Top Emerging Technologies from the CompTIA Meeting
Blockchain is a technology that will change many industries because of the radical disintermediation nature of the technology. During the podcast we focused on the Internet of Things (IoT), Big Data and Artificial Intelligence (AI). I personally view these three as a self-perpetuating wheel, let me explain.
IoT Leads to Big Data Leads to Artificial Intelligence
IoT is leading to device proliferation. Any technology that has an IP address can be monitored. If you look in the typical office you have obvious suspects like computers, servers, switches printer, et.al. Next you have some not so obvious technologies like lighting, physical security, coffee pots. This may be way out there, but think of your plants around the office. There are tools that measure soil moisture, and if properly monitored, one could have varying watering schedules on a plant by plant basis. Crazy, yes. Real, yes.
So, IoT by nature will create gigabyte upon terabyte of data, which when aggregated create a perfect storm of Big Data. Data left in a storage device is worthless. What do you do with the data?
Enter AI. As Big Data is taken apart, compared and put back together, AI systems can make sense of the data and draw conclusions. Ultimately, AI can be used to make the devices (IoT) in the field smarter and more useful to the customer.
Our job as providers of solutions is to use technology to help solve business problems.
I believe the faster we collaborate with others and embrace technology, we will lead the way to help businesses be more successful. This is a long way away from the first OEM captive program that I was a part of, but it is the future of our industy.
For more details about our in-depth discussion on how captive leasing programs have evolved, listen to our recorded podcast: "A Whole New Ballgame - Part 2 in Podcast Series of Captive-Vendor Finance Features Greg VanDeWalker."
http://thealtagroup.com/a-whole-new-ballgame-part-2-in-podcast-series-on-captive-vendor-finance-features-greg-vandewalker/
Greg VanDeWalker
Greg VanDeWalker, Senior Vice President, IT Channel and Services, is responsible for strategic vision and performance for the IT and Unified Communication financing business units as well as Collabrance LLC, the GreatAmerica master managed services provider. Prior to joining GreatAmerica in 2003, Greg was General Manager for the transportation division of US Bancorp in Denver, Colorado. He began his leasing career in 1991 with Business Credit Leasing (BCL) in sales and sales management. Prior to BCL, Greg was a tax accountant for Arthur Andersen & Company. Greg has served as Chair of the inaugural Managed Print Services Community of CompTIA, and on various advisory boards in the IT, Telephony and Office Equipment channels. Visit www.greatamerica.com for company information or contact Greg directly at GVanDeWalker@greatamerica.com.