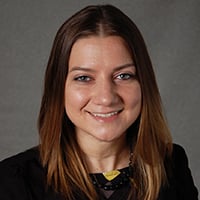 ---
Top 4 Reasons Marketing Efforts for Managed Services Businesses Fail

Marketing & Sales are Number One Problem for Managed Services Business
Talk to any small business owner, and they'll tell you they don't have enough leads. Not surprisingly, that is almost exactly what a recent Datto survey of Managed Service Providers (MSPs) revealed. While "sales and marketing" was identified as the biggest challenge, when probing deeper, Datto discovered four main pain points within sales and marketing cause the most issues.
As you can see below, the number one issue for managed services businesses within sales and marketing problem area is lead generation. Typically, the main goal of marketing is to generate warm, qualified leads to pass along to sales. If your lead generation is lacking, then it's a safe bet that your sales and marketing are too.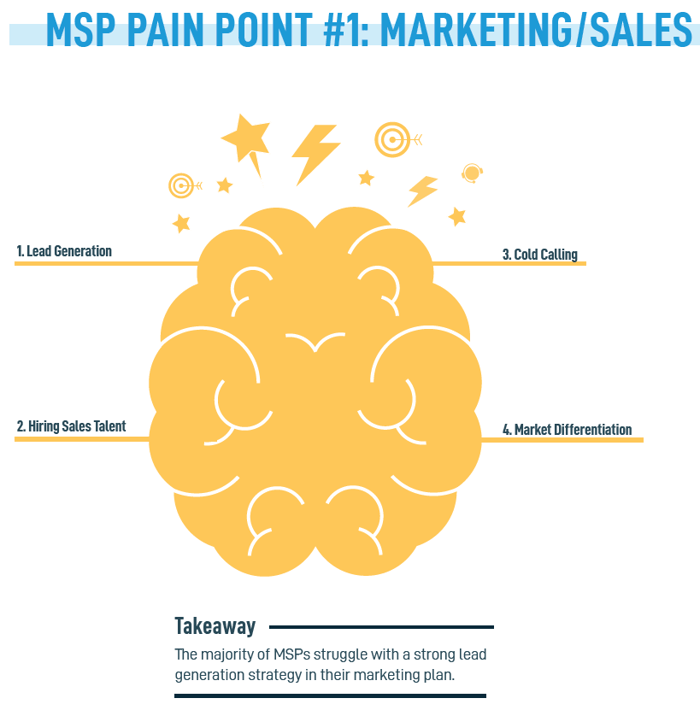 Top 4 Reasons Managed Services Marketing Fails
So, how do you turn it around? Especially when you're not familiar with marketing tactics and strategies? First, let's focus on what you shouldn't do.
About two weeks ago, I tuned into a webinar we held with Emalee Sugano, Business Strategy Consultant at Chartec, focused on lead generation for managed services businesses and how you can create a strategic marketing plan for your business. Being a marketer myself, a lot of what she said really resonated and rang true to the problems I know a lot of our partners have.
Although Emalee dove into the specifics of how to create an effective marketing strategy, she first explained the top four reasons marketing efforts fail for managed services businesses. I wanted to share these four things NOT to do:
1. Shotgun Marketing
Your first instinct when it comes to marketing might be to blast something out. You'll realize leads aren't coming in and that it's been a while since you've done any marketing. So, maybe you'll mail some postcards or sponsor an event… and then forget all about marketing until the next time your lead stream dries up. If you're just pumping random marketing blasts out every so often with no strategy behind them, you can expect to fail.
2. No Lead List
The next reason marketing fails is if you have no lead list. Coming up with a marketing plan and creating a lot of great content doesn't do any good if you don't have any leads to send it to or people to connect with. First and foremost, you need to identify your target audience.
3. Lacking Tangible Goals
Many business owners think marketing fails when they don't make any sales. However, this doesn't mean marketing failed, it means they are measuring the wrong goals. Marketing isn't responsible for closing deals – that sales' job! Instead, marketing should be measured for bringing in qualified leads and generating interest in your business. You have to set the right goals and expectations to evaluate marketing's effectiveness.
4. No Marketing Plan
This is a common issue when someone gets super excited about an idea, but lacks execution and doesn't have a set strategy. For example, you might decide your company is going to be active on social media and post on Facebook or Twitter every other day. For the first few weeks, you'll do great with your fresh enthusiasm to carry you through and you'll be posting away! Then, after a month or two, you'll hit a busy few weeks and forget miss a few posts. By month six, you've forgotten about it entirely.
Creating a Repeatable Marketing Program for Managed Services Businesses
If any of these common marketing pitfalls sound familiar (or if you do ZERO marketing), it's time to create or reassess your marketing strategy. You need planned efforts with the right measurable goals in place, along with accountability for the execution, in order to generate a consistent flow of warm leads.
I realize that's easier said than done, especially without any marketing experience to go off of. That's why I encourage you to watch the full webinar recording, Lead Generation for Executives to learn how to overcome these failures. After watching the presentation, you'll be ready to get started on creating a successful, repeatable marketing program to enhance lead generation with specific benchmarks for your managed services business.
Or, if you're running lead generation activites but not seeing the results you expected, join us on February 19, 2019 for another webinar at noon central with Kendra Lee, president and founder of the KLA Group, on 5 Strategies to Get More Results from Your Lead Generation.
Stephanie Ragsdale
Stephanie Ragsdale is the Marketing Specialist for the Unified Communications & IT Group at GreatAmerica Financial Services located in Cedar Rapids, Iowa. She provides creative marketing support and helps build brand awareness. Stephanie started her career at GreatAmerica in 2014 when she joined the tax department. Prior to joining GreatAmerica, she designed billboards locally and received her B.B.A degree in Business Marketing and her B.F.A degree in Graphic Design from the University of Iowa.