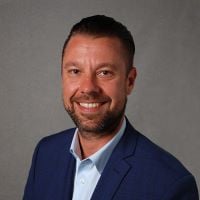 ---
Why I Led with a Monthly Payment When I Ran a Technology Company (Part 1)
An Evolution of Monthly Payment Consumption: A First-Hand Sales Experience
I am extremely grateful to have started my journey in technology sales at a very young age. To be specific, I started working for a telecommunications company at the ripe age of 21.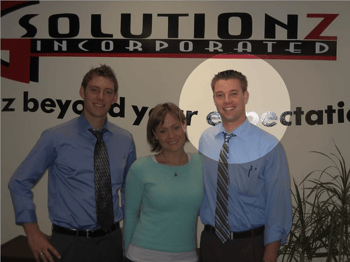 Ian, in his glory days, alongside colleagues.
Spending my days knocking on doors, my goal was to get a customer to share their telephone bill with me. I quickly realized that:
Everyone had telephone/internet service;
Everyone we ran into was over-paying for the services they were receiving; and
Everyone hated their service provider, yet paid their bill every month without question.
In addition to reselling telecommunications services, we were also responsible for recommending Unified Communications and IT hardware to each customer we engaged with.
What I found funny was that a customer had no problem agreeing to new services which were billed monthly, yet when it came to committing to a hardware upgrade, there was often resistance. Repeatedly we would hear that a customer would be happy to pay $500/month for new services, yet would resist the recommendation to spend $15,000 for new hardware.
I bet you'll agree when I say it is harder to sell a total solution if some portion of your recommendation is consumed monthly and other pieces require full upfront payment.
For example = Mr. / Mrs. Customer, you need to pay $1,000/month for managed services, and $20,000 for the network infrastructure upgrade.
Overcoming the Resistance of Hardware Sales
With the resistance to make the necessary hardware purchases, it became obvious a change was needed. We had to make our hardware proposals as easy to consume as the services, which were monthly payments. Customers were used to paying for services every month, and the service providers knew that they would continue in perpetuity.
It got me thinking about what the world would look like if we had a solution to allow customers to consume hardware on a monthly payment basis. Would they also get used to paying for hardware monthly like they do services? What benefits would this have for the customer, for my company, for me? What possible reservations could the customer have toward a full monthly consumption structure?
For three tips on introducing a monthly payment into your sales process, read, When and How to Introduce Financing into Your Sales Process.
Adopting a Hardware Sales Model for Lifetime Customers
Those exact questions are what spurred me and my company to begin offering a leasing option to our clients. Not just any leasing option, though. We offered what the leasing industry calls Fair Market Value – or FMV – but we just considered it a low-cost monthly payment option. At GreatAmerica, we call it the Customers for Life option, because it is designed to allow the customer to use the technology for the lifespan for a low monthly fee, and then upgrade to new technology at the end.
That is exactly how it worked when I was in sales. My customers would get the hardware they needed, and paid for it with a monthly payment. Toward the end of the lifespan, we would begin having conversations around what would happen next. (Here are the options we gave customers, and here is how and when we would talk to clients about the refresh.)
Many times, the customer would opt to get the latest innovations we offered and continue paying the same amount they were accustomed to.
On the flip side, selling on cash terms or using $1 buyout financing vehicles is not only is it harder to sell, you are setting your customer up to become a technology hoarder. We found this was the case with our customers who acquired their solutions with the intent of owning them for a long time.
Think about it, when you purchase something outright, you are much more likely to use it until it breaks or has significant signs of failing. This is a lose-lose situation for the provider and the client. Not only do your customers experience more problems, it also becomes more costly for you to manage and support technology that is old, obsolete, and has a risk of failing.
Related: The Best Times to Talk to Customers about Technology Refreshes
How Consumption Has Changed Lifetime Customers
Today, with the pivot of cloud and As-A-Service, more and more products and services can be consumed monthly, yet the idea of paying for products and services on a monthly basis is not a new idea.
The age of subscription services touches every part of our personal and now our professional lives, and the idea of outright ownership is an ancient strategy. Leave legacy consumption options at the door and consider a Customers for Life strategy where ownership of technology exits stage left and we focus on creating an environment where your customer base goes on a lifelong journey with you.
Hungry for more? Check out Part 2: WANT CUSTOMERS FOR LIFE? ASK YOURSELF THIS ONE SIMPLE QUESTION.
To learn more about offering a monthly payment option to your customers, click on the link below to book an appointment with one of our team members.
Ian Pugh
Ian Pugh is the Director of Strategic Programs for the Unified Communications & IT Group at GreatAmerica Financial Services. Ian is responsible for the GreatAmerica UC and IT manufacturer programs strategy and serving as a liaison between GreatAmerica and the telecommunications industry, including manufacturers and service providers. Prior to GreatAmerica, Ian spent 15 years of experience in the leadership, sales and marketing roles at Gsolutionz Inc., a UC and collaboration provider in California.