Adam Gittins
HTS Ag, Harlan, IA
20 Years' Experience in Ag Technology
Farmer at Heart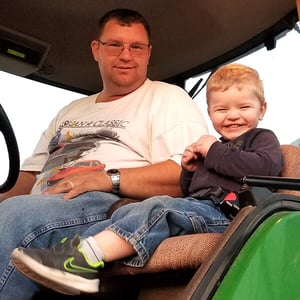 Studying Ag Business at Iowa State University set my career path in Ag Tech. I was privileged to rub shoulders with industry leaders such as Neil E.Harl, author of Agricultural Law Manual for the USDA. ISU is one of the best Ag programs in the country and provided me the opportunity to accept a position at Ag Leader after graduation and eventually joining HTS Ag four years later.
In 2004, I added to the family farm operation, purchasing a quarter section of land, and becoming the 5th generation in my family to farm. Since then, I have taken over the family farm from my father and uncle. Along with the 700-acre operation, they also passed along a John Deere 620 my grandpa bought in 1958.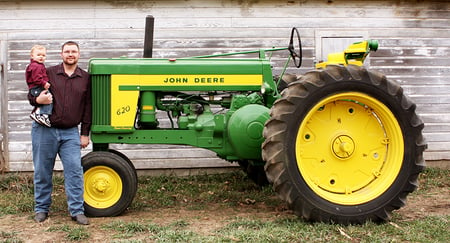 Quality equipment and technology
brings tremendous
value to an operation and I am proud to be able to
work our family land and have my own personal proving ground for the solutions we sell at HTS Ag.
Ag Technology Today
When I started at Ag Leader, planter technology, automations, integrations, and cloud storage did not exist. It has been an exciting time working in this evolving industry.

Since cash flow is king to a farm, the adoption of technology and data driven decisions make farmers better at what they do while saving money and increasing profits— changing the skillset of the profession.
With cash flow governing decision making, it has challenged the industry to create improvements in planting. Seed is expensive and being able to control planting amounts and spacing can save 5-10% on a seed bill. We have found that by reducing overplanting, the system can pay for itself in the first year. Ag Leader's SureSpeed system, for example, can plant more accurately at 12 mph compared to a traditional system at 4.5 mph. In one of the trials on my farm last year we showed a $83 per acre difference and on a 2,000 to 3,000-acre operation you are looking at considerable savings.
As connectivity in rural areas improves, the power and use of the cloud is only going to get faster— allowing for a fully autonomous process.
Farming is weather dependent, and when the weather cooperates, maximizing productivity during that window is critical. Farmers turn to technology to reduce downtime. At HTS Ag we have done a couple studies and found equipment downtime can cost between $500-$600 an hour, which is why Ag Leader's remote service capabilities allow us to address problems quicker and reduce that cost. Communication technology has really changed the way farmers interact with their equipment by allowing their service providers to see what they see. It's like we are in the tractor with them.
The Connected Farm - What to expect in 20 years?
Real-time communication is the key to moving Ag technology forward. As connectivity in rural areas improves, the power and use of the cloud is only going to get faster— allowing for a fully autonomous process. Today, tractors come with modems in the cab but imagine a future where the tractor, planter, combine, grain trucks and grain management are all interconnected.

We see drone technology and FAA regulations continuing to evolve in the future. A drone pilot can now only have one drone, weighing no more than 55lbs., in the air while maintaining line of sight. There will be a day when a single operator uses swarm technology to manage a fleet of aerial spray drones. We will see smaller pieces of machinery working independently. Instead of a 48-row planter, the same could be accomplished with several 4-6 row automated planters, minimizing down-time, and allowing more customizable configurations.

Technology helps address the labor shortages in rural areas. Iowa has one of lowest unemployment rates in the nation, but qualified labor with the skillset necessary to support a future technology infrastructure needs to grow. As much as technology will fill in gaps in farm operations, the installation, training, and servicing of it will become even more important.
Selling during a pandemic
The funny thing about the pandemic is that farmers are naturally socially distanced people. Just look at the miles between each farm. I contracted Covid-19 in late October but on a farm, there is not a work-from-home option, so I quarantined in the cab of a tractor pulling a grain cart while my counterpart stayed safe in the combine. Open lines of communication helped us stay on track and safe.
At HTS Ag we have changed the way we communicate. We have done more ZOOM calls in the last nine months and transitioned to digital media to communicate with our customers. We have given up on the idea of in person tradeshows this year and have been working on providing useful content online to our customer base. A couple of weeks ago we started a series called Across the Tailgate on our YouTube channel, with numerous views and the primary audience being 25–34-year-olds.
Technology in farming will be an expectation of the next generation in agriculture. I imagine it is how my Grandpa thought about his John Deere and how innovative it must have felt when he bought it. Someday I will see my kids playing with an old drone and think the same thing.
View all of our stories here: https://www3.greatamerica.com/voices_of_the_industry