---
Coding Viewed as Key to Iowans' Future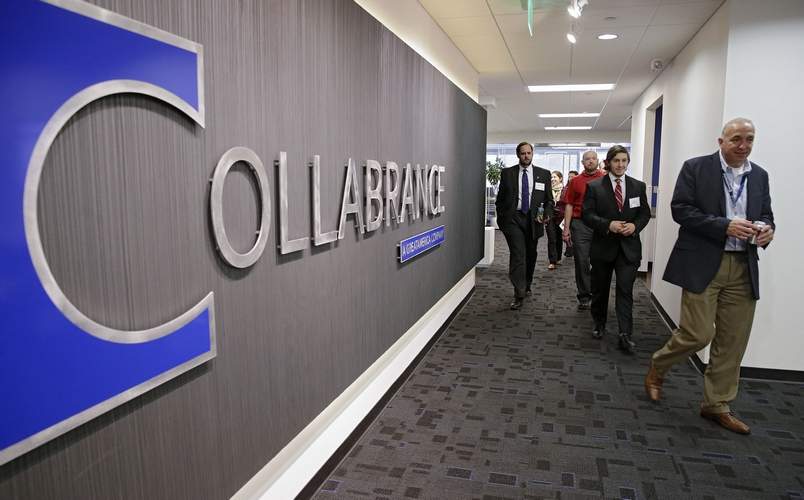 Article by George C. Ford, The Gazette
Photos by Stephen Mally, The Gazette
CEDAR RAPIDS - For many years, students needed to learn their ABCs to have a meaningful education and make a successful transition to the work world.
That may be rapidly changing to learning "Alphas, Betas and C++."
As computers become more integrated into daily life, the ability to write software programs is increasingly viewed as an essential component of the educational process.
"I think we're missing a generation in our schools by not requiring a coding education at the K-through-12 level along with other subjects," said Mark Nolte, president and CEO of Iowa City Area Development Group.
"The curriculum exists and the teacher training exists. The only thing that we lack is the will to implement it."
Nolte said Iowa has been "nibbling at the margins" in terms of teaching computer coding to the next generation and creating the future work force for the state's technology sector.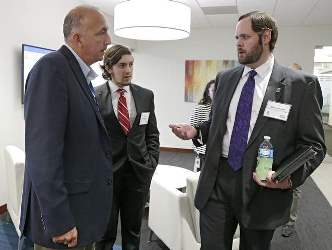 "We have some clubs where parents can take their children to learn, and that's all well and good and I'm glad we have them," Nolte said. "But until we are teaching children of all socioeconomic classes, races and nationalities the basics of coding at an early age, we are never going to have the critical mass needed to move these industries forward."
CedarDojo in Cedar Rapids works with young people between ages 5 and 17 on how to code, develop websites, applications, programs and games. Dojos (classes) are operated and taught by volunteers.
CoderDojo is offered free of charge and meets at various locations throughout the community, including the Cedar Rapids Public Library.
Meanwhile, Innovative Software Engineering in Coralville expanded its summer college internship program to include high school students. ISE founder, President and CEO Hass Machlab launched ISE Coding Garage after his son, Daniel, took an advanced placement computer science class at West High School in the 2013-2014 school year.
"The ISE Coding Garage focuses on the high school level," said Machlab, who was impressed with the coursework and technicality of his son's class.
When Daniel began to express interest in mobile application development, Hass Machlab allowed him to spend an hour a week with the company's college interns to ask questions and get feedback on his own app development.
More West High School students joined Daniel for what became weekly meetings. Machlab hopes to open ISE Coding Garage to students from other high schools next summer.
Job shadows
Tyler Wyngarden, director of talent development for the Technology Association of Iowa (TAI), said the state needs to determine when to start getting younger Iowans more fully engaged in technology.
"We still have a study hall period in our high school core curriculum, but we don't have a computer programming class," Wyngarden said. "That's something we and others are lobbying to change through the governor's STEM (science, technology, engineering and math) council."
Many Iowa school districts are offering computer programming classes to high school students. The courses, which are not required, range from basic computer programming to more advanced topics such as website design, computer graphics and interactive media.
According to Iowa Department of Education data, 145 Iowa school districts offered computer programing courses in 2014 with 2,375 students enrolled. An additional 200 school districts offered web design, computer graphics and interactive media courses for 5,000 students.
Statewide, 31,000 middle and high school students were enrolled in computer science courses last year, including courses in computer installation, maintenance, network design and other areas of the burgeoning industry.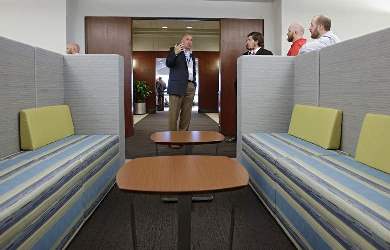 At the Workforce Learning Connection at Kirkwood Community College, job shadow opportunities are offered to Corridor high school students.
This fall, 459 students in Johnson County submitted applications for a job shadow experience. Of that number, 88 requested a job shadow in the field of health sciences, 32 students want to explore engineering and 19 Johnson County teens expressed an interest in information technology and computer careers.
That low number of requests for IT and computer job reflects data from a 2011 U.S. Department of Education report, "America's High School Graduates."
From 1990 to 2009, the only course of STEM study to record a decline in the percentage of graduates earning credits was computer science — 25 percent in 1990 to 19 percent in 2009.
During the same period, the average growth of all other jobs in the United States is predicted to be just 14 percent.
TAI's Wyngarden said finding the pool of programmers and other information technology professionals needed to grow and expand their business is a major concern of Iowa companies.
"By far and away, the most looming issue for this industry in Iowa and the United States is, 'Where are we going to find the next generation to fill the information technology work force?'" Wyngarden said. "It's frustrating to see the University of Iowa and Iowa State University train top-level talent, only for that talent to uproot and leave the state."
TAI is working to reverse that trend with Experience Iowa Technology, a program that provides college students with a full day of exposure to the state's technology industry and potential employment opportunities.
On Oct. 15, students from several colleges toured Circle Computer Resources, Genova Technologies, GreatAmerica Financial Services, Collabrance and ImOn Communications in Cedar Rapids. The day ended with a student-focused TechBrew, where the students reconnected with leaders they met throughout the day.
Craig Jackman, chairman of TAI's connectivity committee, said Experience Iowa Technology was born out of necessity. "The number of students that leave the state without ever holding a job here is overwhelming," said Jackman, president and co-founder of Paragon IT Professionals in Des Moines.
"This is one way that we can get students inside the doors of these companies and really visualize the opportunities provided to them."
Click here for a link to the article featured on The Gazette.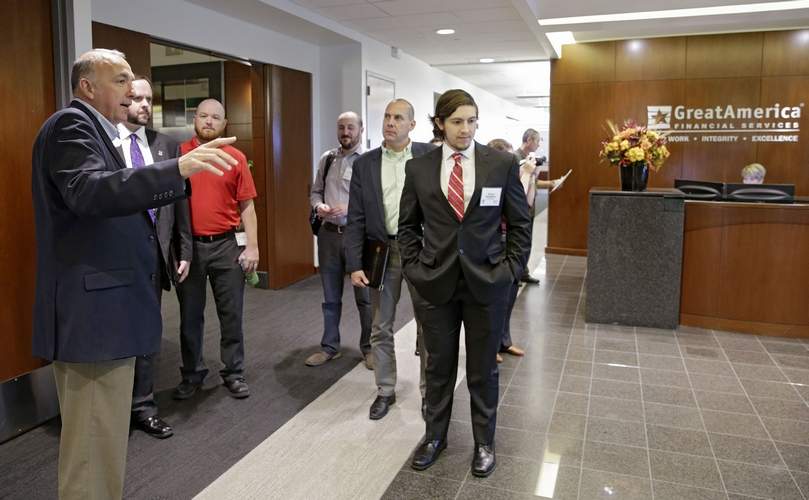 GreatAmerica
Founded by CEO Tony Golobic in Cedar Rapids, Iowa in 1992, GreatAmerica is a $2 billion national commercial equipment finance company. GreatAmerica is dedicated to helping manufacturers, vendors, and dealers be more successful and keep their customers for a lifetime. GreatAmerica is family-owned and provides financing, third party portfolio servicing, and niche market-focused services in all fifty states and several U.S. Territories and has a staff of over 500+ employees with offices in Iowa, Minnesota, Missouri and Georgia.