---
ETS Leverages Collabrance to Scale Its Managed Services Business Faster
ETS is able to focus on growing new business and increasing customer satisfaction by taking advantage of the Master MSP's technology stack, help desk, and NOC.
Two rings to talk to a person. A customer satisfaction rating of 97 percent. "Those metrics are hard to beat," says Jim Koch, referring to his experience partnering with Collabrance LLC. As a Master MSP, Collabrance provides a standardized set of IT products and services for a flat fee that partners mark up and sell to their end-user customers, most often targeting industry best-in-class margins of 40+ percent.
Koch, president and CEO at Erb's Technology Solutions (ETS) in Cedar Rapids, Iowa, says his firm turned to Collabrance about a year ago after trying to scale its MSP business on its own for almost 12 years. Koch says he recognized ETS could reach its goals—faster growth, more revenue, and increased customer satisfaction—much quicker by partnering with Collabrance, a GreatAmerica company also based in Cedar Rapids.
Founded in 1961, ETS today has 20 employees and 250 customers. Koch says the goal over the next five years is to increase the managed services business to 50 percent of overall revenue.

Initially, Koch says he had some reluctance about migrating to the Collabrance technology stack. "There were certain point solutions or products that made up our managed services stack that weren't necessarily in alignment with Collabrance. But we recognized there's not necessarily a right or wrong; it's just a matter of determining if that technology stack makes sense and integrates well. Most of our customers just want someone to support their IT environment in the most efficient, effective manner possible."
As it turns out, the migration "is not as big of a deal as a lot of people might think." So far, Koch says, "customer response has been very positive." By working with the Collabrance team, ETS is able to position the migration strategy with its customers, align expectations, and clearly build out a timeline that works well for all parties involved.
Koch is particularly happy with the Collabrance help desk, as are his customers. "They do a wonderful job. It's live answer, two rings; it's Midwest based, English speaking with friendly technicians."
He explains prior to partnering with Collabrance, it was challenging at times internally to keep up with the variations in call volumes that occurred from day to day. "That was impacting our ability to consistently hit our SLA requirements, so working with Collabrance has been a big plus for us. The average customer satisfaction score is 97 percent; it's tough to beat that."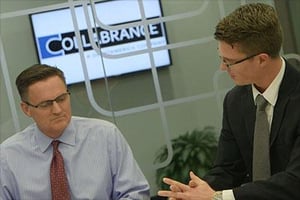 Collabrance has been able to maintain an average 93 to 95 percent remote resolution rate on help desk tickets. The remaining 5 to 7 percent of help desk tickets occasionally get escalated to ETS engineers and service techs that usually require on-site support in the field. The times savings from using the Collabrance help desk tasks has enabled ETS to redirect resources to "more billable activities, whether it's assessments or projects. That's an opportunity this partnership has created to generate more revenue. Rather than having our staff handle calls from existing managed service customers, they can go out and knock down some new activity that contributes to our bottom line," Koch says. ETS has also gained more time by having Collabrance responsible for vendor management with its dedicated Product Development Team.
Collabrance helps ETS with network assessments and identifying opportunities for improvement. The Master MSP also helps establish a "future state" for the customer that follows best practices and addresses the major gaps and issues that currently exist in the customer's IT environment, Koch says. After closing a managed services deal and submitting the order, Collabrance helps onboard the customer with its dedicated Service Activation Team. This process includes communication with the Project Management and Activation Team, to ensure both teams are in mutual agreement on the combined steps to most efficiently and securely bring the customer live.
Collabrance requires partners to go through its "as a service" two-day Sales Simplicity Seminar, in which all Collabrance sales resources are well versed. Koch says Collabrance has "structure, discipline, documentation, and processes" in place, and follows industry best practices of luminaries like Service Leadership's Paul Dippell, who also partners with Collabrance on peer training.
Koch is impressed with Collabrance's understanding of the challenges and pain points of running an MSP business. The results of becoming a Collabrance partner so far include an increase in both revenue and new customers, Koch says.
"They've been an extension of our team and great to work with right down the line. Anytime I call, somebody answers live in two rings, and they'll go above and beyond either helping me out themselves or finding the person that can."