---
Greg VanDeWalker Recognized as 2017 CRN Channel Chief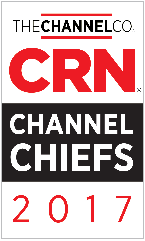 (Cedar Rapids, IA) – GreatAmerica Financial Services Corporation and Collabrance LLC announced today that CRN ® , a brand of The Channel Company , has named Greg VanDeWalker, Senior Vice President of IT Channel and Services, to its prestigious list of 2017 Channel Chiefs. This annual list of executives represents top leaders in the IT channel who excel at driving growth and revenue in their organizations through channel partners.
Channel Chief honorees are selected by CRN's editorial staff on the basis of their professional achievements, standing in the industry, dedication to the channel partner community and strategies for driving future growth and innovation. Each of the 2017 Channel Chiefs has demonstrated loyalty and ongoing support for the IT channel by consistently promoting, defending and executing outstanding channel partner programs.
Mr. VanDeWalker has been instrumental as GreatAmerica expands its financing footprint into the MSP channel, and his most important contribution to date is in the development of the GreatAmerica Hardware as a Rental® program. Today, VanDeWalker oversees both the Unified Communication & IT business unit as well as Collabrance LLC, GreatAmerica's channel-focused master managed services provider.
"The executives on our 2017 Channel Chiefs list have distinguished themselves by building strong partner programs, developing and executing effective business strategy and helping to advance the channel as a whole," said Bob Faletra, CEO of The Channel Company. "They represent an extraordinary group of individuals who lead by example and serve as both invaluable advocates and innovators of the IT channel. We applaud their achievements and look forward to their successes in the coming year."
"Greg has been the perfect ambassador for furthering the needs of the IT channel," said David Pohlman, GreatAmerica COO and member of the Office of the President. "He's been invaluable in digging into the most pressing issues and presenting ways to build on opportunity with our partners."
The 2017 CRN Channel Chiefs list is featured in the February 2017 issue of CRN and online at www.crn.com/channelchiefs .
Follow The Channel Company: Twitter , LinkedIn and Facebook
Tweet This:
@TheChannelCo names @greatamericait @Greg_VDW to @CRN 2017 Channel Chiefs list #CRNChannelChiefs www.crn.com/channelchiefs
About GreatAmerica Financial Services Corporation
GreatAmerica is a national commercial equipment finance company dedicated to helping manufacturers, vendors, and dealers be more successful and keep their customers for a lifetime. GreatAmerica was established in Cedar Rapids, Iowa in 1992 and has a staff of over 500 employees with offices in Georgia, Minnesota, and Missouri. We provide financing and consulting services in all fifty states and some U.S. Territories. GreatAmerica is organized into seven business units: Office Equipment, Unified Communications and Data, Automotive, HealthCare, Direct Programs, Specialty Markets, and Portfolio Services. Visitwww.greatamerica.com.
About Collabrance LLC
Collabrance, a subsidiary of GreatAmerica, partners with Service Providers determined to offer an exceptional IT experience to their customers. Collabrance provides a standards-based technology offering and remote services delivered by a team of technical experts focused on people, not just technology. Collabrance offers flexible financing for partners wishing to differentiate themselves through a total technology solution in a single payment. To ensure partners' success and profitability in Managed IT Services, Collabrance also provides business planning, training, and access to industry experts. www.collabrance.com
About The Channel Company
The Channel Company enables breakthrough IT channel performance with our dominant media, engaging events, expert consulting and education and innovative marketing services and platforms. As the channel catalyst, we connect and empower technology suppliers, solution providers and end users. Backed by more than 30 years of unequalled channel experience, we draw from our deep knowledge to envision innovative new solutions for ever-evolving challenges in the technology marketplace. www.thechannelco.com
em>Copyright ©2017. The Channel Company, LLC. CRN and The Channel Company logo are registered trademarks of The Channel Company, LLC. All rights reserved.
GreatAmerica Media Contact:
Jackie Schmid
Director of Strategic Marketing
Unified Communications & IT Group
319.261.4326
jschmid@greatamerica.com
The Channel Company Contact:
Melanie Turpin
The Channel Company
508.416.1195
mturpin@thechannelco.com
GreatAmerica
Founded by CEO Tony Golobic in Cedar Rapids, Iowa in 1992, GreatAmerica is a $2 billion national commercial equipment finance company. GreatAmerica is dedicated to helping manufacturers, vendors, and dealers be more successful and keep their customers for a lifetime. GreatAmerica is family-owned and provides financing, third party portfolio servicing, and niche market-focused services in all fifty states and several U.S. Territories and has a staff of over 500+ employees with offices in Iowa, Minnesota, Missouri and Georgia.