---
Monitor Honors Stephanie Severin in Annual Women in Equipment Finance List
Reprinted from Monitor, Nov/Dec 2022, Vol. 49, No. 7

Stephanie Severin's advice for women in the equipment financing industry is: "Seize and embrace opportunities that are afforded to you and if none are offered, find some and make them your own. Seek continuous learning and never be afraid to ask questions. Find mentors that help you grow and be willing to be a mentor to others because, often, that is where the best learning happens!"
Severin has been with GreatAmerica Financial Services for 19 years, currently serving as senior vice president and chief credit officer. As a leader and mentor, Severin views understanding employee strengths and facilitating targeted employee development as one of her primary responsibilities. Under her direction, GreatAmerica created a rotational credit development role to grow future leadership bench strength under her watch. Severin encourages cross-functional learning and cooperation to promote empowerment and improve the customer experience. She has also developed credit analysts who subsequently moved to other leadership roles at GreatAmerica, including director of corporate credit, vice presidents of operations, product owner of billing and invoicing and director of organizational development, among others.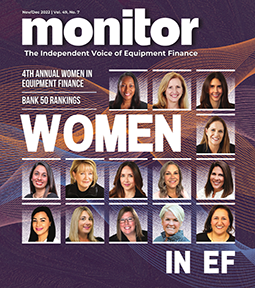 Severin has helped grow the GreatAmerica credit team significantly in terms of numbers and credit authority during her tenure at GreatAmerica, including the formation of what is now a 10-person corporate credit team focused on decisioning larger trans-actions and exposures. Severin also helped improve creation and management of records to automate a previously manual process while also managing credit scoring and au-to-approval models through the height of the COVID-19 pandemic while working with business divisions to develop updated models for various business segments. Most recently, Severin championed digital transformation efforts, completing SAFe 5 agile certification and SAFe training for leaders.
Severin's other accomplishments include receiving a peer-nominated Outstanding Achiever Award at GreatAmerica, Waypoint Services' Women of Achievement award and graduating first in her class from the Missouri Police Academy.
"Over the past almost 20 years that we have worked together, Stephanie has grown, hands down, into one of our industry's top chief credit officers," Tony Golobic, founder and executive chairman of GreatAmerica Financial Services, says. "GreatAmerica as a company has greatly benefited from Stephanie's leadership as have many GreatAmericans whose lives she has touched, Congratulations, Stephanie, on this well-deserved recognition and thank you for a job very well done!"
Severin is a Certified Lease and Finance Professional, a member of the United Way of East Central Iowa's accountability review team and a previous treasurer of Waypoint Services, volunteer crisis counselor at Foundation 2, board member of the Peoples Unitarian Universalist Church and Missouri state president of United States Women of Today. Severin also teaches financial management and fiduciary responsibilities to United Way Board Orientation and Leadership Development attendees.

Note: Monitor is the leading source for equipment finance and equipment leasing industry news.