---
Experience GreatAmerica with Sales Support Specialist - Marvin Ramirez
Welcome to Experience GreatAmerica! In each blog, you'll meet individuals from across our organization as they share their unique stories, career journeys and how they each make an impact at GreatAmerica. We'll pull the curtain back and share what life is really like here, how our team members contribute to the success of the organization, and what excites them most about the future. Along the way, you may begin to picture yourself here too– owning your future and making an impact.
Meet Marvin Ramirez! Marvin joined our team in September 2021 as a Sales Support Specialist I in our Specialty Markets Group. Born and raised in Guatemala City, Guatemala, Marvin ended up in the beautiful state of Iowa, playing college basketball with Iowa Wesleyan University. He graduated with honors in December of 2020, earning a Bachelor of Science in Business Administration with concentrations in Finance, Management, and Marketing.
Marvin brings incredible energy to the team with his contagious smile and sense of style. Read on to learn how Marvin is setting trends at GreatAmerica! Outside of work, Marvin can be found spending time with his significant other, playing basketball or sand volleyball with coworkers and college buddies who've joined his local rec league. On occasion, Marvin can be found crusin' around downtown Cedar Rapids on a city scooter - chasing Iowa sunsets.
WHAT WAS THE MOMENT YOU KNEW YOU'D MADE THE RIGHT DECISION TO WORK HERE?
I wouldn't say it really took long for me to realize I was in the right spot. I think from day one I knew I was where I needed to be based on how the onboarding training was set up and delivered. Right away, I learned about the company and met different leaders from within. Hearing from them as they shared their experiences and their career journeys helped confirm I'm in a good place and a safe place, too, where I can keep working, developing, and growing.
TELL US ABOUT YOUR ROLE AS A SALES SUPPORT SPECIALIST
I support our Specialty Markets Group Healthcare team. One of the things I enjoy most about my role is how our team collaborates, working towards the same common goal. I'm involved in whole transaction process, from the beginning to end. I enter incoming applications into our system and submit them to Credit for review. I communicate decisions back to customers or work directly with end users, if additional information is needed. I get to learn a little bit about everyone's role on the team: Sales, Credit, Documentation and Financial Analysts. Being involved in the process allows me to think of ways to make it easier or more efficient for everyone.
WITH THIS BEING YOUR FIRST ROLE POST GRADUATION, WHAT HAS SURPRISED YOU THE MOST?
I think it's the little things we do to ensure we all live the GreatAmerica principles that has surprised me most. I see this through our cross-functional team structure and the GreatAmerica Experience Team Champions. Daily, I can see our plan in action as the work we do moves us toward our vision and delivers on our mission.
TELL US ABOUT YOUR BEST DAY AT GREATAMERICA
Every month-end I put on a suit and tie. For me it represents the importance of the day and the value of the hard work done that month. At first, I was the "crazy guy" who shows up in a suit and tie, but my team seemed to love it. I encouraged my team join me but it was still a surprise when they did, including people from outside of my team. They even got matching socks! I walked in that morning and saw someone dressed up and then another, and another. They told me they wanted to join me and to make sure I knew I was seen and supported. Even my leaders, who were offsite, dressed up and surprised me on a conference call. It made my day and completely caught me off-guard.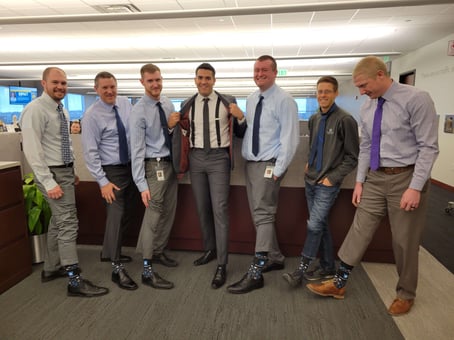 NOW THAT BECOMING A TREND-SETTER HAS BEEN CROSSED OFF OF THE TO-DO LIST, WHAT IS ANOTHER PERSONAL GOAL YOU SET FOR YOURSELF?
As a newish employee, I noticed several people winning WOW awards for delivering the GreatAmerica Experience to customers. It became my personal challenge to get there and receive that award. To do this, I'm constantly thinking about what I can do differently or better for our customers.
WHAT HAS HELPED YOU ON YOUR PATH TO REACH THIS GOAL?
The first step was in the training I received when I started as a new employee. I've also learned to rely on my team members and leaders for guidance. . If there is anything I'm unable to do or unsure of as a rookie, my team and leaders are quick to help. . I knew I would reach my goal because I have a people around me who support me and provide the right opportunities to help me get there.
CONGRATULATIONS ON REACHING THIS GOAL AND RECENTLY RECEIVING YOUR FIRST WOW AWARD! WHAT SPECIFICALLY DID YOU DO THAT LED TO THIS ACHIEVEMENT?
I helped a customer, who was extremely busy at the time, get a fast turnaround on a purchase order so they in turn could deliver equipment to their customer. I recognized they needed to get this deal done "yesterday." I quickly verified the documents, entered the application, and connected with the end user to get a PO issued. The quick work led to a smooth transaction, speedy equipment delivery, and happy customers all around.
WHAT IS ONE PIECE OF ADVICE YOU'D SHARE WITH A NEW COLLEGE GRAD STARTING THEIR CAREER?
Stay hungry and never stop trying to learn. College was essential and as I look back on it, I know I got the basics. It wasn't until I got to work and applied what I learned that my eyes were opened, and I saw more of the bigger picture. College is just the start and learning goes above and beyond from you might have imagined. You may think your first role post-grad is just your "first job", but just think if this is your first and last job - of the impact you can make if you change your mindset and be willing to continue to grow together.
JOIN US!
If you're seeking a place to jump start your career after graduation and can picture yourself here at GreatAmerica, making an impact and setting trends, apply today! You will find a complete and up-to-date listing of our available opportunities on our career's website.
GreatAmerica
GreatAmerica is the largest independent, family-owned national commercial equipment finance company in the U.S. and is dedicated to helping manufacturers, vendors, and dealers be more successful and keep their customers for a lifetime. A $2.4 Billion company, GreatAmerica was established in Cedar Rapids, Iowa in 1992 and has a staff of over 600 employees with offices in Iowa, Georgia, Minnesota, and Illinois. In addition to financing, GreatAmerica offers innovative non-financial services to help our customers grow. www.greatamerica.com