---
Business Technology Association's Top 2014 Channel's Choice Award
GreatAmerica Earns Business Technology Association's Top 2014 Channel's Choice Award
Five Vendors Among Award Winners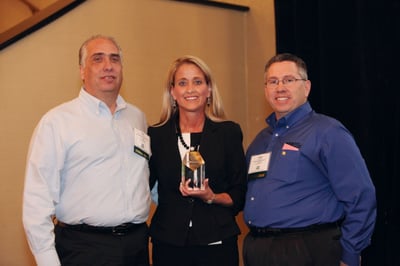 Photo: Jennie Fisher accepts Third Party Financing Channel Choice Award for GreatAmerica
(Kansas City, MO) - KYOCERA Document Solutions America Inc. ( http://usa.kyoceradocumentsolutions.com ) was recently presented with the 2014 Channel's Choice Superior Performance award by the Business Technology Association (BTA; www.bta.org ). Bob Burke, vice president of sales for Copystar, accepted the coveted award on behalf of Kyocera on May 15 from 2013-14 BTA President Todd J. Fitzsimons at BTA's Cruise to Success event, hosted by BTA Mid-America at the InterContinental Chicago Magnificent Mile in Chicago. In addition, Kyocera received Channel's Choice awards in two other performance categories: Inventory and Product Line.
Two other manufacturers were also presented with 2014 Channel's Choice awards. OKI Data Americas received an award for its Outstanding Performance as a Secondary Product Line Provider. Mark Albert, national sales director for OKI, accepted the award. Toshiba America Business Solutions Inc. received the awards for the Corporate Support and Distribution performance categories. Jim Van De Veire, director of sales for the Midwest Region, accepted the awards.
BTA also presented 2014 Channel's Choice awards in two other categories. MSE received the award in the Remanufactured Cartridges category. Darren Shapiro, account manager, accepted the award. GreatAmerica Financial Services received the award in the Third-Party Leasing category. Jennie Fisher, senior vice president and general manager for the Office Equipment Group, accepted the award.
Earlier this year, BTA emailed a link to the online ballot to all of its dealer members and a number of dealers outside of its membership. The association also encouraged industry vendors to provide the ballot link to dealers. The ballot asked dealers to rate their primary and secondary line hardware vendors in key performance categories, as well as to rate vendors in the two additional award categories -- remanufactured cartridges and third-party leasing. The balloting results determined the Channel's Choice award winners. BTA received 356 completed ballots.
"BTA's annual Channel's Choice awards program, which began in 1989, provides dealers with a means of recognizing and honoring those vendors that are the most supportive of the dealer channel," Fitzsimons said. "Through the years, we have honored a number of deserving vendors for their outstanding product lines, exceptional levels of performance and dealer support. As our 2014 Channel's Choice winners, we congratulate GreatAmerica, Kyocera, MSE, OKI Data and Toshiba, and express our sincere thanks for their exceptional support of the BTA Channel."
A comprehensive look at the balloting results will be presented in the BTA 2014 Channel's Choice Report, free to BTA members. The report, currently being prepared by Industry Analysts Inc., based in Rochester, N.Y., will provide an unparalleled view of how dealers rate their vendor partners. When completed, the report will be available for download at www.bta.org/ChannelsChoice (a member username and password is required to download the report). Previous years' reports are currently available for download from the BTA website.
Contact:
Brent Hoskins
Executive Director
(816) 303-4040