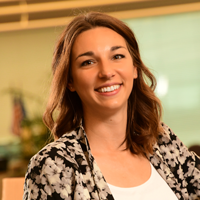 ---
HTG Peer Group Members Gain Financial Liaison
(Harlan, IA) – HTG Peer Groups announced today that GreatAmerica will add a financial resource to help its members bridge the gap between the financial and technical aspects of selling solutions. GreatAmerica Financial Services has dedicated Nicole Mead to work with HTG members to introduce financing options.
"Partnerships drive success in the channel and GreatAmerica has long a history of building deep relationships with partners," commented Pete Sorensen, partner at HTG. "We are thrilled to welcome Nicole to the HTG community!"
Nicole joined GreatAmerica in January, 2018 and has a background in software engineering and sales leadership. Nicole will attend the HTG 2018 Q2 meeting in Dallas, Texas.
script src="https://fast.wistia.com/embed/medias/3eqkxk7r0m.jsonp" async>
br />"The values between GreatAmerica, HTG, and its membership made it a clear choice to add a dedicated resource," Wil Meggers, Vice President and General Manager of the Connected Technology Group at GreatAmerica said. "Since 2010, we've experienced mutual success and growth with HTG and its members and are excited to add even more value with this dedicated position."
HTG members had previously worked with geographically-aligned GreatAmerica territory reps under the guidance of GreatAmerica Strategic Technology Analyst Lead and HTG Strategic Champion Lori Berry. "Nicole will bring added insight to the channel," Berry said. "This further galvanizes what has become a solid and productive relationship with HTG."
About HTG Peer Groups
Founded in 2000, HTG is an international consulting, coaching and peer group organization that cultivates success by igniting personal, leadership, business and legacy transformation. Over 600 members navigate their journey with world-class HTG consultants and facilitators who value sharing wisdom, providing accountability and building meaningful relationships, Igniting Transformation® every step of the way. HTG invites you to explore the program that suits you best, and apply today to begin experiencing The HTG Way at www.htgpeergroups.com.
Jackie Schmid
Jackie Schmid is the Director of Strategic Marketing of the Unified Communications & IT Group at GreatAmerica Financial Services located in Cedar Rapids, Iowa. Jackie is responsible for building brand awareness and gaining strategic relationships through creative marketing. Prior to joining GreatAmerica, Jackie worked in the TV News industry as a producer and executive producer at the local CBS and FOX stations where she helped shape the programs delivered to the market. Jackie's finance career began in 2011 when she joined GreatAmerica to support the sales team serving the Office Equipment space.