---
Tigerpaw Names Louden, Stone, Heskje, and VanDeWalker Among List of Top 100 MPS Influencers
(Cedar Rapids, Iowa) --Tigerpaw has announced its list of the 2022 Top 100 MPS Influencers in the office equipment channel. Among the 100 listed, GreatAmerica is represented by four individuals:
Kim Louden – Vice President, Sales, Office Equipment Group at GreatAmerica
Tawnya Stone—Vice President, Strategic Technology at GreatAmerica
Josie Heskje – Strategic Marketing Director, Office Equipment Group at GreatAmerica
Greg VanDeWalker – Senior Vice President, IT Channel and Service at Collabrance, a wholly owned subsidiary of GreatAmerica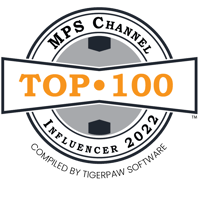 Tigerpaw selects individuals who demonstrate thought leadership, deep expertise, volunteerism, and a willingness to freely collaborate with others to elevate the health of the office equipment channel for all. Back for the second year, this annual recognition program continues to uncover and amplify the voices of those bringing the fresh ideas, perspective, and ultimately contributing to the overall success of the channel's managed print dealers in a swiftly evolving marketplace.
This is the second year in a row GreatAmerica has been represented on this list. Both Stone and VanDeWalker were recognized in 2021 as well, the same year the recognition program made its debut.
About Tigerpaw:
Tigerpaw created the only business management software that ties all aspects of business into a single, robust application. For over 35 years, they've helped converged, integrated technology businesses — in industries such as A/V, managed IT services, managed print, point of sale, security, telecommunications, and two-way radio — succeed and grow by automating business processes and managing day-to-day tasks more efficiently.
https://tigerpaw.com/
GreatAmerica
GreatAmerica is the largest independent, family-owned national commercial equipment finance company in the U.S. and is dedicated to helping manufacturers, vendors, and dealers be more successful and keep their customers for a lifetime. A $2.4 Billion company, GreatAmerica was established in Cedar Rapids, Iowa in 1992 and has a staff of over 600 employees with offices in Iowa, Georgia, Minnesota, and Illinois. In addition to financing, GreatAmerica offers innovative non-financial services to help our customers grow. www.greatamerica.com