---
5 Things You Should Consider When Evaluating an Ecommerce Strategy
Updated 11/8/2022. Originally Posted 10/7/2021.
The pandemic revolutionized our world's technology expectations and there are countless things you can do online today that you couldn't do three years ago. Online purchasing offers instant access outside typical business hours which is undoubtedly convenient. This isn't going away, so being prepared to address your customers' needs is paramount. It can't be denied that consumer buying habits have evolved and bled into the business world and we must adapt to respond to these technological advancements.
It can be overwhelming to think about meeting that challenge, and you probably have a lot of questions about ecommerce. If you choose
not
to offer ecommerce functionality, will buyers turn to online retailers to get the products you once sold to them exclusively? If you
do
choose to offer ecommerce, how do you get started, and how do you do so without harming your current business? What are the things you need to consider, and what are things you want to make sure you
don't
do? We know that an ecommerce offering certainly introduces a challenge. It's not easy – there's no ten-step guide to follow or magic wand to wave.
Regardless of what you decide, we do know that in today's environment, more consumers are turning to the internet to make purchases. Whether or not your business offers an ecommerce option, it's important that you make a purposeful decision because your competitors are thinking about it, too. Whatever you decide is the best route for your business, you need a strategy. Here are five key considerations you need to make as you evaluate your ecommerce approach.
Consideration #1: 'The Way You've Always Done Things' is Not a Long-term Solution
Those in the office equipment space are facing a transition from a largely face-to-face, business-to-business approach to one that involves business-to-consumers in an online environment. This changes the way they've always conducted business, thus presenting challenges and opportunities as the landscape continues to evolve. For example, one place we've seen manufacturers dip their toes into ecommerce is in toner. Kyocera has increased their ecommerce presence by offering the option to order replacement toner online, even for those without a printer contract.
While it may feel a stretch to think of your competitors as big box retailers like Amazon, it's unwise to think you don't need to compete with their approach. Amazon offers competitive pricing and they make it insanely quick and easy to order. These organizations are setting precedence; they are driving new buyer habits and expectations. Your customers are becoming accustomed to a certain way of doing things. With consumers changing, and our channel slowly starting to adopt an ecommerce strategy, independent office technology providers are beginning to realize they can't write off this concept. At the very least, it demands some serious thought about what ecommerce functionality might look like for their channel.
Consideration #2: Ensuring A High Touch, High Value Ecommerce Experience
Another consideration that providers need to keep in mind is the customer experience. One of the wonderful things about the office technology channel is how deeply they care about bringing that high-touch, high value product to their customers. For that reason, many are hesitant and skeptical that an ecommerce experience can accomplish that in a digital format.
But there are many ways to do this, some of which we will cover later. Remember, consumer habits are changing. Even customers within the office technology channel prefer to research solutions independently before involving sales In fact, according to SiriusDecisions, 70% of the buyer's journey is complete before a buyer even reaches out to sales and several more recent studies consistently indicate that number is inching closer and closer to 80%. And if you need further convincing, a study from Gartner found that 33% of online purchasers desired a seller free experience; that number rises to 44% for the millennial age group, our future decision makers. For these consumers, an ecommerce platform may bring a feeling of empowerment, as you are giving them the resources to learn about solutions and compare features on their own timeline. Keep in mind, you can make it extremely easy for your prospective customers to reach out to you via your website, and as long as you implement a quick and seamless follow-up process for inquires, you'll continue to be at their beckon call to answer questions and finalize pricing and solutions as soon as they are ready.
Consideration #3: How will Your Salesforce Think About This?
Next, let's talk about the elephant in the room. How will your reps feel about ecommerce? In the spirit of being fully transparent, we are willing to guess that most will not take kindly to the idea. They may even feel as if the website is a competitor to them. If your reps have a negative knee jerk reaction toward the idea of ecommerce, your leadership team needs to examine how they can effectively position the benefits and how it fits into their sales strategy. It's crucial you have a plan and communicate how it should be viewed as a powerful tool that complements their existing sales process in a way that generates even more opportunities. An ecommerce website is also a powerful lead generation tool. Consider all the people searching for a print solution on Google. Not only are these leads you can potentially sell a print solution to, they are the same people who may need additional solutions you can provide such as network, VOIP, or IT solutions. The printer merely gets your foot in the door and provides the excuse to speak with them about the other office technology services and solutions you sell.
AIS, an office technology company headquartered in Las Vegas, Nevada, believes ecommerce is what prospects and customers are demanding, and are committed to learning as much as possible about this new direction for their business.
"We are all in on ecommerce,' said Keven Ellison, Vice President of Marketing at AIS, on their ecommerce approach, "Ecommerce doesn't replace our sales team. It complements them. It's proven to be a great way to introduce our brand and educate prospects on the cost savings and benefits of working with our dealership. We view it as a new channel to introduce the AIS brand to these prospects searching for and researching their next buy to begin building their trust in us."
At this point in time, most people would not buy a large print solution for their organization, project work and all, without consulting an expert first. They may get information or make decisions about features they want, and they may even join a replenishment program for toner, but at least for the foreseeable future, there will likely be some level of consult from the rep. They should view the ecommerce portion as mode expediting that interaction. Ultimately, sales made through ecommerce could significantly reduce the time a rep will need to spend assessing needs. If executed properly, ecommerce can expedite the sale and give the customer a feeling of empowerment to freely explore their options.
#4: How Will You Approach Pricing?
When it comes to multi-function printers, pricing depends on a vast array of features and services options, but you can display ranges and explain what can make the price fluctuate. Pricing will also depend on the payment method chosen. Because of the complexity here, pricing will be finalized after a website visitor goes through the exercise of determining their desired features using the pricing ranges you've provided as a point of consideration. Once they feel they've weighed their options, they can contact a sales representative who can finalize the price with the necessary installation costs.
Some may be hesitant to include pricing for fear that their solutions won't be comparable to solutions available through big box stores like Walmart or Amazon. But the office technology industry has never been in the commodities, and just because you claim your space in the ecommerce world does not mean you should try competing with the printers sold on Amazon. Your customers are not buying a commodity, they are buying a business partnership with a high service level for the product you sell them. This is much different expectation than most of the consumers shopping for printers on Amazon.
And if you are still hesitant about including pricing, consider a baby step. As we said, an ecommerce website is a powerful lead generation tool. By employing a product catalog and the ability to build their solutions, you can collect information about those looking and hand that information off to your sales or marketing team to either follow up or nurture with helpful content until they are ready to buy. Though not a true ecommerce experience, this approach can be powerful in expanding your pool of prospects.
Consideration #5: Taking a Consultative Approach to Product Descriptions
Prior to the pandemic, a dealer's online presence might only be as accessible as their online showroom or a section of their website where the products they sold and their specifications were listed online. Shoppers could research the basic functionality of a solution. Some went as far as to allow ordering service or supplies through their website. While this is a step in the right direction, the components of a true, fully connected ecommerce solution were missing.
As we covered earlier, it's likely that a rep will always need to play some role in an ecommerce sale, but there are ways you can empower your customers to become educated on the features and solutions that may be a good fit for them. One way to do this is by taking a consultative approach to your product descriptions that go beyond make, model, and size specifications. Instead, help your customer see the product in their own environment by crafting descriptions that provide suggestions on where it would work best. This will help them understand what kind of printer will fit within their business. Is it a powerful small business printer? A high-volume printer that is great for accounting? Show them what makes sense for what environment and help them understand what to look for.
In Summary
There are a number of ways you can think about approaching ecommerce, but the important thing is to proactively address it rather than ignoring it. Maintaining a relationship with your customer is important and doing so in the ecommerce world is not as vastly different as you might think. Selling a device and having an ongoing relationship with your customer is what you're used to and providing a way to do that digitally does not mean you have to give up that highly personal, tailored approach.
If ecommerce is a path you decide to go down, we highly recommend investigating pre-existing solutions that have been built by those right within our industry by people who wake up to focus on ecommerce each and every day. Going this route is so much easier than trying to go it alone, as you can leverage their professional services and support throughout the implementation to ensure you avoid common pitfalls and keep best practices at the forefront of your strategy. At GreatAmerica, we partner with 3rd party software to embed the financing process into the ecommerce solution. Learn more by reaching out to tstone@greatamerica.com.
As you continue to consider what an ecommerce solution might mean for your business, you'll likely uncover more questions you'll need to answer, but we hope these five considerations will help you begin to think about what your ecommerce strategy could look like.
---
Join Us For a Two-Part Webinar Series Focused on Ecommerce in the Office Equipment Industry!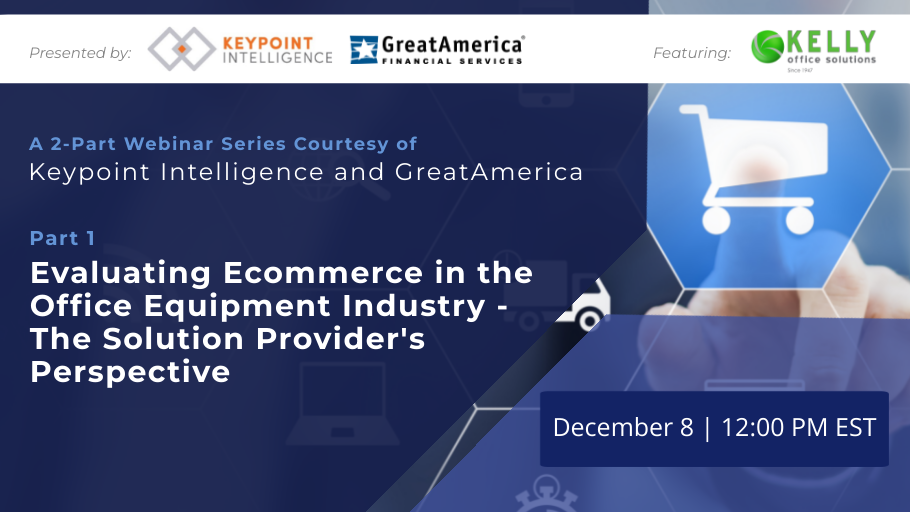 Keypoint Intelligence and GreatAmerica are joining forces to deliver the resources and education office technology providers need to get into ecommerce. It all starts with a two-part webinar series where technology providers just like you will share their experiences and perspectives on overcoming objectives and implementing an ecommerce strategy. In this first webinar, Anthony Sci, President and CEO of Keypoint Intelligence, and Tim Renegar, Co-owner and President of Kelly Office Solutions, will address your questions, as well as some of the top dealer concerns related to implementing an ecommerce solution. You won't want to miss it.
GreatAmerica
About GreatAmerica Financial Services Corporation GreatAmerica is the largest independent, family-owned national commercial equipment finance company in the U.S. and is dedicated to helping manufacturers, vendors, and dealers be more successful and keep their customers for a lifetime. A $2.5+ Billion company with life-to-date finance originations of over $14 Billion, GreatAmerica was established in Cedar Rapids, Iowa in 1992 and has a staff of over 600 employees with offices in Iowa, Georgia, Minnesota, and Illinois. In addition to financing, GreatAmerica offers innovative non-financial services to help our customers grow.