---
As-A-Service Financing Trends [2022]
Updated 9/8/2022. Originally published 8/26/2022.
The value of As-A-Service has been increasing over the years and the pandemic only escalated it. In 2021, the global As-A-Service market was valued at $198.6 billion, and it's predicted to reach $624.1 billion by 2027 according to data from a market research company called the Imarc group. Organizations are increasingly using As-A-Service to take more control over their IT and its costs.
While the As-A-Service model increases in popularity, it's more likely your customers will seek it out. In fact, according to a report from Deloitte, eight in 10 respondents of their survey say their company already uses Software-As-A-Service, Infrastructure-As-A-Service and/or Platform-As-A-Service and most of the remaining respondents say they plan to adopt them within the next two years.
Why are your customers increasingly looking for As-A-Service? It allows them greater flexibility, the option of paying through a subscription or pay-per-use model and creates a predictable budget. Read on to learn more about how As-A-Service benefits your customers and how to handle customer concerns when it comes to the transition to As-A-Service.
The Increasing Value of As-A-Service for Your Customer
Offering As-A-Service allows your customers to increase their operational efficiency, business agility, and competitive edge. All three are important in today's business landscape. Your customers can increase their operational efficiency through As-A-Service, freeing up their own IT staff to focus on tasks other than basic operations. Through As-A-Service, customers can adjust their IT capacity quickly and take the pressure off operations as service providers like you take on more responsibility for installation upgrades and maintenance.
Access to cutting-edge features through As-A-Service limits the risk and cost of buying new technologies that allows them to invest and innovate their own products and services. This increases companies' abilities to compete with other companies and be able to adjust to the rapidly changing world of technology financing. According to Deloitte's report, the No. 3 and No. 5 As-A-Service objectives are "access to cutting-edge features/technologies" and "accelerated innovation". The objective of cost reduction has dropped in importance from the No. 4 goal in the 2018 survey to nearly last in 2020. This change has taken place as the advantages of business agility have become more evident.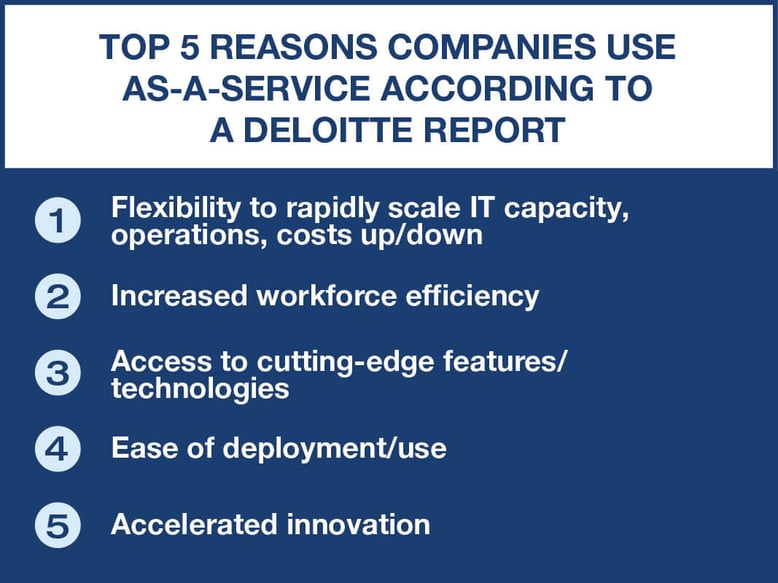 Offering As-A-Service helps your customers have an edge over their competition. Along with higher business agility and increased operational efficiency, they can pay in a way that is convenient for them. Like with most changes, your customer will likely have some concerns before adopting the As-A-Service model and it's important to show off these benefits.
Handling Customer Concerns
When switching to As-A-Service, some common concerns that have stayed constant from Deloitte's 2018 to 2021 report are:
Data security and privacy

Inadequate internal IT skills to deploy and manage As-A-Service

Unpredictable costs and difficulty integrating with other systems
These concerns can be addressed by building strong relationships with customers. Customers can overcome their worries if it is clear their As-A-Service provider is committed to their success. One of our principles at GreatAmerica is that we build enduring relationships and are committed to mutual success. A strong relationship establishes trust, and a consultative relationship creates a path to success. According to Deloitte's report, 82% of adopters agree that they could achieve better outcomes through a consultative partnership. By acting as your customer's consultative partner, you can help your customer succeed when it comes to managing As-A-Service and handling unpredictable costs. Address all these concerns through building a relationship for success that benefits your customer and your business.
In Summary
As a technology provider, you can help your customer succeed by offering innovative solutions like As-A-Service. This model has great customer value, and you can offer it through services like GreatAmerica without impacting your cash flow. Handle your customers' concerns with consultative communication and maintaining a strong relationship of trust. Contact us if you're interested in using technology financing to offer As-A-Service. Or if you are an imaging focused provider who is just now evolving into IT and As-A-Service, learn about how GreatAmerica can support technology As-A-Service solutions with financing.
GreatAmerica
GreatAmerica is the largest independent, family-owned national commercial equipment finance company in the U.S. and is dedicated to helping manufacturers, vendors, and dealers be more successful and keep their customers for a lifetime. A $2.5+ Billion company with life-to-date finance originations of over $14 Billion, GreatAmerica was established in Cedar Rapids, Iowa in 1992 and has a staff of over 700 employees with offices in Iowa, Georgia, Minnesota, and Illinois. In addition to financing, GreatAmerica offers innovative non-financial services to help our customers grow.