Lee Rozeboom, Vice President and Managing Director of Sales at Great America, and Peter Kujawa, Vice President of Service Leadership, a ConnectWise solution, recently hosted the second webinar of a two-part series covering best practices for MSPs. This webinar specifically focused on how you can work with financial technology providers to maintain best practices for recruiting and retention to maintain profitability.
To view the full webinar, please visit here:
Read through this blog to learn more about what you as a solution provider can do to stay profitable while still prioritizing recruitment and retention.
Service Leadership Webinar #1 Re-cap
The first webinar in this series covered a lot of ground. Lee Rozeboom discussed the current pressures on solution providers like outside competition, inflation equipment delays, the great resignation, and more. He shared how these pressures are evolving, and how to counteract the growing list of difficulties.
So, before we dive into the second webinar re-cap, make sure to watch the recorded version of the first webinar in this series, or read the blog, which discusses best practices for managing new and current clients for solution providers:
Related: Best Practices for Managing New and Current Clients for Solution Provides (2022)
Current State of the MSP Industry
Many solution providers are wondering whether the industry is currently in a recession. The short answer to that is no. Peter Kujawa explains that even if the macro economy is in a recession, the IT solution provider industry is not. Through Q2 in 2022 there was still great revenue growth and adjusted EBITDA has continued to stay strong and even slightly improved in Q2 of 2022. Gross margin percentage has slightly decreased in Q3, but Peter explained this is normal, and he still believes that this industry is as 'recession-proof' as it has been in the past.
The cut-off for best-in-class went down slightly to 17.7% adjusted EBITDA in Q3 (which is still incredibly healthy) and the average is 23.4%. The bottom quartile is still struggling with the cut-off dropping to -3.8% and the average staying at -10.2% adjusted EBITDA in Q3 of 2022. 100% of the companies in the bottom quartile are losing money today and so is a large part of the median quartile. For this reason, Peter emphasized the importance of fixing your business model now because if you are in the bottom quartile or even the median, you are not currently well positioned for a downturn.
Target Customer Profile (TCP) in Relation to Recruiting and Retention
Operational maturity level (OML) can be defined as the measurement of how well run your TCP is on a scale of 1-5. When you effectively define your TCP you are doing 3 things:
You can minimize the range of skins, tools and processes you need, so you can control cost and deliver higher quality outcomes

Your marketing knows what messaging is needed and who to target to generate qualified leads (and who

not

to target)

Your sales reps know who to sell to and who to walk away from which leads to higher commissions and less rep frustration
Customers within each TCP are going to need to be supported by similar types of technology. TCP can be thought of as individual swim lanes. Peter explains that each lane can serve a different number of customers per client, and every lane needs managed services. But he cautions; don't try to swim across lanes, because each lane requires different support. Stay in your lane and focus on or meet the needs for your niche environment instead of trying to focus on helping every level of your customer base. This is not to say that you can never sell larger or smaller, but you shouldn't try to serve everyone at once.
What does a low OML mean in relation to TCP?
A low OML means that you have not efficiently defined your TCP. This means that you are taking in anyone who is willing to pay, and any customer with a dollar is a good potential customer in your eyes. A low OML is common with many start-up MSPs because often times they are just trying to see cash flow and keep the lights on.
What does a high OML mean in relation to TCP?
A high OML means that your TCP is well- defined, and you are staying within your TCP limits. A high OML comes with many benefits and serves MSPs well when properly maintained which we will talk about more throughout this blog.
Technology Standards in Relation to Recruiting and Retention
Having and abiding by strict technology standards are one thing you can implement to raise your OML. Supporting a 2,000 person company versus a 50 -person company is completely different and requires different technology, which is why matching company size to technology standards will help make you, your clients, and your employees happier.
Technology Standards and Tech Stack for Low OML
If a solution provider has a low OML, they will bring on anyone as a client regardless of what technology that customer is running. No matter what, they are looking for service revenue. They may have a preferred tech stack, but they will still support other products if a client buys their managed service offering. This means that more experienced techs are required, and it becomes much more devastating when those techs leave which ends up being much more expensive, and issues are resolved at a slower pace because of the wide range of technology supported.
It is more difficult to train new employees at a company with a low OML and often there are lower customer experiences. This means you are paying more for technicians, and in return you are likely getting lower customer satisfaction.
Essentially, a low OML is difficult to standardize, meaning a less enjoyable experience for the client and requiring higher paid technicians which all results in a much more expensive and stressful environment for you, your client, and your employees.
Technology Standards and Tech Stack for High OML
If a solution provider has a high OML, they are very profit driven, and they focus on a smaller and more purposeful tech stack. This tech stack includes all tech that they will need to manage and includes robust security. The limits of this tech stack are 100% non-negotiable for clients.
Because there is a smaller tech stack, techs are easier to train, happier, and provide faster resolution times which means less staff is needed. The staff you do need can be less experienced because there is a select amount of technology for them to be familiar with. Employees are happier because clients are happier, which means less burnout and turnover with clients and employees.
To sum things up, a high OML is easier to standardize, provides a better experience for clients, and requires less expensive technicians. These things all lead to a happier work environment, and higher retention of both clients and employees.
Getting Back to the Basics – Reactive Ticket Makeup
It is important to remember the average makeup of tickets that solution providers encounter. 70% of tickets are level 1, 24% are level 2, and 6% are level 3 and higher. Why would you not build your help desk to reflect this?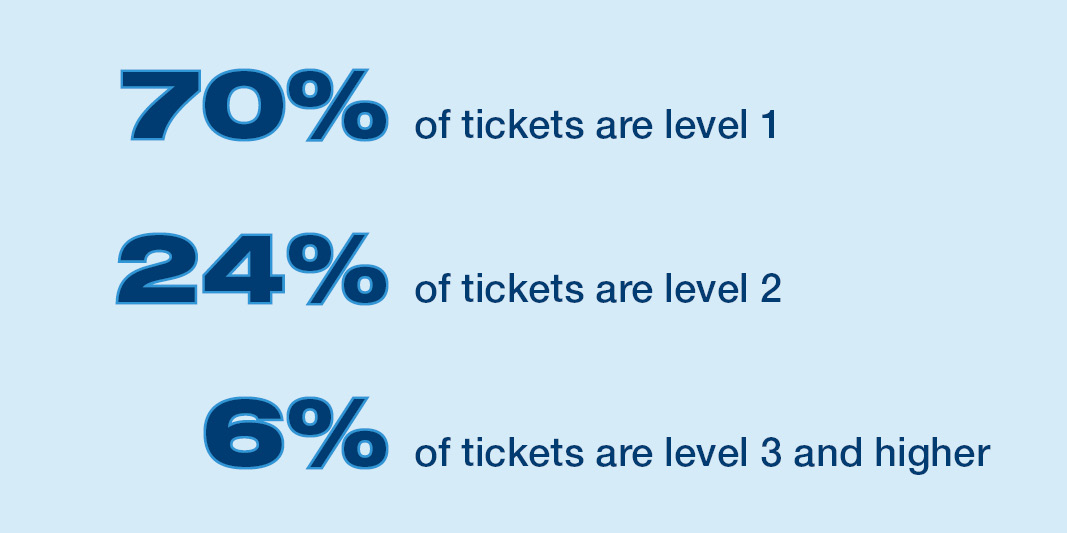 Low OML companies are more complex, meaning they're hiring less level 1 and level 2 technicians, and more level 3 and level 4 technicians which is so much more expensive. High OML means the opposite; it means hiring to reflect the reactive ticket makeup which means hiring more level 1 and level2 technicians and less level 3 and level 4 technicians, leading to less expensive labor costs for solution providers.
Recruiting and training level 1's is the key to success, and this is what you should focus on:
Plan on 20-30% annual employee attrition

Recruit constantly

Be process driven

Speed is your friend (which means same day conditional offers)

Don't settle and go outside of your set tech stack/TCP
Our Role as MSP Leaders
Organize your business in a manner to maximize profit while prioritizing and maintaining a high OML. Hire great people with high potential and act as coaches and mentors to techs to encourage them to grow their careers. It's also important to understand that if you are doing this right, techs will grow up and grow out – and that's okay!
Tying Everything Together
At the end of the day what we want to see is growth in EBITDA. In order to do that, you need to improve recruiting and retention which means clearly defining your TCP and tech stack and changing your outlook on hiring and recruiting. It all comes back to the standards.
Who buys, what they buy, and how they buy matters
In a cash sale, cost is central and therefore you are being compared to the competition, pinching margins, causing hesitation when it comes to upgrades, a noisier environment, and security risks. Ownership takes place day one in a cash sale, which encourages clients to use their technology as long as possible, creating technology hoarders and making solution providers' jobs much more complicated.
If you provided a way to lessen the burden for your employees and customers – wouldn't you? The way to do that is by offering a monthly payment option. With monthly payments, there is less focus on price and it encourages optimal refreshes.
If you are interested in learning more about offering monthly payments GreatAmerica can help support you as you implement these best practices. Take these two steps to get started: Fill out the OML tool and reach out to the GreatAmerica Team. We will work with you to select 3 - 5 of your d customers, build out a monthly plan for this group, and support you as you move those customers up or out.
To learn more about benchmarking with Service Leadership Index®, please visit here.
GreatAmerica
GreatAmerica is the largest independent, family-owned national commercial equipment finance company in the U.S. and is dedicated to helping manufacturers, vendors, and dealers be more successful and keep their customers for a lifetime. GreatAmerica was established in Cedar Rapids, Iowa in 1992 and now has offices in Iowa, Georgia, Minnesota, and Illinois. In addition to financing, GreatAmerica offers innovative non-financial services to help our customers grow.