---
Everything You Need To Know About Software Financing
Updated on 12/2/2021. Originally Posted on 5/6/2020.
Since 2020, IT and office technology providers have been tasked with deploying their clients' remote workforce at record pace. Many projects were put on hold, and IT providers worked around-the-clock to ensure their clients could continue doing business securely from home, staying busy with software migration, implementation, and upgrades – all of which could conveniently be done remotely.
Today, as many organizations forge ahead with some form of hybrid work environment, software demands continue, creating opportunities for providers. Reliance on applications, specifically collaboration software applications, for teams to remain productive, has become permanent, making for a lot of opportunities for solution providers. However, seizing these opportunities requires some creativity as high inflation and economic uncertainty remain big decision factors for buyers.

Enter software financing: most software can be financed just like your phone systems, computers, and printers. Offering a financing option on the software your customers need to run their businesses enables them to invest in necessary technology upgrades via affordable monthly payment options. This shows you are mindful of the current climate and have proactively sought out finance solutions for them. If you're not familiar with offering a financing option on the software you sell, fear not. We answer the most common questions below.
Can My Customer Finance a Software Purchase?
Yes, in many cases, acquisition or licensing of software can be financed under a special finance agreement. However, not all software will qualify for financing. We discuss some of the considerations below.
What Does GreatAmerica Look for When Deciding Whether or Not to Finance Software?
There are a number of factors considered when determining whether a specific software is a good fit for financing. Here are a few of them:
Software Company is Established
Since software many times is heavily supported by the developer, it is an important first decision point. For example, it is unlikely we would feel comfortable financing a crowd-funded startup company who has developed only version one of their software. Conversely, we are very comfortable financing Microsoft 365 or VMware.
Software is Essential Use for the Customer
The next thing our team considers is how essential the software is for your customer. For example, practice-management software for a medical office or document management software for a legal office.
How the Software is Acquired
How the software is acquired is another critical aspect for us to understand. Is it a software that you purchase once, download to a device and own forever? Is it an upfront fee for a perpetual license, or perhaps a term license? Those are all cases where financing is favorable. The caveat on the term license is the finance agreement cannot be longer than the term of the license. Another thing we see often is when a software platform offers a discount for an upfront commitment. For example, it is $10 per month, but if you buy a year in advance it is only $100. Many times it makes sense to take advantage of the discount. Software platforms that are sold month-to-month or cancellable aren't a good fit.
How the Software is Deployed
The final major consideration is how the software is deployed to your customer. Ideally the software will be deployed to a server or device owned by your customer, either on-premise, or in a data center. If the software is accessed via a connection to a manufacturer or provider hardware platform, it requires a little more research.
Can my Customer Finance Software Development?
With software development, many times you are paying for a future state, regardless of the outcome. Because of the risk involved and heavy reliance on the software developer to perform, GreatAmerica currently only finances development in very few, unique situations.
Can my Customer Finance Labor or Software Migration?
Generally speaking, GreatAmerica will finance the labor associated with deploying the software and/or software migration as part of a software finance agreement. We typically do not finance labor-only projects.
Is a Different Finance Agreement Used for Software?
If the transaction involves primarily the financing of software, GreatAmerica generally uses a software finance agreement. Other agreement types may be used, depending on the makeup of the transaction.
What is the Difference Between a Software Finance Agreement and a Lease Agreement?
In both cases, your customer, the company who will be using the hardware or software, is obligated to make regular scheduled payments.
The major difference between the typical leases we offer for equipment and a software finance agreement is that in a lease GreatAmerica owns the equipment and grants your customer the right to use the equipment. However, with software, neither your customer nor GreatAmerica owns the software. Rather, the software company owns the software, and your customer is merely seeking a license to use the software. Accordingly, in a software finance agreement, GreatAmerica is providing financing to your customer to acquire a license to use the software.
Because of the fundamental differences between a lease and a software finance agreement, here are some things that work differently:
You would add applicable sales tax on your invoice to your customer and we would fund you for the full amount of the invoice, inclusive of the taxes. You are then responsible for paying such taxes to the respective taxing authorities.
If your customer purchased a perpetual software license, your customer will continue to use the software free and clear of any lien by GreatAmerica once the final scheduled payment is made.
If your customer purchased a term/subscription-based license, then GreatAmerica could work with you and your customer in financing their next software solution.
Incorporate Financing into Software Discussions
Now that you know a little more about software financing, add it to your tool belt as another way for your clients to affordably upgrade their technology. If you have additional questions about software financing and how it works, our team would be more than happy to help. Reach out to us!
---
Download the State of the Modern Technology Buyer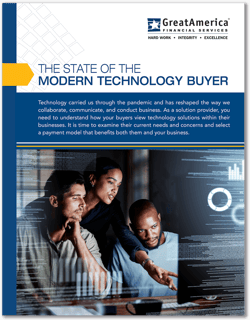 Technology providers are adding products and solutions to their catalog of offerings, many of which involve software or cloud-based solutions. Check out The State of the Modern Technology Buyer for more information.
GreatAmerica
GreatAmerica is the largest independent, family-owned national commercial equipment finance company in the U.S. and is dedicated to helping manufacturers, vendors, and dealers be more successful and keep their customers for a lifetime. A $2.4 Billion company, GreatAmerica was established in Cedar Rapids, Iowa in 1992 and has a staff of over 600 employees with offices in Iowa, Georgia, Minnesota, and Illinois. In addition to financing, GreatAmerica offers innovative non-financial services to help our customers grow. www.greatamerica.com