---
Leading with a Monthly Payment: Monthly Recurring Revenue Benefits You and Your Customers
Updated 4/13/2022. Originally published 9/23/2021.
Monthly recurring revenue is a predictable and reliable source of income which you accrue when you sell your products, services, and more on a monthly payment plan. There are a variety of methods to achieve it, including subscriptions, leases and Hardware as a Service contracts, but the end goal is the same: monthly recurring revenue that is more consistent, predictable and valuable.
As a business in the office imaging space, you're probably very familiar with selling a payment; hardware and services as separate obligations or bundled payments combining the two.
Not surprisingly, your customers are familiar and expect monthly payment options specific to their multi-function printers. They appreciate how it makes it easier for them to budget and more cost effective to refresh the solution down the road.
As the provider of technology, you understand how a monthly payment makes it easier and faster for you to close more sales, both in new contracts and in upgrades. You also realize the potential for increased margins when compared to those customers who end up buying with cash.
The Environment, Players, and Consumers are Changing
Though offering a monthly payment may have been business as usual for you in the past, the last few years have brought a lot of changes in the world of office technology. Providers are evolving from imaging focused offerings to an expansive array of interconnected office technologies tied to the network. The last 18 months have accelerated this diversification as many providers who had previously focused exclusively on imaging or print offerings, are now adding software, IT hardware, security, or cloud offerings into their solutions catalog.
Third-party providers of these innovative technologies recognize the strongholds that office technology companies have had within the SMB segment and they see business opportunity in partnering. If structured correctly, imaging providers can benefit from the specialized talent needed to sell and implement these new offerings, as well as a customer base that gives them a leg up in a new arena. But because non-imaging technology offerings are often still sold for cash, specifically on the IT and Network side, acquired customers and IT sales talent often have not been exposed to buying or selling a monthly payment option.
Spending on IT dwarfs what companies spend on print. Little of this IT spend is made via a monthly payment which means there is a great opportunity to convert these sales from cash purchases to monthly recurring revenue. The problem is our partners often battle the "use it or lose it" budget mindset with IT customers, as these customers do not fully appreciate how monetizing their budgets over time affords them the flexibility to make other more meaningful investments.
Even when selling into your current printer and printer base, it's likely you'll encounter hesitance toward a monthly payment when interacting with IT decision makers, which may be different individuals than you have worked with previously. Whether it be a Systems Administrator, CFO or other, it is quite common for businesses to think about their IT budgets separate from their printing budgets, so when offering a monthly payment to these decision makers, education around a financing option is often necessary.
This leaves solution providers with a decision. Do they take the sale just to get the business and risk sealing future deals? Or do they do what they already know is a proven winning strategy and encourage a monthly payment structure that includes technology and services?
While it may be tempting for you to allow these customers to pay cash up front, this may not be the best strategy for your business or for them, as your customer. Instead, it's time to help them realize the benefits of a monthly payment for all of their technology. After all, most of the products and services they regularly consume in their day-to-day lives are acquired through a monthly payment because most companies automatically guide you in that direction.
Take the iPhone for example; rather than offer a large, upfront expense, cell phone providers offer a convenient, affordable monthly payment option spread out over multiple years. When the time comes to upgrade to the newest iPhone, it is a rinse-and-repeat process and consumers love it. This approach is appearing in the office technology industry with the movement to more cloud-based offerings for SMBs and enterprise-level organizations, which matches the monthly consumption model.
In fact, The Harris Poll recently conducted an online study on behalf of Zuora's Subscribed Institute surveying 13,626 adults across 12 countries. It showed increasing consumer preferences toward subscription services over product ownership. It revealed that 78% of international adults reported having subscription services and 75% believe people will subscribe more in the future, holding less ownership over products. The fact is consumers have grown accustomed to this model and are less and given the option, are less willing to make a large cash outlay upfront.
Revisiting the Monthly Payment – Remembering Why Leasing is a Key Growth Driver for your Business
A monthly payment not only aligns with the evolved habits of the modern buyer, but it is good for your business, too. From increasing your overall business valuation, to making your customers happier and improving employee retention, here are a few of the top benefits of offering a monthly payment option.
Stable and Predictable Recurring Revenue
Monthly recurring revenue is a consistent and reliable stream of income. Companies who have traditionally relied on those one-off product sales and made the transition to monthly recurring revenue (MRR) have been able to say goodbye to the stress and headaches of worrying whether they'll make enough sales each month to pay the bills. We have even seen this on the imaging side as more companies that have traditionally sold "per click" contracts are now looking to reducing the variability in their services revenue going forward with base allowances or minimums.
Without all that stress, you'll have more time for other areas of your business such as product development, training and business strategy.
Increased Business Valuation
The valuation and EBITDA of businesses with strong MRR portfolios is greater than those without because recurring revenue is a big factor in the calculation of your EBITDA multiplier (Service Leadership). A large amount of total recurring revenue carries more weight than overall sales.
Stronger Customer Relationships
Selling on a monthly payment also helps you better align with your customer's needs. Instead of trying to convince them to buy another system in a few years, you are instead approaching them for a refresh. The contracted monthly recurring revenue is good for your business, but since an upgrade is built in, it also helps your customers update their technology on an optimized schedule in an easy to budget, cost effective way. This approach allows you to spend more time focusing on adding value to your services and their business, leading to a more positive, long-term relationship. In a world where meeting the customer's needs is balanced with closing the sale, the ability to stay committed to your sales process and your technology stack is the only way to ensure the highest level of service, minimize end-user downtime and maximize customer satisfaction.
In Summary
With all these benefits and more, it's clear that if you don't include recurring revenue streams as a part of your strategy, you may want to start. And if you're already bringing in steady monthly recurring revenue, why not expand to the innovative solutions you're adding to your catalog? Speak with a GreatAmerica team member about positioning a monthly payment to your technology customers by contacting us here.
---
Download the 'Quick Guide to Addressing Financing Objections and FAQs '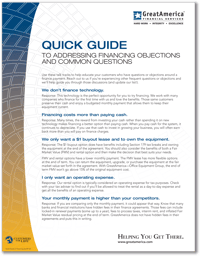 Once your customers understand the benefits of leasing or renting their technology, they'll never want to go back to paying cash. Use these talk tracks to help your customers who have questions or objections around a monthly finance payment.
GreatAmerica
GreatAmerica is the largest independent, family-owned national commercial equipment finance company in the U.S. and is dedicated to helping manufacturers, vendors, and dealers be more successful and keep their customers for a lifetime. A $2.5+ Billion company with life-to-date finance originations of over $14 Billion, GreatAmerica was established in Cedar Rapids, Iowa in 1992 and has a staff of over 600 employees with offices in Iowa, Georgia, Minnesota, and Illinois. In addition to financing, GreatAmerica offers innovative non-financial services to help our customers grow.