"If it isn't broken, don't fix it."
We all know the saying which implies that if a particular something isn't wrong, we need not take action to correct it. The message can sometimes be great advice, however when it comes to technology, outdated hardware or software are both a liability and a loss of opportunity when it comes to efficiency and cost savings. Simply put — clinging to old, sometimes clunky technology can end up costing more than the price of an upgrade.
In this blog, we highlight a handful of pitfalls associated with hanging on to outdated equipment.
Pitfall #1: Security Threats
"43% of cyberattacks target small businesses, and only 14% are prepared to defend themselves." Outdated systems pose a higher security risk. Why? As a system ages, it becomes more vulnerable to hacking and other cybersecurity threats. The risk becomes even more threatening when you factor in a lack of regular security or software updates. The Windows 7 system is simply one example, and any cybersecurity attack holds the potential to send a medium-to-small business under.
RELATED: What are the Security Risks Associated with the use of Unmanaged Print Devices?
Pitfall #2: Decreased Productivity.
As equipment ages, it becomes more of a liability than an asset. Here's why:
The user spends increased time waiting for certain programs to load or perform

The time normally spent on completing tasks is replaced with downtime and service calls to repair the technology

There is less flexibility when it comes to accessing integrations and applications, creating a less efficient path from Point A to Point B
When a small-to-medium sized business strives to make a large impact with a small footprint, they simply cannot afford to miss out on productive working hours by attempting to navigate around the technology's obstacles or flaws. It just feels counterintuitive, right?
Pitfall #3: Poor User Experience
Consider today's trending method of consuming products, services, or information: it is instantaneous and highly satisfying. When technology fails to maintain the speed necessary to please your customers, it is no longer serving its purpose. Your reputation is on the line. It is you vs. the aging technology, and we're afraid it is very challenging to win this battle.
Pitfall #4: Higher Costs
The costs associated with maintaining legacy technology and software are prohibitive. It is inevitable that as technology ages, it will fail. With each service call, your clients receive an avoidable invoice for repair costs and labor. While hanging onto old technology may feel like a cost-saver, the user may end up spending far more on service tickets than an infrastructure update would cost (using flexible monthly payment options through leasing).
RELATED: Everything You Need To Know About Software Financing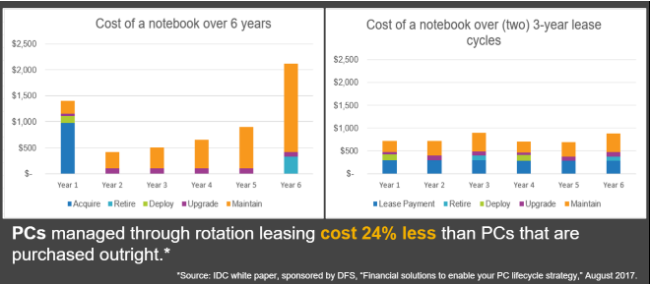 This chart produced by International Data Corporation (IDC) demonstrates the cost volatility of an aging laptop. Compare that against the cost of replacing the laptop after three years.
The last thing that any business owner wants is to waste money when there is an alternative avenue that ensures a smooth, cost-effective experience.
Updated Technology is Essential - We Can Help You Provide It
A proven way to help your clients avoid these pitfalls is getting them on a regular technology refresh schedule. The two things that will make the biggest difference when implementing a refresh strategy are:
Selling the solution as a monthly payment. Your clients will be less likely to refresh the solution if they own it.

Conducting regular business reviews with your clients. Whether that is quarterly or bi-annually, having a discussion about their technology roadmap will be critical in terms of staying in front of their needs.
Many of your clients are used to running on old technology, so they may be hesitant to adopt a lifecycle strategy. Once your client understands the benefits of having functioning, secure, and up-to-date technology, they will not want to go back.
GreatAmerica can create financing programs that align with recommended refresh schedules for the technology you sell. Check out our program selector tool to start building your program today.
GreatAmerica
GreatAmerica is the largest independent, family-owned national commercial equipment finance company in the U.S. and is dedicated to helping manufacturers, vendors, and dealers be more successful and keep their customers for a lifetime. A $2.4 Billion company, GreatAmerica was established in Cedar Rapids, Iowa in 1992 and has a staff of over 600 employees with offices in Iowa, Georgia, Minnesota, and Illinois. In addition to financing, GreatAmerica offers innovative non-financial services to help our customers grow. www.greatamerica.com