---
8 Reasons to Offer a Monthly Payment Option
Updated 1/13/2022. Originally published 4/22/2021.
Customers need technology and look to their Solution Providers as the experts who can help determine how to best fulfill that need. The current economic implications on businesses include uncertainty and hesitation around utilizing cash flow, but financing can help. In this blog, we highlight the top eight reasons you should be offering your client a flexible way to acquire your technology solution.
Reap the Benefits of Financing on Several Avenues
While you strive to provide customers high functioning, supportable, efficient technology, a flexible monthly payment option benefits you both by making those solutions accessible.
#8: Experience fewer days sales outstanding (DSO)
Many Solution Providers struggle with long days sales outstanding (DSO), relying on the customer to pay you after you make the sale can strain your budget. By leading with a monthly payment option, you are paid upfront for the sale eliminating the financial risk of long DSO.
#7: Make it easier for your customer to decide
When you eliminate the large outlay of capital, you create an easier buying experience for your client. Your proposed solution is not fighting for a large chunk of the customer's Cap Ex dollars – rather a convenient, predictable monthly payment. By providing payment options, you lower the barrier to entry and make it more manageable for clients to purchase and start using their technology.
#6: Cover all IT needs with one invoice
At GreatAmerica, our goal is to keep it simple for you, so you can keep it simple for your customer. We can finance your standard, full IT experience, including hardware, software, and professional services. For any recurring monthly Managed Services, we bill and collect that for you. as well. In this article, learn exactly how it works for GreatAmerica to bill your managed services. To further explore what falls into the software financing capabilities, check out this blog.
#5: Enable standardization for your sales and service teams
We often hear about the pain involved in supporting outdated technology – countless service calls and unhappy clients don't make for a pleasurable experience for either party. By shifting your external offering, your internal teams benefit significantly through fewer service calls, more day-to-day predictability, and a much more aligned and repeatable approach.
#4: Enable your customer to use cash for other investment areas
By opting for an affordable monthly payment, instead of a large upfront capital expenditure, your client significantly frees up their available cash. Your customer will not feel pressured to make a cash option work by rearranging their capital budget or making business sacrifices. Instead, they can invest that cash in other areas of the business, like marketing, hiring, or sales initiatives.
#3: Provide immediate ROI
By offering a convenient monthly payment, your client can enjoy the immediate ROI of operating highly efficient, fully supportable technology without a large cash outlay. Bonus: As the Solution Provider utilizing a monthly payment option through a finance provider, you are paid upfront for the cost of the hardware, software, and installation services. It's a win-win option.
#2: Align with the industry shift in consumption
Consider today's trending method of consumption – many services and products guide you to the monthly payment option. The iPhone is simply one of many examples. Rather than commit to a large, upfront expense, Apple provides a convenient, affordable monthly payment option spread out over multiple years. And when the time comes to upgrade to the newest iPhone, it's a rinse-and-repeat process. Such is true with financing. Many consumers have come to expect this as an option.
DOWNLOAD: The State of the Modern Technology Buyer
#1: Make it easier to upgrade to new technology
Once your client is accustomed to the monthly technology payment, it becomes much easier to introduce an upgraded solution near the end of term. The recommendation of new, enhanced technology is anticipated and welcomed by your customer because the expense is already a part of their monthly operating budget, and they benefit by enjoying enhanced technology capabilities at a regular interval. Looking at the bigger picture, this creates a long-term relationship for you and your clients.
Start Leading with a Monthly Payment Option Today
Lead with the monthly payment option first. This removes the burden of making a cash option work and shows your customer that you understand the importance of maintaining cash flow. For example, say, "Once you get accustomed to the monthly model, you'll have the predictability for years to come and won't have to overcome the capital budget obstacle, plus your technology will stay up-to-date and supportable."
Contact us today if you're ready to build a finance program to fit your products, services, and go-to-market strategy. Or learn more by visiting www.greatamerica.com/finance-tech.
---
Download the 'Quick Guide to Addressing Financing Objections and FAQs '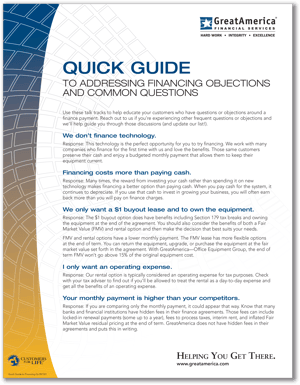 Once your customers understand the benefits of leasing or renting their technology, they'll never want to go back to paying cash. Use these talk tracks to help your customers who have questions or objections around a monthly finance payment.
GreatAmerica
GreatAmerica is the largest independent, family-owned national commercial equipment finance company in the U.S. and is dedicated to helping manufacturers, vendors, and dealers be more successful and keep their customers for a lifetime. A $2.4 Billion company, GreatAmerica was established in Cedar Rapids, Iowa in 1992 and has a staff of over 600 employees with offices in Iowa, Georgia, Minnesota, and Illinois. In addition to financing, GreatAmerica offers innovative non-financial services to help our customers grow. www.greatamerica.com