---
­­Opportunities for Diversification: IT & Beyond
Updated 9/13/2022. Originally Published 7/30/2020.
The office imaging channel continues to evolve its offerings. Solution providers are constantly seeking out new and emerging ancillary solutions to add to their catalog in order to meet both the immediate and long-term needs of their customers. What better way to foster long-lasting, mutually-beneficial relationships?
As you, a solution provider with goals of evolving beyond print-focused offerings, head down the path of diversification, it's important to ask yourself, "How can I protect the business I have, and continue to win new business?" As businesses continue to transition and define a new normal, we've seen new demands emerge. Solution providers will need to take new products and services offerings into consideration and prepare to compete with others inside and outside of their space in new ways. Many of these opportunities tie directly to the network itself.
Related: Sell More Technology with Office Equipment Financing
Getting into the network game makes a lot of sense. After all, copiers and printers hang on the network. In fact, understanding and being able to talk intelligently about the network is now the ticket to entry on many of the solutions we'll cover here today.
So what diversification opportunities should you consider? Let's dig in.
Network Security
Now more than ever, businesses understand what's at stake when it comes to the security of their network. Not just larger organizations, but even SMBs now understand the high priority network security should hold. Everyone is vulnerable to a security breach and the repercussions can be debilitating for a business of any size. If you, as the solution provider, can help your customers maintain a secure environment, they will be willing to listen to the solutions you present.
With that said, the ability to protect the network and the desire of the 'bad guy' to get into the network, has never been higher. Keep in mind, network security is complex; there are companies out there that specialize in network security- it's all they do. If you are considering going down this path, you have to know what you are doing. You'll need to attain the proper certifications, resources, and expertise needed in order to understand how to protect both you and your customers' interests. If a breach happens on your watch, that opens your business up to liabilities. That's why we recommend either partnering with a third party who can guide or provide this service or limiting your new offering to a few specific niches. We'd be remiss if we didn't point you to resources we have via our subsidiary, Collabrance, LLC, an outsourced IT provider in this space. If you want to learn more about getting into IT and security, the information available here may help.
Backup and Disaster Recovery
One niche of security we've seen our partners successfully enter is in the realm of Backup and Disaster Recovery (BDR). BDR is a combination of data backup and disaster recovery solutions that work together to safeguard a company's business continuity. The nice thing about BDR devices is they are lower maintenance and allow for solid recurring revenue and exponential growth. Getting into network security through a niche like BDR allows office technology providers like you to deploy a simple strategy that attaches your business to the network and grow from the inside out.
Physical Security
Another aspect of security is physical security, meaning on-premise surveillance, access control systems, or monitoring systems that ensure the physical security of an environment is maintained. This space involves some risk. For instance, if you get into monitoring or access control systems and there is a failure, you could be at fault. This creates a need for liability insurance to address that risk should it occur. The world of physical security is vast, and we recommend finding a niche. For example, we've seen some partners experience success in the surveillance side of this business.
Telecommunications
The cloud has completely transformed the telecommunications game. Though there are still enterprises using the on-premise model, we are seeing more and more transitioning to a hybrid or fully cloud-hosted model. The cloud has made it easier for those who aren't a specialist in the area of telecom to play there, creating some opportunity for you to gain traction.
RELATED: VoIP: What Office Technology Providers Need to Know
Pro/AV Market
When you hear the term Pro Audio Visual (AV) market, think conferencing technologies. There's been no better time to sell digital monitors, cameras, conferencing systems and the software that supports all of these offerings. The recent entrance of Zoom into the AVaaS space with bundled video conferencing solutions, as well as several distributors and manufacturers moving in this direction, has only accelerated the AV industry's move into financing and AVaaS offerings on other products. Overall, the AV space is still a traditional "cash" sale with very little maintenance or managed services to support the technology. Technology providers that can differentiate by selling monthly payments or "As-a-Service" offerings in the AV space would be very well positioned, especially in the current economic environment.
Conference Room As-A-Service
Video conferencing has never been more important than it is now. Many of us continue to work from home and we need to maintain face–to-face interaction. Pre-COVID-19, this market was already growing. We can only expect it to continue to pop even as some return to the office.
We've all become more comfortable with technology and we've seen notable growth in conference room as a service offerings as a result. Conference room as a service is a bundled rental solution that includes the necessary devices, software and ongoing service and support. If you've ever been late to a call or virtual presentation because you couldn't get your technology to cooperate, then you can understand the demand that lies in ongoing conference room support. Customers are willing to pay for an ongoing lifeline to reduce inefficiencies of technical issues associated with conferencing offerings.
Software
Software licensing has exploded. Considering how difficult it can be to go in and install equipment given the current environment, software offers a very clear benefit. With the ability to remote in, you reduce the IT resources needed for implementation.
RELATED: Everything You Need To Know About Software Financing
You do have to understand and be knowledgeable in the software you sell, but if you find the right niche that provides the right solution to your customer, you can make good margins on it. This creates a nice pickup to help fill the gap on some print volume losses. Here are a few examples.
RELATED: Software: Solve Customer Business Challenges & Grow Your Offerings
Citrix or VPN Licensing
Especially in our current environment, people need a secure way to access their organization's network remotely. The ability to perform my job depends on this software and many dealers and MSPs have seen a lift in this area of their business, especially post-COVID-19.
Document Management Software
Document management, often referred to as Document Management Systems (DMS), is the use of a computer system and software to store, manage and track electronic documents and electronic images of paper-based information captured through the use of a document scanner. Document management software is crucial to help employees scan, save, and share documents digitally and securely with team members. Digital workflows have only accelerated in importance with today's distributed workforce; you can help your customers remain efficient and effective with their business processes with a document management solution.
Printing from Home
Depending on what study you've read, it's estimated that between 20-30% of the workforce may never return to the office space. How does that impact printing? Even when some do return to work, not everyone will. This means we can expect a drop in print volume.
Those that are working from home still have a need to print and will be tempted to plug in their home devices, introducing security risk to their employer's network. That's why organizations should consider implementing a print from home solution for their employees. While this is a fairly new offering, solution providers are looking at how they can package an at home solution which organizations purchase and disperse to their remote workforce.
In Summary
There's been lots of change over the last couple of years: The needs of your customers have changed, the way we do business has evolved, and new obstacles have formed. As a finance company, we are committed to creating technology financing solutions that evolve with your go-to-market strategy. By continuing to understand what your customers need and keeping your finger to the pulse of what others inside and outside of your space are doing, you'll identify opportunities beyond print that will help you evolve into the future.
---
Related Webinar - IT Services Growth for Office Equipment Dealers: Organic, M&A & Sales Growth Strategies
Wednesday, September 28th at 1:00 PM CST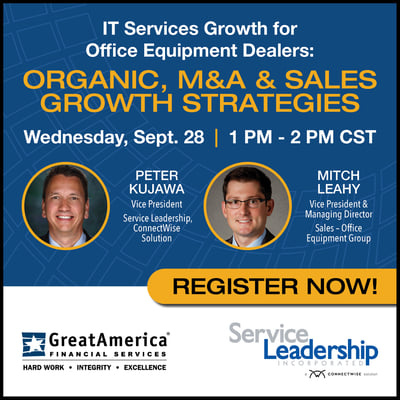 Acquisition of an MSP is a common strategy office technology providers take when evolving or growing their managed IT services. However, without making careful considerations, solution providers can encounter friction along the way.
| | |
| --- | --- |
| | Join us as Peter Kujawa of Service Leadership and Mitch Leahy of GreatAmerica discuss the current state of M&A activity within the office technology channel, as well as some considerations to make in order to maximize success. Finally, Peter will explain how your sales processes and methodology may need to shift in terms of training, compensation, and your target customer profile. |
GreatAmerica
GreatAmerica is the largest independent, family-owned national commercial equipment finance company in the U.S. and is dedicated to helping manufacturers, vendors, and dealers be more successful and keep their customers for a lifetime. A $2.4 Billion company, GreatAmerica was established in Cedar Rapids, Iowa in 1992 and has a staff of over 600 employees with offices in Iowa, Georgia, Minnesota, and Illinois. In addition to financing, GreatAmerica offers innovative non-financial services to help our customers grow. www.greatamerica.com