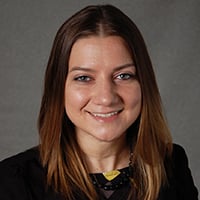 ---
A Crash Course of the Top 3 Lease Types
If the world of financing and leasing seems like a confusing landscape of options, you're not alone. I remember how daunting it seemed when I started at GreatAmerica over three years ago. I was a free-lance marketer and didn't know anything of the financial world. My experience with "leasing" was limited to cars and cell phones. It wasn't until I started at GreatAmerica that I became immersed in the financing world and needed to learn the pros and cons of different lease types. Unless you have a job in the financial world, you're likely in the same boat as I was.
I'm going to give you a crash course on this financial maze by taking a look at the top 3 equipment/software lease types in use by businesses today. I'll examine the pros and cons of each so you can identify which one is best for your business and your customers.
$1 Buyout
The Dollar Buyout lease is the classic and is what most businesses are familiar with. It has been popular for a long time due to it being straight-forward and easy to understand. It is clear that the customer owns the equipment at the end of the term, and they can write off the entire cost of the equipment in the first year under the new 100% bonus depreciation tax law. It also has the highest monthly payment compared to other leases.

This lease loses steam if the consumer's intent is to upgrade their technology as the world changes around them. Nowadays, many businesses would rather upgrade their technology than be stuck with something outdated (Think cell phones).


Fair Market Value (FMV)
The Fair Market Value (FMV) lease offers the lowest monthly payment. The customer has the option to purchase the equipment at the end of the lease for its fair market value, also known as residual value. They can also return it, go into month-to-month renewal payments, or upgrade their technology for a brand new stack. This last option results in a new sale for you, and your customer will enjoy the latest technology at roughly the same price as their old monthly payment! For the duration of the lease, the equipment is treated as a deductible operating expense, not an asset or liability.

If you're good at talking tech, but aren't bundling services into your hardware monthly payments, then you should move towards the FMV.


Rental Agreement
A Rental Agreement is different than a $1 Buyout and FMV because it removes the customer's purchase option. Instead, the renter has a number of choices ranging from returning the equipment or continuing to rent it. This is an increasingly popular option as Solution Providers bundle their services with the equipment payment to offer an As-A-Service-like model and is used in our HaaR® program. There are two types of rental agreements:


FMV Rental: With this type of rental, there is a lower monthly payment and a residual at the end. When this rental reaches the end of the agreement the customer has the option to return the equipment or continue renting it. The Solution Provider can also choose to sell the equipment to the customer at fair market value, or upgrade the client.

$1 Buyout Rental: At the end of this rental agreement, the leasing company has been paid off and the ownership of the equipment transfers to the Solution Provider. The customer has the option to return the equipment or continue renting. Many Solution Providers enjoy this option because if their customer continues to rent, the monthly payment goes straight to their bottom line. Again, they can also use the rental to upgrade the client without much change to their monthly payment.
So which lease should you use? Which is best for your customers? The answer depends on what your customers­­ need, what type of relationship you have with them and what you offer as a part of your solution. Whatever you decide, it's best to lead with just one lease type that you feel best suits your prospect's needs, and keep the other two in your back pocket so you don't overwhelm them.
No matter what you offer, all leases are the antidote to sticker shock. By providing a way for your customers to purchase technology through a monthly payment instead of a large upfront cash expense, you may help them obtain a better solution for their technical needs. Plus, your customers don't have to find their own loan, and can invest their money into other areas of their company with a higher ROI and you win by not tying up your own cash by self-funding.
Hopefully, this has cleared up some of the mystery of leasing and gives you the confidence to offer leasing to your customers.
Related Resources:
I lease my iPhone and love it. So does my wireless provider.
How a Simple Solution Called HaaR is Signaling the End to Sticker Shock
Stephanie Ragsdale
Stephanie Ragsdale is the Marketing Specialist for the Unified Communications & IT Group at GreatAmerica Financial Services located in Cedar Rapids, Iowa. She provides creative marketing support and helps build brand awareness. Stephanie started her career at GreatAmerica in 2014 when she joined the tax department. Prior to joining GreatAmerica, she designed billboards locally and received her B.B.A degree in Business Marketing and her B.F.A degree in Graphic Design from the University of Iowa.