---
Common Questions Around Bundling and Single Invoice Solutions
Updated on 10/26/2022. Originally published 7/23/2020.
You want to grow your business, maintain positive cash flow, and have lasting relationships with your customers. And today these objectives may encounter even more obstacles, as businesses run 'lean and mean' on resources. In times of economic uncertainty, strong and secure cash flow in the form of contracted recurring revenue can provide some stability and assurance that payments will continue to flow into the business.

Offering a bundled payment and delivering a true single invoice solution to your customers can help you do just that. Not only does this approach create a better customer experience and stronger relationships, but it can also help to increase your bottom line, grow your enterprise value, and secure future cash flow and revenue streams.
Let's talk about what it means to bundle your equipment, services and supplies. Let's also get on the same page on how bundling differs from a single invoice solution and cover some of the most prevalent questions surrounding these topics.
What is bundling?
Simply put, bundling means taking two or more separate payments for related products or services and combining them into an easy to understand total monthly payment for the customer. Bundling is not a new concept. We all experience it with our cell phone carriers, internet providers, and utility services. In the office equipment space, your monthly service and supply charges can be bundled into the monthly payment for the financed equipment.
Are bundling and a single invoice solution the same thing?
No, a bundled payment and a single invoice solution are not the same things, though these solutions can - and often do - coexist. The bundled payment refers to a single combined payment on the lease agreement including the equipment financed, services, and supplies. If overages, or any other solutions you offer are billed as line items on the same invoice that the bundled payment is presented, this is considered a single invoice solution. At GreatAmerica, you can choose to use one or both solutions as a part of your program.
---
RELATED: Learn about 1nVOICE, our systematic process that can match your go-to-market strategy and make it easy to provide your customer with a single, easy-to-understand invoice.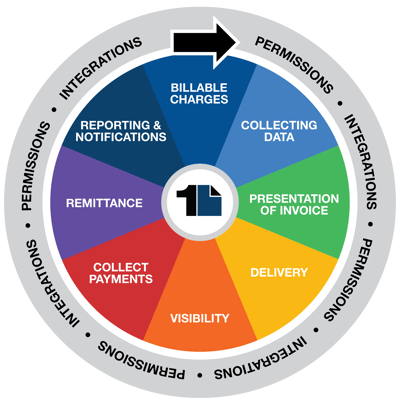 ---
Why should I adopt a bundled approach?
You should adopt a bundled approach to:
Preserve cash flow
Increase profitability of your contracts
Build your enterprise value through recurring contracted revenue
Protect your customer base by tying service contracts to hardware agreements
Reduce time and labor associated with billing and collecting by outsourcing to 3rd party resources
Improve your customers' experience by delivering a Single Invoice Solution
What are the most common lease types used for bundled contracts?
We most commonly see dealers use a rental as a part of their bundled approach, as it focuses on the use of the equipment versus the ownership of the equipment. We do occasionally see Fair Market Value (FMV) contracts used on bundled contracts. A rental contract allows the customer to continue to rent the equipment, upgrade to new equipment, or you could allow them to purchase the equipment if that option is mutually rewarding.
How can bundling save me time and resources with GreatAmerica?
We handle the billing, invoicing and collecting of your equipment services and supplies on your behalf. Your customer will have fewer invoices to process reducing the time they must spend searching for copies of agreements, calling multiple service lines, and processing multiple invoices.
When you outsource your service invoicing, your team members will be able to focus more time on revenue-generating activities or strategic initiatives that can help the organization grow. Dealers have said this saved one or more full-time admin employee headcount—especially when they've taken advantage of our technology integrations.
How do you ensure accurate billing of overages on bundled contracts?
Accurate billing is ensured through technology integrations and our validation tools to make sure data matches on both ends. If any discrepancies do exist, our systems and our Contract Management team will work to ensure those are corrected proactively and your customer's experience is not impacted.
RELATED: Use Technology Integrations to Level Up Your Billing & Invoicing
Will my customer lose transparency if we decide to deliver a bundled invoice?
The conversation during the sales process with your customer has and will always be up to you. Through our info-zone™ portal, you have full access to every detail of your customer's account and billing information. Information available includes all billed invoices, current and previously billed meters/usage or incremental service charges.
Do you charge fees to bundle?
GreatAmerica does not charge any fees to bill and remit your service money. Our Contract Management Team and our technology integrations help manage and even automate some of the manual steps in your processes.
RELATED: What Fees Do My Customers Get Charged and Why?
Does bundling make billing and invoicing complex?
"Complex" may depend on your needs and hurdles. Bundling should not make billing and invoicing complex. It cuts down on tracking separate, but related, expenses and bills – both for you and your customer. Our integrations enable easy billing, allowing you to deliver a true single invoice solution that's easy to administer and easy for your customer to pay. Your service revenue will be collected and posted correctly and timely. Our on-site Contract Management Team exists to provide documentation support with mid-cycle contract changes, and you also have the flexibility to visually display invoice data in a format that works best for your customer.
Will I lose flexibility in my portfolio?
No, there is no flexibility lost. You still have control over your portfolio with GreatAmerica. If you have changes to be made whether it be on service rates or assets, our easy–to-use documentation provides an efficient way to adjust and update information.
Watch: Applied Innovation on Bundling with GreatAmerica
---
Bundling your monthly equipment cost with your services and supplies fees can help deliver an enhanced customer experience via a single invoice solution, while also helping you retain customers and the associated future cash flow and revenue streams for your business. If you'd like to learn more about a bundled approach, get in touch with one of our representatives here, or learn about our available tools, resources, and services related to billing and invoicing to help you scale your comeback and resurge.
---
Download the bundling Mythbusters checklist
| | |
| --- | --- |
| | Bundling your monthly equipment cost with your services and supplies can be a valuable strategy to enhance the customer experience and keep your customers for life. Even so, there are still quite a few misconceptions about bundling and what it means for you and your customers. We address these myths head on in our Bundling Mythbusters Checklist. |
GreatAmerica
GreatAmerica is the largest independent, family-owned national commercial equipment finance company in the U.S. and is dedicated to helping manufacturers, vendors, and dealers be more successful and keep their customers for a lifetime. A $2.5+ Billion company with life-to-date finance originations of over $14 Billion, GreatAmerica was established in Cedar Rapids, Iowa in 1992 and has a staff of over 600 employees with offices in Iowa, Georgia, Minnesota, and Illinois. In addition to financing, GreatAmerica offers innovative non-financial services to help our customers grow.