---
Windows Server 2012 End of Life: Common Customer Upgrade Questions Answered
With technology evolving at a rapid pace, businesses are constantly seeking to enhance their IT infrastructure, not only to stay competitive, but to stay secure. The upcoming Windows Server 2012 end of life is a prime example of this. After October 10, 2023, Windows Server 2012 products will no longer receive security updates, non-security updates, bug fixes, technical support, or online technical content updates. Technology providers like you need to be prepared to drive awareness and educate customers around this event so they understand that an upgrade is necessary to keep their businesses operating smoothly and securely. Your customers will have many questions around the risks of not upgrading, the benefits of new servers, and why acquiring new technology via a manageable monthly payment is the best choice. In today's blog, we are addressing the most common questions technology providers are receiving from their customers about upgrading from Windows Server 2012. Read on.
"Why upgrade from Windows Server 2012?"
Windows Server 2012 is no longer receiving security updates and patches. This means businesses running on this system will become vulnerable to emerging cyber threats. By upgrading to a newer version, businesses can leverage improved security features, enhanced performance, better scalability, and take advantage of the latest innovations. An upgrade ensures continued support and compliance with industry standards, safeguarding the organization's data and reputation.
"Which version of Windows Server should we upgrade to?"
Choosing the right version of Windows Server to upgrade to is a significant decision. The organization's specific needs, budget constraints, and future scalability requirements should all be considered when making this decision. Technology solution providers should assess the organization's infrastructure, applications, and business goals to recommend the most suitable version. Common options could include Windows Server 2019 or the latest available version at the time of the upgrade.
"What are the hardware requirements for the upgrade?"
Upgrading to a newer version of Windows Server may require hardware upgrades to support the latest operating system. Businesses need to know if their current infrastructure meets the hardware requirements for the chosen version or if they will need to invest in new hardware. Technology solution providers can conduct a thorough assessment of the existing hardware and recommend any necessary upgrades to ensure a seamless transition.
"What options are available for upgrading?"
Technology providers need to better understand the customer's current environment and long-term business goals to create a plan right for their organization. However, most upgrades will look like one of the following:
Replacing the server hardware with new hardware

Going completely to the cloud

A hybrid model with equipment on location and some in the cloud
"What happens if the upgrade is not completed before the October End of Life?"
If customers do not upgrade their server in time, their device may continue to work. However, the operating system will be unsupported, meaning it will no longer get security updates leaving their organization open to security vulnerabilities that cyber criminals could exploit.

Related: Are Your Customers Ready for Windows Server 2012 End of Life?
"I didn't account for this upgrade in my IT budget this year. How do I pay for this?"
Many have found value in acquiring the new technology needed via financing. Financing avoids a large cash expenditure and provides a monthly payment plan. Financing also positions customers to upgrade with ease to the latest tech without needing to make large adjustments to their monthly technology budgets.
Related: Learn About our Tech Financing Solutions
Conclusion
Upgrading from Windows Server 2012 is a critical step for businesses to ensure security, performance, and compliance. Technology solution providers play a vital role in guiding organizations through the upgrade process and addressing their most common questions. By understanding the benefits, hardware requirements, migration strategies, and potential impacts on operations, businesses can confidently embrace the upgrade and stay ahead in the rapidly evolving technology landscape. Consulting with experienced solution providers will undoubtedly lead to a successful and smooth transition, ensuring that the organization's IT infrastructure remains robust and resilient for years to come.
---
Download 'The Marketing Toolbox: Windows Server 2012 Upgrade Edition'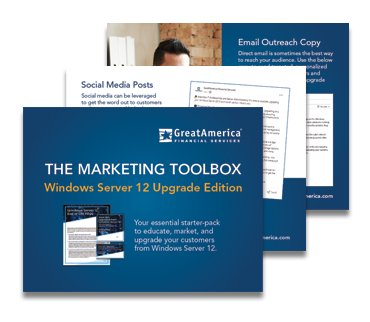 Now that you have talk tracks down for the most commonly asked questions on the Windows Server 2012 End of Life, it is time to market your customer base. We have compiled a turnkey marketing solution which you can use to market current Windows Server 2012 users. This toolset contains the marketing outreach materials you need to easily educate and upgrade your customers using financing.
The Marketing Toolbox includes customizable marketing assets like:
Social Media Copy

Social Media Graphics

Marketing FAQ Flyer

Email Outreach Template
GreatAmerica
GreatAmerica is the largest independent, family-owned national commercial equipment finance company in the U.S. and is dedicated to helping manufacturers, vendors, and dealers be more successful and keep their customers for a lifetime. GreatAmerica was established in Cedar Rapids, Iowa in 1992 and now has offices in Iowa, Georgia, Minnesota, and Illinois. In addition to financing, GreatAmerica offers innovative non-financial services to help our customers grow.