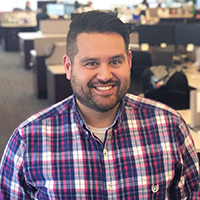 ---
A Successful MSP's 2020 Takeaways and 2021 Strategies
If you tuned into recent Service Leadership webinars with GreatAmerica or are part of the IT Nation Evolve community, then Nex-Tech's success may be no surprise to you. If that's the case, skip forward to our available next steps:
Otherwise, read on!
Steve Riat, Director of Sales at Nex-Tech, shared so much valuable insight that we're elaborating in this blog. Rather than hear from us at GreatAmerica, here are your peer's takeaways from 2020 and strategies for success through 2021 and beyond.
The Actions
Early on in the pandemic outburst, Nex-Tech made it their goal to pivot and pivot quickly. What does this mean? Steve shared:
"A lot of our competitors and peers were expecting the world to adjust back to normal, so we took advantage of the opportunity to go all-in to the new virtual environment. We took the time to train our team on selling and closing virtually. It took a lot longer than we expected, but the effort and time proved worthwhile."
Action 1: Shift with Confidence from Traditional Processes
Steve added that his proposals do not go out the door (virtually) without the monthly payment option. A recommended talk-track he provided is:
"You are going to get an all-inclusive monthly cost to budget for. If this is out of line from what your business goals are, this may not be the best fit for you."
Related: Why Leading with a Monthly Payment Option Provides Value in Any Economic State
Action 2: Lead with a Monthly Payment Option, Every Time
Steve shared two real-life examples of how his company has increased sales and standardization by leading with a monthly payment option.
Example 1:
Winning a County Government Project
Steve points out that although this county governments aren't their typical target, this customer reached out inquiring on available solutions and requesting a bid. After the first meeting, Nex-Tech introduced the monthly payment option, so the expectation was set early on. The conversation went similar to this:
"We're going to provide everything you're currently in need of. This includes a standardized technology stack across departments, software included: all new desktops, monitors, wireless keyboards, and the ongoing services. The result? All of your networks will operate as one, and you can communicate across departments with ease. This solution comes as a predictable, convenient monthly payment. You can say 'goodbye' to those countless one-off service bills that certainly add up over time."
Despite being the most expensive proposal among the active bids, Nex-Tech was able to win this deal as a result of the value being offered.
Related: Are Your Prospects and Customers Not Asking for Financing?
Action 3: Focus on Relieving Your Clients' Pain
Example 2:
Winning a SMB in Need of Technology on a Budget
Another example Steve shared is Nex-Tech got a call from a small business who was unhappy with their current managed service provider. After some digging, the prospect explained that things were constantly breaking without any consistency, everybody was running different applications and the security was essentially a mismatching puzzle pieced together over time. Steve shared the conversation went similar to this:
"It sounds like you are seeking better service, but here is the bigger picture problem. You are in need of a new, standardized technology stack. Your environment is kind of all over the place. Here is what we can propose: a monthly payment option to encompass all of your business technology needs: an entirely new infrastructure plus a monthly service charge to keep you up and running with consistency and ease."
Nex-Tech won this client's business as a result of the full scope of the offering: a brand new technology infrastructure, paired with predictable and reliable monthly services.
The Results
By benchmarking with Service Leadership and utilizing GreatAmerica's HaaR offering, and with Steve's permission, Paul Dippell, with Service Leadership, was able to share the company's detailed financial reporting.
Related: Top Alternatives to Hardware as a Service (HaaS) for Solution Providers and MSPs
Nex-Tech's Financial Results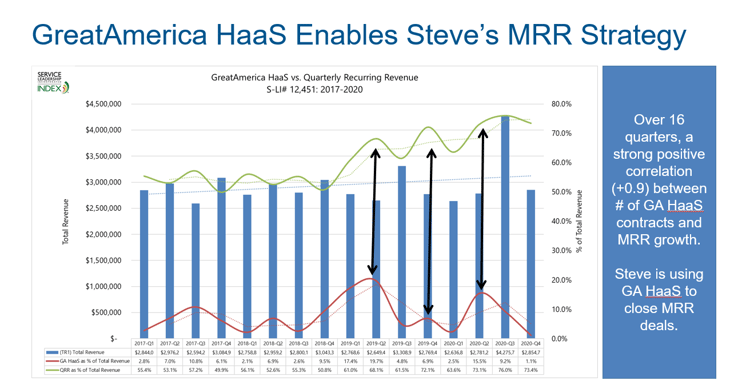 As you can see in the visual above, there is a significant correlation between Nex-Tech's MRR growth and the number of GreatAmerica HaaR contracts. Simply put, Steve and his team are using GreatAmerica HaaR to close more MRR deals.
The green line is the percentage of Steve's revenue that is a result of recurring revenue. The more MRR deals closed through GreatAmerica's HaaR offering is directly driving Nex-Tech's recurring revenue.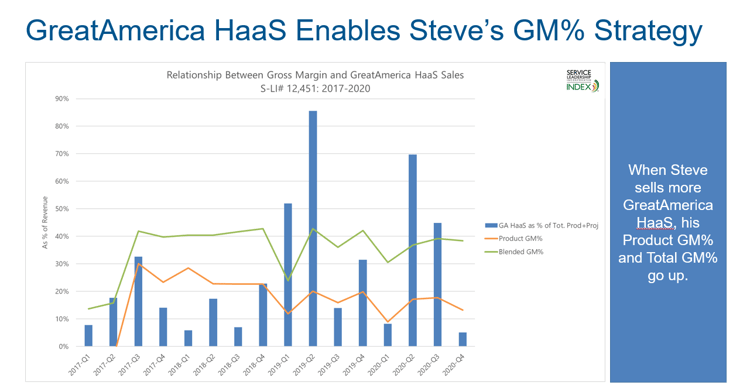 The above orange line represents Nex-Tech's product gross margin. The green line is his blended gross margin (product/service gross margin together). The blue bars are the percentage of Nex-Tech's total product and project revenue that is being run through GreatAmerica. Every time the blue bars go up, more HaaR contracts are being sold and the overall margins go up. It is a very clear pattern.
From 2017-2020, Nex-Tech increased annual
revenue by 13.6% on average (from 54% to 72%)
Nex-Tech's Non-Financial Results
All of the numbers aside, Steve can attest to achieving the following by utilizing a monthly payment strategy through GreatAmerica.
Increased Sales and Service Standardization
By implementing a consistent, predictable technology stack for clients in need of new technology and reliable service, Steve and his team have mastered a rinse-and-repeat strategy. By following a consistent sales approach and leading with the monthly payment option, in turn, the service team can appropriately support a familiar, high-functioning technology stack.
Higher and Faster Close Rates
When you take out the need for approval of a large sum of capital, and bundle all of your client's needs into one monthly payment fee, this creates an easier decision to make for the client. Your proposed solution is not fighting for a large chunk of the customer's Cap Ex dollars – rather only a convenient, predictable monthly payment.
Happier Clients and Happier Employees
Consider the mutual pain involved in supporting outdated technology – countless service calls and the associated customer service charges don't make for a pleasurable experience for any party. By shifting your external offering, your internal teams benefit significantly through fewer service calls, more day-to-day predictability, and a much more aligned and repeatable approach. Your client benefits from increased productivity, without the inconvenience of malfunctioning equipment or software. If that isn't a win/win solution, I don't know what is.
The Advice
Do what Steve has done. If that's too high-level, do this:
Shift with confidence from traditional

sales

processes,

Lead with a monthly payment option on every proposal, and

Focus on relieving your client's pain.
And achieve this:
Increased sales and service standardization,

Higher and faster close rates, and

Happier clients and happier employees.
Are you ready to get started? Do you want to learn more? Here are some resources to help you take the next step.
Mike Langfald
Mike Langfald is a Director of Business Development in our Unified Communications & IT Group at GreatAmerica, focusing on Solution providers across the Southeastern United States. Mike dedicates his time to helping partners achieve greater success by building recurring revenues through customized solutions. He came to us in 2013 as a Vendor Relationship Manager in our Office Equipment Group after almost 18 years in retail management and graduating from Iowa State University with a degree in Management. When he is not at GreatAmerica, Mike enjoys smoking meat, cheering on Chicago sports, nerding out on the latest superhero movie, and spending time with his family.