---
Can I Add Equipment to an Existing Lease or Other Finance Agreement?
Picture this scenario: your customer has been enjoying their new equipment for the last six months. The IT manager gave you a call and said they've hired three new people, and they would be thrilled if the cost for the new users could be integrated into the current monthly invoice. What uncertainties are running through your head at this point?
Both leasing and financing provide your customer the ability to acquire equipment to meet their business needs without asking for a large upfront expenditure. By offering a monthly payment option, you and your team can provide a range of technology and services, allowing your customer to use their working cash flow on other areas of the business. Financing also comes with the benefit of a convenient and routine monthly expense, allowing for more predictable budgeting.
Common Questions Regarding the Add-On Process
Among the many benefits of financing is the flexibility it provides both the Solution Provider and the end user. Part of the flexibility is being able to add devices to the overall offering to your client at some point during the term. We detect some uncertainty from our customers around this topic, so we're here to educate and clarify.
Is credit approval needed to add equipment for an existing customer?
Remember how easy it was to get the original approval letter? We ask that you follow the same procedure, indicating your intent with the term in case a unique rate calculation is needed.
Should the add-on and existing contract expire at the same time?
We can be accommodating and flexible, so if your customer needs all of their contracts to share the same end date, we can use what's called a co-terminus term and rate. The other option is to have the additional equipment on its own schedule, so for example, its own 3 year term.
How do I know if I should use a co-terminus or standalone term?
You have a few considerations when deciding between co-terminus and standalone.
The first consideration is how much time is left on the original agreement. For example,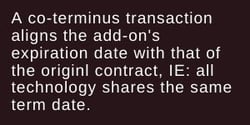 if there are only 6 months remaining, it may not make sense to make it co-terminus.
We also advise selecting a term that best fits the lifespan of the technology being sold. For example, a server has an average lifespan of 5 years, while a PC/laptop is in the arena of 3-4 years.
Related: Want Customers for Life? Ask Yourself this One Simple Question
Regardless of the term being used, you don't have to get a brand new two-page lease document signed.

How do I document an add-on?
The add-on gets documented on a simple, one-page document. The language on this document points to the Terms and Conditions of the master agreement.
Are there delivery/install guidelines?
When it comes to the delivery and install confirmation, unless otherwise specified, expect the standard procedure: a GreatAmerica representative will reach out via telephone, obtain verbal confirmation that everything is installed and working as outlined, so the contract can commence. The phone call could take a mere 30 seconds. For more on what your customer can expect upon saying "yes" to GreatAmerica, check out this blog.
Are You Ready to Sell an Add-On?
We hope this eliminates some of the uncertainty around how to position add-ons. GreatAmerica works diligently to ensure the add-on process is simple and efficient both for you and your customer, because we understand the growth-oriented industry we're involved in. When your end users grow, so do you, and we're here to accommodate this dynamic. Financing is a tool we encourage you to position as flexible and convenient for the duration of the term and beyond – adding equipment post-commencement should be no different.
GreatAmerica
GreatAmerica is the largest independent, family-owned national commercial equipment finance company in the U.S. and is dedicated to helping manufacturers, vendors, and dealers be more successful and keep their customers for a lifetime. A $2.4 Billion company, GreatAmerica was established in Cedar Rapids, Iowa in 1992 and has a staff of over 600 employees with offices in Iowa, Georgia, Minnesota, and Illinois. In addition to financing, GreatAmerica offers innovative non-financial services to help our customers grow. www.greatamerica.com