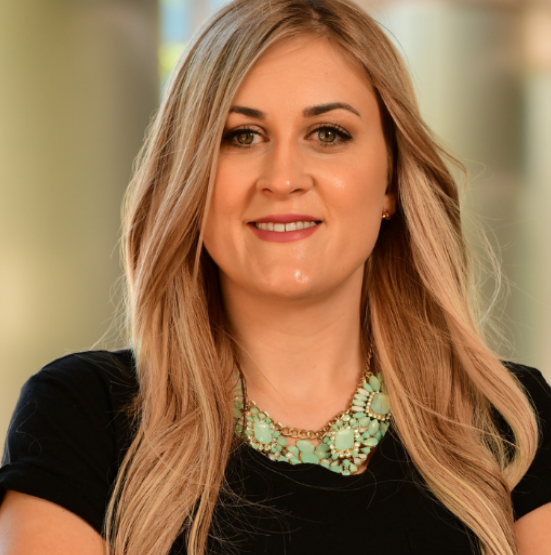 ---
Common Technology Financing Questions Facing Solution Providers
Between low consumer confidence, fear of investing working capital into technology, and supply chain challenges, it's become more important than ever to explore options that drive profitability - both for you and for your customers.
Presenting a monthly payment option can provide value in any economic state, but time and time again we see providers facing challenges when it comes to implementing it consistently into their sales process. We have a whole webinar planned for Wednesday, October 20th (11 AM CST) that will tackle the obstacles you may be facing, including change management strategies and ideas for modifying behaviors through compensation models. Be sure you register here!
But in the meantime, we'd like to address several questions we commonly receive around financing in hopes of providing clarity and empowerment for you to get started. Let's dive in.
What Technologies Can I Finance?
The technologies you can finance through GreatAmerica include computers, IT infrastructure, networking, phone systems, professional audio/visual, physical security, surveillance, and software. For a deeper look at software financing, check out this blog. You can also finance installation and project costs. Although we do not fund you upfront for recurring managed services, we are able to both bill and collect these service charges for you on a monthly basis and pass through the recurring funds as they are collected. This saves you and your team the administrative work.
RELATED: Pros & Cons: Should GreatAmerica Bill and Collect Your Services?
What Do My Customer and I Have to Do to Get the Financing Process Started on Their Technology Solution?
Our goal is to keep it simple and hassle-free for both you and your customer. For your customer, the process is as simple as opting for the monthly payment and signing the lease document. For you, your role is to submit the credit application on behalf of your customer, relay the lease documents for signature, and send us the invoice. What's next? You get paid!
For more on the credit approval process, check out this blog. Our team members are dedicated to ensuring clear communication along the way and are cross-functionally structured to make sure your experience is as seamless as possible.
RELATED: 5 Challenges That May Prevent Your Customer from Being Credit-Approved
How Do I Get Paid for A Transaction?
GreatAmerica pays its Solution Providers upon installation and customer verification of delivery. Your payment can be immediate via ACH or by mailed check, whichever is preferred. That's about as close to cash terms as you can get! For more on how to get paid, we encourage you to check out The Finance Process in Seven Steps, where we go into detail of each step:
You quote a monthly payment

We review your customer's credit and issue a decision

You finalize the solution and request documentation

The customer signs the lease or rental agreement

You send us the documentation and invoice

You order and install the equipment

You get paid!
Why Should My Customers Finance IT and Other Technology?
Financing frees up your customer's cash for investing in items such as advertising, personnel, and inventory. A general rule of thumb is to finance assets that are going to depreciate and pay cash on assets that will appreciate. Staying current with technology is simply the norm for successful companies. Financing is viewed as an ongoing expense and allows your customers to build and anticipate technology needs into their budget.
RELATED: Leading with a Monthly Payment: Monthly Recurring Revenue Benefits You and Your Customers
What if I am Facing Challenges When Including Financing as a Part of Our Sales Strategy?
The environment, the players, and your customers are evolving rapidly, and while financing may have been business as usual for you in the past, the last few years have brought a lot of changes in the world of office technology. We are amidst an evolution from imaging focused offerings to an expansive array of interconnected office technologies tied to the network, including software, IT hardware, security, or cloud offerings. Third-party providers focusing on IT and network offerings recognize the strongholds that office imaging companies have had within the SMB segment, and they see business opportunity in partnering. Imaging providers can benefit from the specialized talent needed to sell and implement new IT focused offerings, as well as a customer base that gives them a leg up in a new arena. But many of these IT and Network offerings are still sold for cash, which means both acquired customers and IT sales talent are not familiar with buying or selling a monthly payment.
Join us for our webinar, 'Selling IT with Technology Financing on Wednesday, October 20
th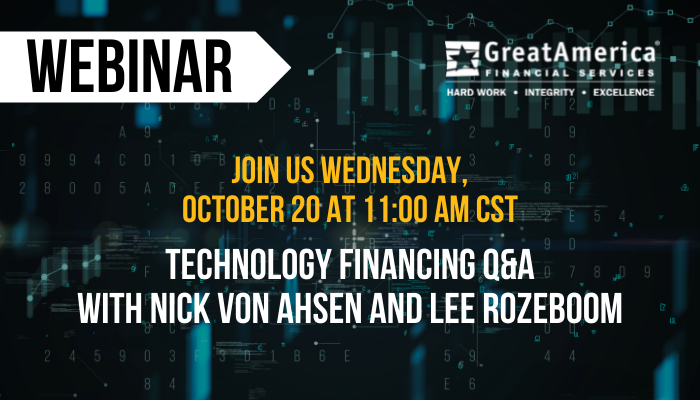 GreatAmerica sales experts, Lee Rozeboom in our Connected Technology Group and Nick Von Ahsen with our Office Equipment Group will provide insights on:
What's at stake for your company when your sales reps sell technology for cash

The importance of incorporating predictable tech refresh cycles

Financing options for progressive office technologies

Change management to benefit your company, your reps and your customers

Ideas for modifying behaviors, including compensation models
Katie Lanpher
Katie Lanpher joined the GreatAmerica Office Equipment Group in 2018 as a Content Marketing Specialist. With a background in digital marketing, she employs many tactics that contribute to the growth of the Office Equipment Group's online presence, including social media, e-marketing, and search marketing. Katie works closely with team members from varrying departments to write, edit and distribute content that our office technology dealers will find valuable as they grow their businesses.