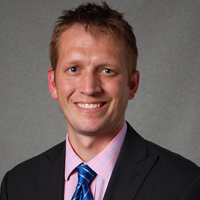 ---
Going All-In with HaaS – Insight from Paul Dippell and a High-Growth MSP
What You Missed in Webinar One with Service Leadership
,
Nex
-Tech
,
and GreatAmerica
If you have not yet tuned into Part 1: Full HaaS as a Profit and Growth Driver in an Economic Downturn, this blog serves as a high-level recap of what you're missing.
I joined forces with the incomparable Paul Dippell, CEO of Service Leadership to present a compelling (if I do say so myself) webinar, where we explored how to minimize your financial risk and maximize your profitability during an economic downturn. The real good stuff, though, was a contribution from Steve Riat of Nex-Tech. Keep reading to see why.
Two Drivers of
Hardware as a Service (
HaaS
)
Right Now
In Q2, as compared to Q1, 25% of MSPs saw their profitability increase from good to great, per the Service Leadership Index®. How? They applied known best practices for driving growth and profitability including:
Making sure each contract had the greatest value to the client and the highest revenue for themselves, and;

Making sure they moved the client to their technology standards during the onboarding.
A key enabler of these outcomes is offering the fullest HaaS package possible.
What is Full HaaS?
If you think about a full HaaS strategy, it really boils down to creating order in a complex world.
"How do I make this exceptionally simple for my customer to consume, where I can include hardware, software, professional and managed services together in one contract and invoice?"
The monthly consumption model really isn't all that new anymore; it's the direction that we're all shifting toward.
The real question is: how do you align the technology roadmap with the As-A-Service model? As the Managed Service Provider and expert, you have an excellent understanding of how long the technology you offer remains both functional and supportable. As the Finance Provider, we also have perspective on the technology lifespan, as shown below:

Now, in some cases, technology can and will last far beyond what is demonstrated by our numbers above. However, beyond these lifespans, the technology becomes noisier after 36 months – you have to invest more time into service calls, resulting in lower profitability and a less pleasurable customer experience.
Circling back to the monthly consumption model, the goal of full HaaS is to bundle the whole scope of your offering into one simple, predictable, and convenient monthly payment option, presented on one invoice to your customer. The result is standardization across the board. Paul jumped in here to add a nugget of information that drives home the point, "MSPs have the highest general administrative expense (GA) of any of the ten predominant business models. The reason for that is the complexity of billing and paying A/R. If you can simplify the billing process, you can reduce your GA."
What Should I Expect in an Economic Downturn?
Paul stepped into the spotlight here to address the current recession. It's no secret that when economic challenges emerge, customers hoard their cash. He says there are a couple of countervailing trends that you need to be aware of as we move into this unusual time.
The trends:
Decision-makers are more likely to buy Managed Services when their companies are growing OR shrinking fast;

Customers need IT help, but do not want to spend capital; and

Escalated security threats, Work from Home, and Return to Work needs are greater than ever before.
Right now, potential customers are being bombarded with capital pressure across the board. It's simply not a great time to spend $15-25k to transform their technology infrastructure – HaaS is the solution.
Six Factors High-Growth MSPs are Focusing On Right Now
In an economic downturn, high Operational Maturity Level (OML) MSPs are focusing on these six growth drivers:
Retain so you don't have to replace

Make it easy for the customer and you to start together

Add product resale

Make it easy for the customer to grow

Cross-sell: make it easy to buy 100% of your offerings

Get current customers to refer you to other decision-makers
HaaS plays a critical role in each of these growth drivers. Paul's main takeaway: put a monthly payment option on every proposal. Perhaps you won't win them all, but you'll win a lot more deals if you make it a standard approach. Steve Riat, Owner of Nex-Tech, joined the webinar to share his HaaS story and the impact it had and continues to have on his organization.
Nex
-Tech's
HaaS
Journey
When we started engaging with Steve, Nex-Tech was self-funding a HaaS program. They loved many of the results they were getting, but were experiencing some challenges. That's when he reached out about our Hardware as a Rental (HaaR) program – which shares some attributes of traditional self-funded HaaS, but reduces some of the risk and administrative burdens.
Related: How is Hardware as a Rental Different from a Lease and Hardware as a Service?
How
HaaS
Impacted
Nex
-Tech
Financially
Paul shared a visual representation of the relationship between Nex-Tech's gross margin and GreatAmerica HaaR sales across quarters.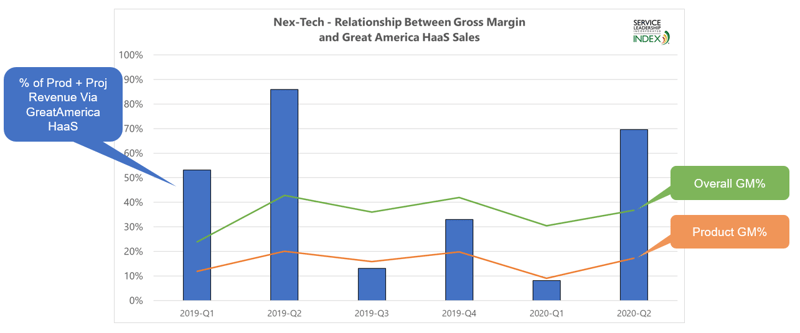 As you can see in the graph above, 88% of Nex-Tech's product and project revenue was a result of HaaR through GreatAmerica in Q2 2019. The orange line is Nex-Tech's product gross margin. What you notice is that line goes up every time the proportion of product and projects that go through GreatAmerica goes up. What does that mean?
This demonstrates that whenever Nex-Tech sells more HaaS through GreatAmerica, their product and overall gross margins go up.
Steve's Do's and Dont's of
Implementing
a Monthly Payment Strategy
Next, Steve shared some insight into how his company succeeds at HaaR today. Some takeaways included:
Introduce the monthly payment early in the sales process

;

Call it "IT as a Service" as opposed to "Leasing"

; and

Show an outright expense, including services, over the term

.
RELATED: When Should I Introduce Financing in the Sales Process?
Steve is anticipating the most profitable Q3 that Nex-Tech has seen in their history as a result of HaaR. However, it hasn't been all rainbows and butterflies. He shared some tips and tricks – some learned the hard way, including:
Self-Funding: Don't
Early on, cash seems like it is not an issue when you have the money rolling in. When you start talking one, two, even $3MM – it becomes a HUGE issue. Steve and his team were not equipped to accommodate the administrative effort associated with this type of accounting.
Pre
f
unding: Do
Steve highly recommends prefunding to enable the solution provider to acquire the initial costs of hardware covered by GreatAmerica. This takes a burden off of you, as the solution provider.
Related: The difference between standard funding and lessee-reliant prefunding.
Build a Detailed Process with Your Finance Provider: Do
Nex-Tech has shared every little detail with GreatAmerica. Paul mentioned adding or removing equipment or users throughout the term – this is a great example of a process that is incredibly simplified when you sit down, have a conversation, and document the steps so everyone is on the same page. Other details that get smoothed out include:
How much funding can you receive in advance?

When does the finance agreement get signed?
What Are My HaaS Options?
There are a handful of methods to providing HaaS to your customers. Of the methods include: self-funding, financing with a bank line, white label via OEM, or white label 3rd party financing. For more depth, see the graphic below:

Each method presents their own unique pros and cons. If you want to scale with HaaS, it all boils down to this: it is extremely difficult to do on your own. Let a 3rd party lessen the burden.
Related: Alternatives to Traditional Hardware as a Service
What's
Next
?
Calculate Your Operational Maturity Level (OML)
I'm glad you asked. Find the full recording to Part 1 here, along with other resources. For the Q&A segment, skip forward to 55:22.
Service Leadership and GreatAmerica offer an Operational Maturity Level Assessment crafted just for you at no charge – check it out here.
As for other next steps, I highly encourage you to register for Part 2 on October 30th at Noon CST, where Steve will dive into just what Nex-Tech is doing to fill their funnel with prospects and close deals faster.
Other Resources:
VLOG: One MSPs Journey from Break-Fix to Managed Services
Five Reasons Your Customer Resists Financing
Simplify Your Business with Financing Integrations into Your Everyday Systems
VLOG: Common Technology Financing Questions Facing Solution Providers
Lee Rozeboom
Lee Rozeboom, Vice President of Strategic Relationships, is responsible for establishing and maintaining relationships with those with influence in the Unified Communications, Low Voltage and IT markets. Lee will also serve as an outward facing voice for our organization and provide oversight and guidance to the Data team. In his previous role, Lee served as the Vice President of Sales for the MSP division. He has been involved in lease financing since 2006. Prior to joining GreatAmerica in 2006, Lee was a Financial Planner, holding his Series 6 and 65, for Northwestern Mutual Financial Network. Lee received his Bachelor of Science in Finance and Marketing from Babson College in Wellesley, MA.