---
How to Nurture Company Culture with a Distributed Workforce
An HR Specialist's Advice on Keeping Culture Alive and Thriving during a Crisis
Through this uncertain time, our director of human resources consulting, Sally Brause, has been taking advantage of connecting with friends, family, colleagues, and customers. Throughout all of her interactions and conversations, one thing has become apparent to her.
You can tell a lot about a company's culture based on how leaders and team members behave during times of uncertainty.
There are organizations who are creating what may be their finest hour to shine; and then there are those creating more fear, uncertainty, and doubt. Many experts in the field of organizational culture believe culture matters most during problematic times.
Three Tips on Nurturing Company Culture with a Sudden Shift to a Distributed Workforce
There are three things your organization can and should be doing to help your team members and customers navigate the changes happening around us. By embracing the current circumstance as an opportunity to act both thoughtfully and courageously, in the years to come, we can reflect on today's efforts with pride. Check out how our leaders are using their positive company culture during times of challenge.


1. Communication is Critical
When sharing information, both internal and external, embrace an optimistic outlook without losing a sense of realism. Your team members will appreciate if you confront the facts, but remain optimistic toward the road ahead. Employees depend on leaders for a transparent source of information. If the message swings too far toward optimism without addressing the current circumstance, team members may sense a lack of authenticity. Swing too far the other way and employees will become even more fearful and worried. GreatAmerica is taking a balanced approach. Here are some examples of internal communication:
"Our culture and our discipline are critical to our success and both are being challenged in new ways right now – ways that will stretch us, test us, educate us and make us stronger than ever!" –Jennie Fisher, VP and GM, Office Equipment Group

"I am not going to downplay challenges thrown at us by the spread of Coronavirus … they are serious, no question about this. But as many of you know, the almost 28 year history of GreatAmerica is full of adversities … full of knock-out punches … out of each one of them, GreatAmerica emerged bigger and better than ever before … and so it will be this time also." - Tony Golobic, Chairman and Chief Executive Officer
If you fail to communicate, you run the risk of employees creating their own narratives and this can amount to an abundance of unnecessary negative emotion and action. During this time we have been communicating daily with an individual, whose company was initially so focused on the external customer relations that they appeared to have forgotten about their internal communication. The result was chaos. Team members were left to their own imagination, which undoubtedly would have concerned leaders, had they known.
Several days into the crisis, the CEO walked around the business to share the plan with employees. This simple act changed everything, and although we weren't not there, we could almost hear the audible sighs of relief. As a leader, it is important to stay in touch, even virtually, with your employees to elicit trust, confidence, and reassurance. And one more piece of advice on this topic: if you are one of the employees who feels in the dark, just ask!
2. Capitalize on Opportunities
Even in unusual times, it is important to still be open to new ideas and encourage the act of thinking outside of the box. With new circumstances comes the space to innovate, create, and act. Ask your employees in what ways you might be able to meet the changing needs of your customers. We witnessed the act of just this week with a connection of mine.
An employee with Applied Imaging identified a newly emerging need in the market – the necessity to work from home. This created a high demand for the full working-from-home office setup, specifically including printers. Upon voicing their opinion, Applied Imaging checked their inventory and confirmed a high supply of a select model of printers and from there, kicked off a promotion for a home office bundle.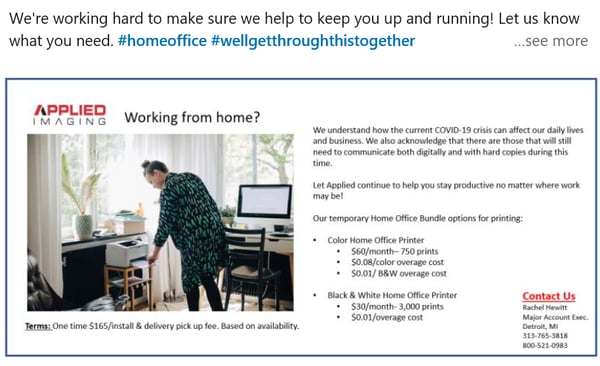 This is an example of a company living their values through good times and bad, and listening to both their employees and their customers.
3. Connect With Your Employees, Customers, and Community
Find new and creative ways to connect with employees. With a distributed workforce comes an increased level of isolation. And with employee isolation comes loneliness, less connection, and contributes to an overall feeling of disengagement. To counter the impact of this and increase the connection, here are some tips:
Touch base daily – via email, video call, text, etc.
Celebrate and share both company and personal good news.
Express gratitude often.
Reach out to customers often to understand their challenges and offer assistance. Utilize tools such as social media to find new ways to engage customers and provide educational content and company updates. Remember, it is likely your customers are enduring a similar circumstance as you, and empathy and compassion go a lot further than self-promotion.
Highlight how team members are helping in their communities. Many organizations with strong cultures find ways to give back. On a post on Facebook asking for volunteers to make masks and a team member of ours replied "I was made for this!!" Another team member sent out a note asking for input on what we perceived as the greatest needs in our community. She then organized resources around helping those people and organizations in need. Even though these examples happened outside of working hours, it made me so proud to have these individuals as colleagues.
Together, Everyone Achieves More
Finally, a little empathy goes a long way. Exploring the human side of your business will show your employees and your customers you genuinely care about them and build relationships sure to outlast any pandemic.
GreatAmerica
GreatAmerica is the largest independent, family-owned national commercial equipment finance company in the U.S. and is dedicated to helping manufacturers, vendors, and dealers be more successful and keep their customers for a lifetime. A $2.4 Billion company, GreatAmerica was established in Cedar Rapids, Iowa in 1992 and has a staff of over 600 employees with offices in Iowa, Georgia, Minnesota, and Illinois. In addition to financing, GreatAmerica offers innovative non-financial services to help our customers grow. www.greatamerica.com