---
Is Now the Right Time to Buy or Sell a Solution Provider?
A Recap of the Webinar, 'How to Safely Acquire Competitors in Tough Economic Times'
During an economic downturn, there is no question that business owners like you have to make tough decisions. This is also a time to plan for the future. With this might be the consideration of purchasing/acquiring another company or set of customers, or even selling your own business. Paul Dippell, CEO of Service Leadership, raised and addressed a number of questions around this exact topic, including whether now is a good time to buy or sell, and how to go about it in a smart and safe way. Our goal is to provide this information to help you make informed decisions, and we hope it is valuable as you navigate this unprecedented time. The full recording can be found below if you would rather listen than read.


What economic condition are we currently facing?
Although it is uncertain what implications the pandemic will ultimately end up causing and how the road to recovery following this recession takes shape, news and other analysis broadly suggest three possible macro-economic scenarios:
A V-shaped recovery (next 3-6 months) – short term, but known recession best practices apply, albeit in milder form,
A "U" or "W" shaped recovery (6-12 quarters) – in-depth recession best practices apply, or
A national or global financial "apocalypse" - unplannable.
Because Paul is not a macro-economist, he says he cannot predict which of these will take place. However, there is historical context informing us what works best in the "U" or "W" shaped scenarios, which is what the following information focuses on. Many practices also apply to the "V" or shape, making this information helpful for many of the economic outcomes.
Looking back on the 2008 financial crisis, roughly 1.8 million small businesses (31%) went under (Important to note – small businesses in this scenario could mean 1-2 employees) through 2010. The decade that followed the 2008 financial crisis saw much better economic conditions for small businesses, essentially reversing much of the crisis' negative implications. This information is not presented to elicit a "Doomsday" reaction, rather the goal is to reflect on what has happened in the past to the small business community, who make up the bulk of IT Solution Providers' customer base.
RELATED: Rapid Recovery Planning Guide – A Service Leadership Asset
In regard to what happens to the Solution Providers, themselves, these are the approximate valuation multiples for IT Solution Providers in the U.S. (collected and reported on by Service Leadership), starting just before the 01-02 recession, through 2019.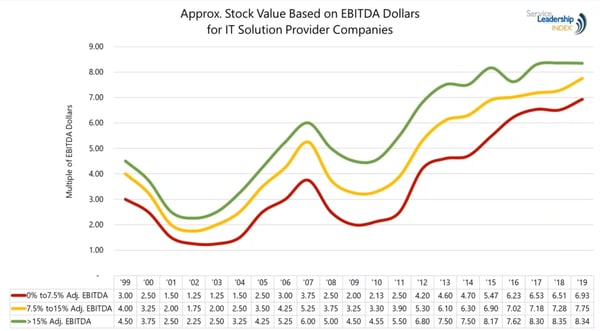 The revenue multiples more or less image the valuation multiples. Of tens of thousands of Service Providers (SPs) in the Service Leadership Index© (S-L Index©), here are the years in which these companies were founded.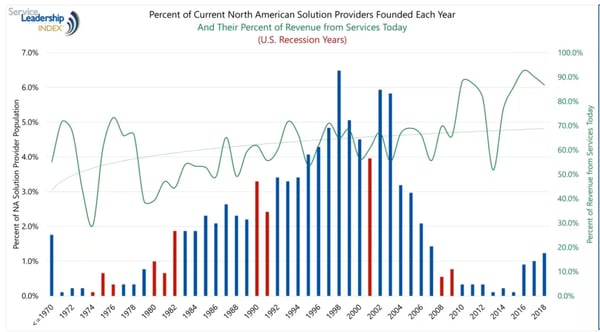 According to Paul, SPs founded before then were either selling other things to businesses or were one of the few independent partners selling IBM and other mid-range systems. Some of these pioneers still offer their original LOB while having added IT offerings.
Revenue growth from the early 1980s through 2000 was very strong; the recessions shown in those years had no effect on this rapid growth. The recession of 2001 was the first to materially impact the IT business, and many SPs faced material changes. The rate of formation of new SP businesses slowed dramatically, and came to a virtual halt in 2009, from which is has slowly recovered to moderate growth in numbers.
Product-centric and project-centric solution providers usually see revenue declines of about 45% in the first 1-2 quarters of a recession. Customers can and do cut capital spending quickly during this time.
Managed and Cloud Service Providers usually see revenue declines of about 30% in the first 2-3 quarters – 45% in resale and projects, 20% in managed as a result of:
Some of their customers go out of business,
Many reduce staff to have fewer users, contributing to lower MRR, and
Many ask for a discount or other ways to pay less.
Hopefully, none of this historical data is repeated, but it is critical to be prepared and understand what has occurred and what can happen. According to Service Leadership, there are some countervailing revenue trends that arise, and focusing on these can help. For example:
Capital spending shifts to recession-related must-haves.
Some proportion of competing SPs go out of business, and leave orphaned customers who may represent an opportunity.
Recession-related support demand may rise, such as WFH, but… can you charge for it? Can customers pay?
Some prospects fire their IT staff and look for an MSP.
How has the M&A market changed since COVID-19?
What Service Leadership is seeing so far is valuation multiples have not dropped but deal structure has changed materially – from 90% cash to ~50% cash. In addition, many buyers are now unable to borrow enough, and/or buyers are focusing on what they already own. As a result, most in-flight deals have stalled by pressure either on the Buyer or Seller. However, outbound search activity by Buyers has escalated. Some Buyers are most interested in buying when valuations are down, and they are hopeful their calls – perhaps previously ignored – will now be answered.
What opportunities are you likely to find?
Some of your competitors will go out of business, leaving orphaned customers. You may win them "retail" through marketing and referral efforts, but remember – these customers have IT that is in shambles. It is important to be selective as low Operational Maturity Level© (OML©)-SPs often have a higher proportion of low OML customers. Those of you who have used Service Leadership OML grading tool should be aware of this acronym and its meaning. If you are not familiar, learn more here. You may also have the opportunity to win these customers "wholesale" – continue reading and we'll cover the best practices of acquiring a competitor.
What are the best practices to most safely buy companies in an economic downturn?
For the greatest safety and the highest likelihood of a successful return on investment (ROI) on a potential acquisition, there are many factors to consider as the Buyer.
A Buyer-Readiness Checklist
Buyer should be at or above Median profitability for their business model (S-L Index Medians: 4.3% Adj. EBITDA for Product-Centric firms, 9.3% for MSPs).
Should be at Operational Maturity Level 3.8 or higher.
Have an anticipated FEWS score of 43 or lower, after the proposed acquisition.
If multi-location, all locations should be producing Median profitability or higher.
Senior management and members of the integration team should have the ability to spend more time than expected on closing the deal and on integration.
Should have the ability to invest twice as much, and wait twice as long for ROI, than the approved acquisition ROI model anticipates.
Ideally, should have experience at multiple successful acquisitions and integrations.
Five Tests of Likely SP Acquisition Synergy
This table, presented during the webcast, demonstrates five elements that can help forecast a good or not good outcomes.

Pitfalls of SP Acquisition Synergy
Another table presented by Paul reveals goals that many times are challenged during an acquisition, and why those goals often don't come to pass.

CEO Guidelines for Successful Integrations
Service Leadership provided some guidelines for CEOs when they do make the decision to buy or sell to integrate well into the new environment.
Tough love is best; slow integrations often do not work well.
Pre-acquisition: set measureable goals for 3, 6, 9 and 12 months, and 2 and 3 years. Measure progress VS. those goals and adjust accordingly.
Acquiring CEO must be a visible and continual leader, especially post-acquisition:

Over-communicate. In absence of communication, people will tend to assume the worst, so communicate!
Remember, people – even if they love and trust you – can only change so fast. Circumstances may require you to move quickly, but just as quickly as possible you should re-establish a sense of the familiar and stable.
Make sure the messages your people (and your customers, prospects and business partners) take home to their families are sober but positive and practical.
Get out in front of customers, prospects and business partners.

As the acquiring CEO, what to say and not say:

Don't say: "Welcome new people, we're excited to have you. We're going to pick the best, best practices from each company and combine them into an even stronger company. 1 + 1 = 3!"
Do say: "Welcome new people, we're excited to have you. I'm confident that, once you learn how we do things, you'll be great contributors, as I know you have been in getting here!"
The first phrase unintentionally sets up a competition to prove who has the best, best practices. The acquiring CEO will end up being a tie-breaker on many issues, which is not a win/win position for a leader to be in.
Foundational Rules for Adding a 2nd (or 5th or 23rd) New Location
Another valuable checklist we got from the webcast was foundational rules for adding another company into the mix.
The Distance Rule: never open or buy a location farther away than this:

You (the owner/CEO) can wake up in your home early in the morning, get to the location, have 3-4 meetings, and get back home in time for a late dinner.
Any farther away than that, and you will not go often enough to make the location successful.

Put your best general manager from your current location in charge of the new location. This position should not be filled by a new-hire manager.
Assume it will take twice as long and cost twice as much to bring the new location to acceptable growth and profit. Then, re-decide whether it makes sense to move forward.
Do not give yourself permission to open a new location until growth and profitability of your current location is at least at Median or better.
Comparing M&A Deal Values: Pre- and Mid-COVID
Paul also pointed out the differences between Buyers' specific points of focus in an acquisition before and during the COVID-19 pandemic. As you can see in the below graphic, less importance is placed on due diligence given the sensitivity and urgency due to current economic pressures.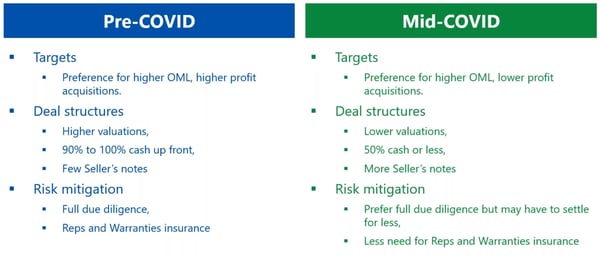 Why is the company you are buying for sale?
Before making the decision to purchase another company, Paul encouraged others to evaluate why the company they buying are for sale. There are three possible scenarios:
One possibility is the company is a higher OML entity that got into a cash crunch. They will show 2-5 years of strong financial performance leading up to the current situation, but coming into 2020, they decided to invest heavily or spent a bunch of their cash reserves. This company is likely to be easier to integrate with during an M&A. Questions to ask:

Once they saw COVID, why didn't they take more proactive action?
Why doesn't the owner want to ride out the situation?

Another possibility is the company is simply a lower OML firm that persistently underperforms. This company is unable to provide a clear explanation of why performance stays low, and is also unable to formulate a viable plan to turn the company around when economic pressures come into play. This scenario is often more difficult to integrate with during an M&A.


The third possible scenario is that any given time, there are non-IT firms that own IT-business units and may want to sell them. For example:

Corporate owners of SPs with the desire to shed their IT assets,
Copier dealers who have "MNS" (MSP) business units that are not performing well,
Accounting firms may have IT business units that are not performing well, or
Angel-funded SPs who just don't have a lot of capital to withstand the economic storm.
Understand How to "Catch a Falling Knife"
Investopedia considers a "falling knife" to be a colloquial term for a rapid drop in the price or value of a security. The term is commonly used in phrases like, "don't try to catch a falling knife," which translates to "wait for the price to bottom out before buying it." A falling knife can quickly rebound, in what's known as a whipsaw, meaning the security may lose all of its value – in the case of a bankruptcy.
This means the SP is near going out of business, maybe with weeks or a few months remaining. You have very little time to do due diligence, in which case the valuation needs to be even lower and/or the structure be even more favorable to the Buyer. The business case for buying needs to be sound, and it needs to stand up to the "2X test". The Seller should be 1/5 the size of the Buyer, or smaller.
"Group Hires" VS. Traditional Acquisitions
A "group hire" – legally still an acquisition – occurs when an employer looks to buy groups of people and customers. This works really well when you're under 1MM. The goal here is to reduce the Seller's level of anxiety about the sale; make it easier and less emotional for both the Buyer and the Seller. To manage risk, this type of acquisition should be <20% of your size and not bigger. A group hire could look like this:
You buy the customer and prospects lists in exchange for a job for the former owner, a small bit of cash and a 10% commission on accounts for 1 year.
Get pre-agreement that you can terminate your choice of customers; remember – low OML SPs often have a higher proportion of low OML customers.
This is legally an acquisition, with all the protections for the Buyer and Seller: Non-compete from Seller, Reps, and Warranties, etc. You still want to do your due diligence.
Three Ways to Find Group Potential "Group Hires"
Ask your current clients for referrals. When you pursue those referrals, some of them will tell you their IT provider has gone out of business, and/or seems unstable.
Ask your employees if they have buddies in the industry who work for IT companies that are going out of business or are seemingly unstable.
Ask your tool and product vendors if they have partners in your area who are going out of business or seem unstable.
In Closing, Remember Preparation and Due Diligence are Key
Neither Service Leadership nor GreatAmerica, or anyone for that matter, are able to predict exactly what the economy will do in the upcoming months. If past recessions can be taken as prologue, many small businesses will cease to exist or be materially smaller. Many of the at-risk businesses are customers of the Product-Centric and MSP companies in the marketplace. Between 25-33% are not in a good financial position to withstand material drops in Revenue. Some of the distressed SPs will be interested in a win/win offer for their business. Sellers will agree to sell when they believe they have gotten the best deal for the asset that they can get, within the timeframe in which they want to, or have to, get it.
Executing on an M&A opportunity isn't all that hard, though you would be wise to seek out expertise to support you on your quest. Define your deal parameters precisely, know what your financial and strategic objectives are, create the project plan, and always strive for the win/win scenario.
For a copy of the complete slide deck, email info@service-leadership.com.
For even more in-depth analysis on what to expect and how to navigate these unprecedented times, check out the Rapid Recovery Planning Guide – A Service Leadership Asset.
Additional Relevant GreatAmerica Resources:
Five Takeaways on the MSP Market from IT Nation Evolve
Best Practices for Managing a Remote Workforce
How To Nurture Company Culture With A Distributed Workforce
Help Customers Maintain a Healthy Workspace and Workforce to Continue Business as Usual
GreatAmerica
GreatAmerica is the largest independent, family-owned national commercial equipment finance company in the U.S. and is dedicated to helping manufacturers, vendors, and dealers be more successful and keep their customers for a lifetime. A $2.4 Billion company, GreatAmerica was established in Cedar Rapids, Iowa in 1992 and has a staff of over 600 employees with offices in Iowa, Georgia, Minnesota, and Illinois. In addition to financing, GreatAmerica offers innovative non-financial services to help our customers grow. www.greatamerica.com