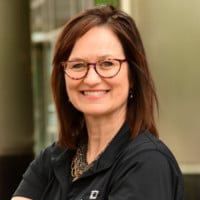 ---
Top 2 Reasons People Aren't Doing Business With You!
You have a great business; an entire suite of innovative office technology products and services and a team of rock star employees. Why wouldn't people want to do business with you? This topic came up at a recent sales meeting I attended. (If you're anxious for the answer sooner than later, it's in the section "BASE of the New Sales Funnel" below.)
GreatAmerica held its annual National Sales Meeting last month, and we invited Meridith Elliott Powell to speak about the new sales techniques and strategies designed for a different type of customer in today's shifting economy.
Meridith set the stage by saying our current economy isn't up, isn't down…it's just different. We have moved out of a push economy and into a pull economy. This means the customer has moved into a control position —they have all the power. Your next customer is already researching what they want to buy, and they're going to buy it online instead of the store they drive by on the way home. This requires a different set of selling strategies.
She argued that for the above reasons, the traditional Y-shaped sales funnel has changed to a more hour-glass shaped one that will increase the overall flow of business. The "New" Sales Funnel looks like this
Top: Focus/Connection/Trust: Get above the white noise and build our reputation.

Neck: Add Value/Experience: Slow it down and build relationships. You need to allow them to like you. They are buying a relationship.

Base: Relationship/Results: This is where our customers trust us and are looking for value. You should be checking in with existing customers. Either get new business from them or check in.
TOP of the New Sales Funnel:
For starters, we need to attract the business before we ask for the business. Proactively create buzz with existing customers and prospects in this phase of the sales funnel. Give your customers and prospects a reason to choose YOU. Give them that WOW factor. We can do this in small, but impactful ways. Meridith gave an example of a financial investor that sends thank-you notes to customers when he wins top salesperson.
We must be constantly dripping information to our prospects/customers. Contacting them regularly with meaningful, valuable communications builds trust and professionalism and keeps you top of mind. Prospects are out there researching before they even contact you, so make sure you are also online and visible.
Why it's important to regularly drip information to prospects/customers:
In a good economy: 0 touches (if it's really good – the prospects are calling YOU)

In a bad economy: 16-20 touches to convert a prospect to a customer

In a shifting economy: UNKNOWN, maybe more, maybe less?
How many touches are you providing to your prospects/customers? And how many times do you contact them without giving up? You might be giving up before you even had a chance!
NECK of the New Sales Funnel:
By now we have closed the first sale. Connection is a powerful step in sales where an emotional exchange occurs. This is when the customer decides whether this is a one-time connection or if they are in it for the long term. This is also where we need to slow down, create an amazing experience and ask questions. If we ask good questions, customers will tell us exactly what they want, what they need and the order in which they want it. When we listen, it sends the message that the relationship is about them. We must be authentic and invest in our customers before we ask them to invest in us.
For more detail on matching with your customers on Pace and Priority, visit our GreatAmerica Unified Communications & IT business unit's blog.
BASE of the New Sales Funnel:
At this point, you've invested a lot of time and energy into the customer. This is where our customers love us and trust us. However, once people trust you, they are looking for more value. Value is different for each person.
The top two reasons people aren't doing business with you? 1) People don't know what you have to offer and 2) You didn't ask. Fully 80% of customers will purchase something from a competitor that you already offer and will be satisfied. They do so because it was the path of least resistance. You need to be asking your customers questions and communicating with them regularly. Why do we ask customers questions? To understand their needs! It's not the customer's responsibility to find out what you are offering.
This is why follow up and follow through are so critical. How do you stay visible without being annoying? We need to continue to build our relationships and add value. There are subtle ways to keep in touch without asking for business. Click here for Meridith Elliot Powell's 16 Ways to Stay Connected without Being Annoying.
The economy has changed and so has the way our prospects and customers buy. Let's take a lesson from the sales book of Meridith Elliot Powell and consider a new sales funnel and sales approach!
Josie Heskje
Josie Heskje is Director, Strategic Marketing for the Office Equipment Group at GreatAmerica Financial Services. Using over 20 years of marketing experience, she helps guide the strategic marketing direction of the Office Equipment Group, and is responsible for the marketing and public relations planning and execution for the business unit. She is the current Marketing & Communications Chair of the Managed Print Services Association (MPSA) and was awarded a 2018 Global MPSA MPS Leadership Award for "Outstanding MPS Contribution" for an individual. She was also named an industry "Difference Maker" in ENX Magazine in both 2015 and 2017.