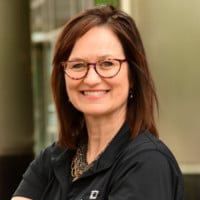 ---
On International Women's Day: Lessons from GreatAmerica Leaders
Most agree that diversity in the workplace is a smart business decision. According to McKinsey, Research shows company profits and share performance can be nearly 50% higher when women are well represented at the executive level. March 8th is International Women's Day, and we asked some of our own leaders to provide perspective for young women business professionals, sharing their successes and offering advice to the future generations. Please help us celebrate by continuing to foster the bright light that shines when ALL people are valued, supported, and treated equally in our midst.

What is something you've learned over time that has become important to your success as a leader?
Jennie Fisher: Don't fall back on your gender as a reason not to excel in any way. I think women are often intimidated by men when they shouldn't be. Believe in yourself and be confident! If you think you can, or you think you can't – you are right! Surround yourself with positive, intelligent people – male or female – and embrace the opportunity to learn from them. And don't be afraid to show your passion – passion is energy! Power comes from focusing on what excites you.
Tawnya Stone: The most important thing as a leader is to have a strong self-awareness of who you are, the areas where you excel, and the things you need to improve. Admitting the good with the bad can sometimes be uncomfortable—but once you know, you can use each to maximize your impact. Recognizing your strengths and utilizing them as tools will create positive outcomes, ultimately helping you achieve greater success. Your weaknesses will probably never become one of your strengths. However, once you identify them, you can take steps to ensure that they do not become blind spots that prevent your success.
Stephanie Severin: Surround yourself with mentors and people in your life whom you trust and who are willing to be brutally honest with you about the specific areas you are striving to improve on as a leader. Getting immediate feedback when I do well or fall short and hearing even the hard things from people who have my best interest at heart have helped me continue to stretch myself and grow into the leader I want to be.
Lisa Lefebure: A piece of advice that I would like to share is "You cannot do everything on your own". As a young ambitious woman this is often a hard lesson to learn, but here are a few things to ponder on around this phrase:
The word "everything"

–

A

n

honest evaluation of what is important to you, your values, and the life you want to live will help you make decisions

about

how to spend your time. You cannot be all things to all people

. Decide

what are you going to be exceptionally good at and where you want to invest your most valuable resource of time

.

The phrase "on your own"

- You won't get to where you want to go if don't participate in someone else's

growt

h

.

D

elegat

e

for development,

don't

be a martyr

, and

surround yourself with individuals invested in

your

success.

Ask yourself, who

is on your "personal board of directors

?

"

Who

will

provide you honest and direct feedback, be there during the hard times, and celebrate your wins?
Heather Friedman: It is better to listen than to speak. Even better is training yourself to listen to understand, rather than listening to respond. Listening seems so innate and easy but active, engaged listening is a skill that can diffuse tense situations, demonstrate empathy, and help you gain insights beyond the spoken word. It shows people you are genuinely interested in their stories, thoughts, and perspectives. It's also the best possible way to learn something new!
Renae Kinney: I have learned to focus on the things I can control and maintain a positive outlook. Influencing others starts with the areas within your control. A good work ethic, solution-oriented attitude, and the ability to drive results are things I can control and provide leadership from any role, regardless of title. I believe when our mood is positive that we are smarter and more motivated which leads to more success. Expecting positive outcomes by staying optimistic in challenging situations makes it more likely you'll reach the desired result. A reasonable, realistic, healthy sense of optimism allows us to think of ideas and opportunities that will help us be more productive, effective, and successful in all facets of life. The more you focus on the things you can control and maintain an optimistic outlook, the more your influence will naturally grow.
Lindsay Bohon: One of the most important things I have learned over time is to be willing to take a purposeful pause. When I have found myself in an emotionally charged situation and responded with a knee jerk reaction, I admit hindsight proved I could have handled the situation differently. Pausing in the moment of an emotional situation, positive or negative, is a hard but a valuable skill. When you find yourself in a conversation or situation, where you feel anxious, upset, excited, or afraid…pause. Take a breath, a purposeful pause, and then respond. Admittedly, I still react too swiftly sometimes. A purposeful pause takes practice, but when done well, you will yield far better outcomes than the alternative. Always have high standards for yourself and be willing to pause to allow for grace and gratitude to strengthen you in any given situation.
Michelle Halverson: In my experience, a key to success has been genuinely focusing on my audience—whether one person or a group—and empowering them with the knowledge to make good decisions and succeed in their endeavors. This includes identifying their level of understanding of the matter we are discussing, providing the right balance of information to them (and at the appropriate times), responding to questions in a way that they will understand me, and helping them understand why something should matter to them. This doesn't mean that you shouldn't have standards for the audiences' role in discussions. Rather, if you are genuine in your desire to help others, and you focus on what clear communication is for that particular audience, the more success I believe you will have in your own career.
Who is your favorite female author and why?
Jennie Fisher: One of my favorite female authors for pleasure reading is Jodi Picoult. While I prefer non-fiction reads, Picoult writes popular fiction that covers a wide range of controversial and moral issues that can be very thought provoking.
Tawnya Stone: My favorite female author is Kristin Hannah. She has written both historical and contemporary fiction, with the perfect amount of detail, making me truly feel a part of the story. Her main characters tend to be strong women faced with difficult decisions where there is not always a clear right or wrong. Stepping into their shoes and their struggles shows that even in the toughest circumstances—it is possible to prevail.
Stephanie Severin: Throughout my adolescence, particularly as one of the only individuals in my cohort group with divorced parents, the books of Judy Blume made the thoughts and feelings that I was experiencing seem less confusing. She was often the only person sharing information with me about complex subjects such as body image and family conflict. I remember my father giving me Are You There, God? It's Me, Margaret, and how reading it made me feel as if I had found a valuable new friend.
Lisa Lefebure: My favorite female author is Brene Brown. Her books Rising Strong and Daring Greatly were transformational for me both personally and professionally. Her vulnerability, strong stories, examples and research all come together into books that provoke a level of deep thought and personal evaluation through periods of adversity or growth.
Heather Friedman: Brene Brown is my favorite author because she takes an academic and very human approach to leadership. Her work is relatable, data-driven and vulnerable. She encourages others to become comfortable with discomfort and to embrace tough conversations and situations to move forward and learn.
Who inspires you and why?
Tawnya Stone: My parents are my greatest inspiration—but not for typical reasons. Like many others—they provided for me, supported me, and pushed me. However, it was the way they have dealt with a lifetime of adversity, putting everyone else's needs above their own, that truly inspires me. Displaying more of these qualities could benefit our entire society.
Stephanie Severin: I have always found inspiration from Ruth Bader Ginsburg. I love how she courageously stood her ground to battle tirelessly on behalf of those she perceived to be marginalized by society's norms. I admire her analytical and verbal skills and her ability to do push-ups. She persevered to change the world and make it a better place. She truly believed that "We the People" should apply to everyone.
Lisa Lefebure: In honor of International Women's Day, I want to focus on three women who inspire me. First, Santhi Hejeebu, Professor of Economics & Business at Cornell College who saw something more in me than I saw in myself and pushed me to reach my potential. She inspires me to do the same for others.
Second, Laura Sanchez Greenberg, Managing Partner at Verde Associates, inspires me because of her supreme commitment to her craft and dedication to her skill development as a thought leader in the fields of Organization Development, Leadership and Executive Coaching.
And finally, my mother Kris Lefebure. She inspires me by her selfless investment in the success of our family and constant encouragement to be a strong, confident woman.
Heather Friedman: As a professional woman, seeking out mentors has been the key to my success. Someone you admire in business, in volunteerism, in just being a good human, can be a mentor. I believe that every single person I encounter knows something I don't and therefore has the ability to teach me something new. Surrounding myself with inspiring people has not only been encouraging through every season of my life but has helped me to learn to appreciate different perspectives.
Lindsay Bohon: I am certainly inspired by many leaders, mentors, and various people that have crossed my path over the years. Each have impacted me in specific ways at specific points in time. However; who truly inspires me on a consistent basis, is our two teenage sons. Blake and Dylan each have unique qualities that my husband and I find both frustrating and admirable at the same time! All joking aside, witnessing their diverse responses and approaches to life challenges over the years, they have demonstrated innocent resilience and unending curiosity. These two qualities push me to look at and respond to situations from different angles. Their reactions, questions, and perspectives are often polar opposite to a given circumstance, which encourages and constantly pushes me to pause and be open to diverse thought processes. Everything I do, personally and professionally, is in the aspiration to be a better person and example for them, and I learn from them often. I'm truly thankful for this gift in life.
---
Prior to 2020, research on Women in the Workplace showed that women and men left their workplaces at similar rates. That has changed since the onset of the COVID-19 crisis. In fact, as many as two million women are considering exiting the workforce, likely due to the responsibility they feel to their home life and loved ones during a difficult time. If this trend continues, we will end up with fewer women in leadership or on the path to leadership. But what can we do about it?
We believe in highlighting the achievements and perspectives of our women leaders. By encouraging mentorships, sharing stories, and providing opportunities, GreatAmerica illustrates our commitment to women in the workforce. We hope you are inspired to do the same.
Josie Heskje
Josie Heskje is Director, Strategic Marketing for the Office Equipment Group at GreatAmerica Financial Services. Using over 20 years of marketing experience, she helps guide the strategic marketing direction of the Office Equipment Group, and is responsible for the marketing and public relations planning and execution for the business unit. She is the former Marketing & Communications Chair of the Managed Print Services Association (MPSA) (and current committee member) and was awarded a 2018 Global MPSA MPS Leadership Award for "Outstanding MPS Contribution" for an individual. She was also named an industry "Difference Maker" in ENX Magazine in both 2015 and 2017.