---
Servicer News Vol. 31 Winter 2022
Solar Industry Update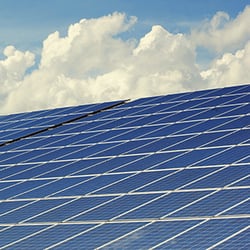 The solar industry had a very strong year. Installed capacity is projected to close with a 33% year over year increase. Our clients have also enjoyed considerable growth within their portfolios with very few charge-offs and lower delinquency – much lower than last year's pandemic performance. Despite the ongoing pandemic, the solar industry showed continued growth. For 2022, there is no consensus of a purported 25% year over year decrease in growth. The lower projections are driven by supply chain constraints and rising materials and labor costs. Conversely, the Build Back Better Act could influence a better outlook. If approved, the bill would also extend the Investment Tax Credit and be a major stimulant for longer term growth within the solar industry.
We have also seen an influx of new capital chasing solar opportunities, proving there's appetite and capacity to lend against solar portfolios. Our backup servicing team has been active supporting this capital activity as most facilities require contingent servicer protection. Our clients have not been impacted too much by some of the mergers and new entrants into the space. Their antennas remain on high alert, closely watching the "new players!" Our "loan" and "lease/ppa" clients continue to thrive with very strong years. The new year is expected to be even more promising for our "lease/ppa" clients than our "loan" clients…mostly driven by competitive pressures and energy costs.
Internally, GPSG continues to invest in operational improvements focused on customer experience, reporting, and compliance. Our customer service reps benefit from system enhancements, training, and client awareness enabling them to deliver a high level of service to our clients' customers on every interaction. Ongoing compliance training and awareness is also engrained into our service delivery. On the reporting side, we continue to enhance our ability to integrate with our client data environments. The concept being that our daily data deliverables can be combined with client-provided data for a 360-degree view of their internal needs and controls. This is an important part of our "partnered" approach with all client relationships. Our commitment to the solar industry is unwavering as we continue our quest to be the outsourcer of choice within the industry.
---
Equipment Finance

We have been thoroughly impressed by the actions and results of our equipment finance clients this past year. Coming off last year's uncertainty, many were a bit wary of how 2021 would end. We are happy to report all our equipment finance clients have had tremendous portfolio growth and "unbelievable" portfolio performance. Frankly, this is not what we expected, and if we asked our clients specifically, they would say it was a pleasant surprise. The growth would have even been more impressive had there not been delayed equipment orders. The volume we booked onto our systems in the month of December on behalf of our clients was 4 times the volume from the prior year. The influx caught us a bit off guard, but our very capable booking team stayed into the late hours to ensure all our SLAs were met in getting deals activated onto our systems for our clients. Delinquency and charge-off levels for the portfolios we service on behalf of our clients are at record lows, attributed perhaps to the economic stimulus affect, strong credit underwriting activity, and a very disciplined collections strategy. Our GreatCollections tool, launched earlier in 2021, continues to deliver "great" value to our clients. It is an effective collections protocol that ensures all collection policies are followed and documented.
Many equipment finance companies continue to explore an outsourced servicing model, especially with new client activity being strong in 2021. We also have a promising funnel as we head into 2022. The pandemic has spurred more businesses to consider an outsourced model based on in-house software options and maintenance costs, limited resource availability and rising labor costs, and the desire to focus their time and effort on growing their business vs. contingency planning. GPSG stands ready to partner with those who wish to explore an outsourced servicing model. We are optimistic heading into 2022 that many more equipment finance companies will go the route of outsourcing their servicing platform. It is a proven concept.
---
"2021 – New Normal"
Although 2021 felt like we took a huge step towards "normalcy," there's mounting evidence of an emerging "new normal." Unfortunately, COVID is still a major challenge for the world and our thoughts and prayers are with those affected. In October, our Team held its first gathering in over 18 months…albeit outside. The feeling of camaraderie and togetherness was refreshing. Smaller Holiday parties were also celebrated in person within our Teams. We are currently providing flexibility for our Team to work from home if desired. Our expectation is in a two-week period, they will work from the corporate office 50% of the time or 5 days. There are no plans to change that arrangement in the foreseeable future. They are welcome to spend more time in the office if they desire. Team morale is strong, and our productivity levels remain high with this hybrid approach. Our focus on employee development and opportunity continues to be a long-term attraction for many of our employees. For our clients, our Team is as strong as it has ever been, and it is our mission to make sure this "new normal" continues to provide value-add servicing levels. From a business side, 2021 was a good year and each month seemed to be better than the last. December was outstanding from a volume perspective and felt about as close as possible to pre-COVID times. Many of our clients set funding records which meant GPSG did the same. In October we attended the ELFA Annual Conference in San Antonio and seeing many clients and industry friends felt like good old times! Although many of our client meetings remain virtual, there is discussion of future in-person meetings. Our clients' businesses are well-positioned heading into 2022 and we can hear the sense of relief and excitement in their voices. The "new normal" has caused them to adapt like all of us, but outside of equipment delivery delays, there seems to be few concerns.
At GPSG, we share the same excitement heading into 2022 – after using 2020 and 2021 to position ourselves for scalable growth, we are eager to meet the demands and expectations of our clients.
We close 2021 with gratitude to our clients and employees for the commitments and sacrifices necessary for success. We begin a promising new year that will continue to provide opportunities and growth in the "new normal." Welcome to 2022 - entering the New Year with excitement and a renewed spirt to overcome the continued challenges of COVID both personally and professionally. We wish you a very safe, happy, healthy, and prosperous 2022.
---
Operations Update
The leadership team introduced the "Operational Excellence" initiative in 2021 to be more efficient and effective in our functional operational processes. This initiative is a cultural process change that is ongoing–it is not a project that ends. Initially, each leader identifies one process within their functional responsibility and focuses on evaluating the process, making any immediate enhancements, and then attaching a metric to the process to begin tracking success from an efficiency and effectiveness perspective. The initial Operational Excellence Scorecard includes:
Backup servicing compliance: delivery and completion of reports
Booking new deals: accuracy and timeliness
Cash applications: lockbox receipts applied timely
Customer Service Call: % of calls handled timely
GreatCollections: % of adherence to collections protocol
Client billing and invoicing: accuracy and timeliness
Ongoing, we will add functional capabilities to the scorecard, prioritized by client impact and value. The leadership team will have monthly reviews of the scorecard with their respective teams. On a quarterly basis, the leadership team meets to discuss additional scorecard entries. The goal is to improve capability processes…ultimately, we would like to enhance our employee bonus structure to include more of the scorecard. Continual focus on Operational Excellence will result in a better operational platform for GPSG which will in turn provide measurable value for our clients.
---
Employee Spotlight

Aaron Koth
Aaron celebrated his 20th year with GreatAmerica in 2021. Throughout his years of experience in portfolio management, he has enjoyed being part of a strong team and helping customers. "Resolving collections problems takes a great deal of time and close communication with customers, which gives me a real feeling of satisfaction," said Aaron. When not busy providing the GreatAmerica Experience, Aaron enjoys achieving bogeys in his golf game and spending time with his two children and dog.
---
WOW! Awards
The WOW! Award is given to employees who uphold the GreatAmerica Experience and have been recognized by a customer for exceptional engagement, innovation, and service. Here are recent examples:
Jacquie Pina



Not one but two customers were singing praises for Jacquie: "Jacquie has helped me numerous times over the past few years. SHE'S TRULY AWESOME! She handled my calls with great customer service, professionalism and sincerity." And another said, "you have been so helpful and awesome every single time I have contacted you to help with anything related to my account – your customer service is above and beyond!"

Jordan Hawkins
Jordan assisted a client closing an account to which they responded, "I really appreciate how quickly you got back to me-- great customer service-- thanks again."
---
Industry Events
ELFA Equipment Management Conference & Exhibition

February 13-15, 2022

Tucson, AZ

February 24-25, 2022

Boston, MA

February 27- March 2, 2022

Las Vegas, NV

March 23-25, 2022

Newport Beach, CA

Solar Power Finance & Investment Summit

March 6-9, 2022

Scottsdale, AZ

IMN/ELFA Investors' Conference on Equipment Finance

March 24, 2022

New York, NY

ELFA 33rd National Funding Conference

April 12-14, 2022

Chicago, IL

May 11-13, 2022

Charlotte, NC

ELFA Credit & Collection Management Conference

June 6-8, 2022

San Antonio, TX
GreatAmerica
GreatAmerica is the largest independent, family-owned national commercial equipment finance company in the U.S. and is dedicated to helping manufacturers, vendors, and dealers be more successful and keep their customers for a lifetime. A $2.4 Billion company, GreatAmerica was established in Cedar Rapids, Iowa in 1992 and has a staff of over 600 employees with offices in Iowa, Georgia, Minnesota, and Illinois. In addition to financing, GreatAmerica offers innovative non-financial services to help our customers grow. www.greatamerica.com