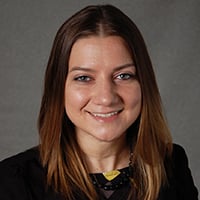 ---
Be a Unique Cornflake: a Strong Brand Cures Indecision
It's an age-old business question – when your products and services are all the same, how do you create separation between you and your competitors?
Almost every night, my husband has a bowl of cereal, and I frequently join in. A trip down the cereal aisle is always part of a grocery store visit. Most of you know how long and overwhelming the cereal aisle can be with boxes upon boxes selling minute variations of the cornflake. I think they're all the same and I quickly lose interest. How do I decide which box to grab? Usually, I just stick with the brand I know because it's familiar, easy, and involves zero risk.
But I occasionally branch out to try something different. This typically happens when someone recommends a new awesome cereal. Maybe they said it's the most delicious cornflake ever or that it has tons of health benefits. If someone I know has gone out of their way to tell me how great a particular brand is, I'll give it a try. It's a prime example of brand strength and product quality.
So when your prospects must decide between you and your competitors, what goes into their decision when the products and services are essentially the same? What makes them willing to step outside their comfort zone, try something new and maybe leave an old brand?
The answer lies in how you brand your company and products. You have to be the cereal box that stands out, or your brand has to be strong enough to have an evangelist spread the word about how awesome your cereal is. As I experienced earlier, making your customers want to spread the word about how good and beneficial you are is the best differentiator.
You can increase the likelihood of gaining a brand evangelist by reflecting what is good about your company, and telling your story through testimonials, quotes, and reviews. Share them on your website, social media, or better yet, get your customers to share them in their own venues. Getting the conversation started makes it more likely to be carried on and brought up again.
Stephanie Ragsdale
Stephanie Ragsdale is the Marketing Specialist for the Unified Communications & IT Group at GreatAmerica Financial Services located in Cedar Rapids, Iowa. She provides creative marketing support and helps build brand awareness. Stephanie started her career at GreatAmerica in 2014 when she joined the tax department. Prior to joining GreatAmerica, she designed billboards locally and received her B.B.A degree in Business Marketing and her B.F.A degree in Graphic Design from the University of Iowa.