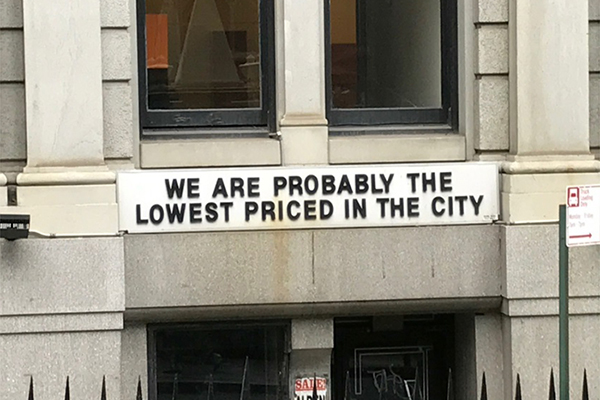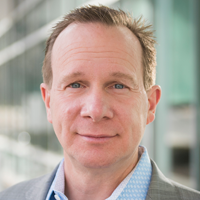 ---
Is Your Service a Commodity?
I'm a huge history buff, so when I was in Manhattan this summer, I couldn't pass up the opportunity to visit Alexander and Eliza Hamilton's grave at Trinity Church.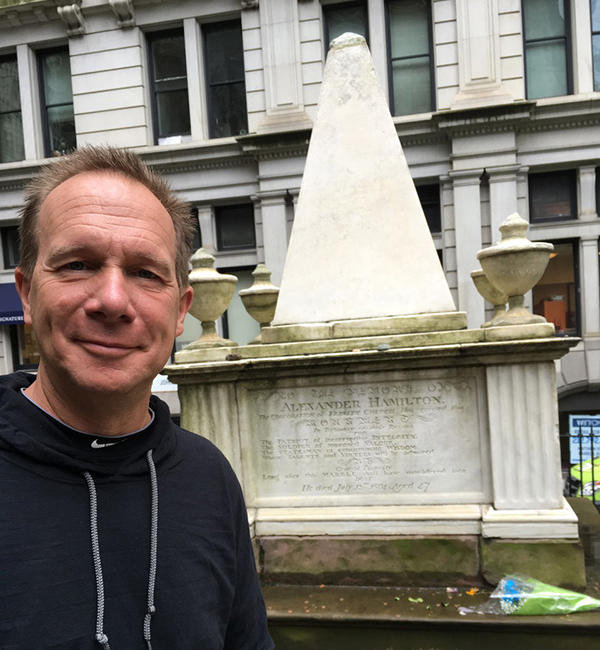 What I didn't expect was a loud announcement printed on the side of a building directly behind the tomb reading: WE ARE PROBABLY THE LOWEST PRICED IN THE CITY.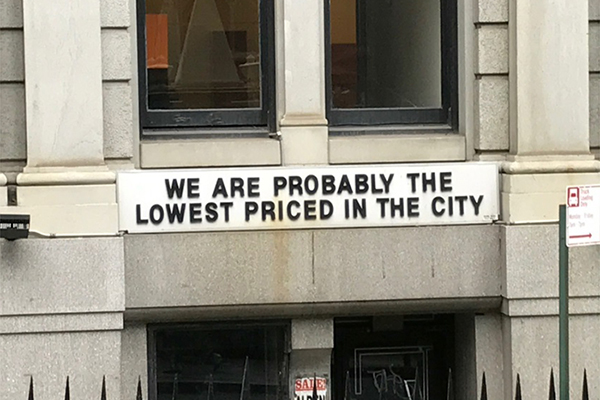 That statement really got me thinking about which businesses the low cost model works for and which ones it doesn't. For example, many retail empires were built on providing low-cost goods to consumers. Today's largest grocery retail chain, Walmart, was built on a similar strategy: a variety of goods, purchased in volume with the savings being passed onto the consumer.
How is Walmart able to make the low-cost model work? I think you can boil down their success to a combination of these three factors:
Walmart is able to buy in scale. These big retailers negotiate with distributors and manufacturers to drive down the cost to acquire those products. Do you buy as low as CDW buys?
Lower employment costs. Walmart is able to run its business with a lot of part-time employees. Between cashiers, warehouse and stocking employees they are hiring people for less than 40 hours a week. That drives down the costs for other benefits as well that would be afforded to full time employees. Could you run your NOC and service desk on part-time employees and retirees?
No frills. Walmart does an excellent job at keeping products stocked on their shelves, introducing a variety of brands and offering the products at low prices. They don't offer a staff butcher, nutritionist, or grocery baggers. They also don't publish a nutrition magazine, (yes, our higher-end grocery store does this) offer a specialty-foods section or dozens of friendly attendants trained to escort you about the store. Can you make money selling a no-frills offering?
This just isn't a model that works for any business, yet many (like the NYC shoe store) still attempt to compete on price. That automatically makes you a commodity…so are you a commodity? Do you want to be a commodity?
Successful MSP's should function as boutique providers. Being 'boutique' means that you are a highly customer-centric company focused on specialized services, which comes at a premium price. I was recently listening to a webinar where Paul Dippell from Service Leadership said "if you are an MSP and you are under $100 million in revenue, you are a boutique provider". Low price and high quality managed services don't go together. There is a lot riding on you doing a good job for your customers and that is worth a premium. Your customers deserve better and so do you. Don't be the company that says we are "probably the lowest price in the city".
Greg VanDeWalker
Greg VanDeWalker, Senior Vice President, IT Channel and Services, is responsible for strategic vision and performance for the IT and Unified Communication financing business units as well as Collabrance LLC, the GreatAmerica master managed services provider. Prior to joining GreatAmerica in 2003, Greg was General Manager for the transportation division of US Bancorp in Denver, Colorado. He began his leasing career in 1991 with Business Credit Leasing (BCL) in sales and sales management. Prior to BCL, Greg was a tax accountant for Arthur Andersen & Company. Greg has served as Chair of the inaugural Managed Print Services Community of CompTIA, and on various advisory boards in the IT, Telephony and Office Equipment channels. Visit www.greatamerica.com for company information or contact Greg directly at GVanDeWalker@greatamerica.com.