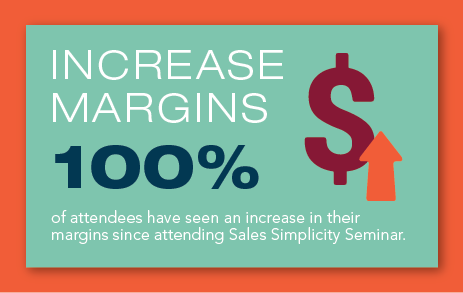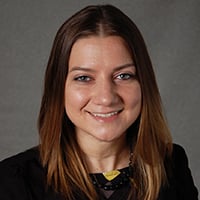 ---
The Sales Training Attendees Say Increases Margin
Sales Simplicity Seminars are back for 2018! The training claims to introduce a proven sales process to help sell more profitable Managed Services. Recently, past seminar attendees shared their results in a survey.
One statistic stood out among the rest: 100% of those surveyed saw an increase in their margins after attending a Sales Simplicity Seminar. So how does this sales training increase margins for attendees across the board?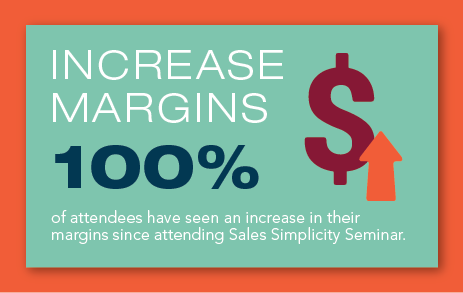 Offering an As-A-Service model with monthly payments increases margins for a number of reasons. Primarily, your customers are less likely to price shop with monthly payments. When they see a cash price they start chopping at your solution to lower the cost. On the other hand, when customers receive an As-A-Service quote, they leave your proposal intact and are more likely to accept optional hardware or features. This is because increasing the monthly payment by $50/month is an easier pill to swallow than increasing the total price by a few grand.
Yet none of these benefits do you any good if you can't sell an As-A-Service plan and can only make one-time cash sales instead. That's where the Sales Simplicity Seminar comes in. It teaches you how to sell Everything-as-a-Service through a proven sales process.
Previous attendee Dave Gleason with SDG Technology Group said, "Sales Simplicity Seminar is a down-to-earth and practical training that can be implemented and replicated quickly."
The course is taught by Alex Roger, CEO of Chartec. Alex has personal selling experience from developing his own successful MSP and adapted his sales training specifically for technology providers.
"The primary difference I noticed right away is that Alex practices what he teaches," said Kris Gassman of Right! Systems Inc. "A lot of sales trainings are taught by people who read books but haven't actually sold anything to real customers. Not Alex, and he only teaches what works."
Do you have a hard time selling your customers on a monthly payment plan? If you're ready to focus on an As-A-Service model for faster close times and higher margins, then this is the training for you.
Related Resources
Sales Simplicity Seminar Information and Registration
Stephanie Ragsdale
Stephanie Ragsdale is the Marketing Specialist for the Unified Communications & IT Group at GreatAmerica Financial Services located in Cedar Rapids, Iowa. She provides creative marketing support and helps build brand awareness. Stephanie started her career at GreatAmerica in 2014 when she joined the tax department. Prior to joining GreatAmerica, she designed billboards locally and received her B.B.A degree in Business Marketing and her B.F.A degree in Graphic Design from the University of Iowa.