Updated on 9/2/2021. Originally posted 3/2/2017.
College students want to land a worthwhile internship, but field-related experience is only half of what defines a summer well-spent. Seven students who won internships at GreatAmerica this summer share their experience and perspective.
This team applied for internship positions at GreatAmerica looking to gain corporate experience within the sales, marketing, and legal functions. There were several other options available - credit, tax, and finance to name a few but we each applied for internships that most closely aligned with the majors we were each pursuing. What we found during our 10 weeks was more than just experience for our resumes – it was the foundation for a gold standard within our professional careers. We all agreed that GreatAmerica was really what they promised to be.
As college students, it's safe to say we weren't concerned with descriptions of a company's culture when perusing LinkedIn. What we didn't understand at the time was that GreatAmerica was different from other businesses: from the newest (and youngest) employees to the most tenured, it's clear that GreatAmerica's success is rooted in their culture.
Their approach to internships is no different. In all, we were given an experience that cements GreatAmerica's lessons in impactful coaching, mentorship, hard work, and fun. We wanted to share what made this internship special.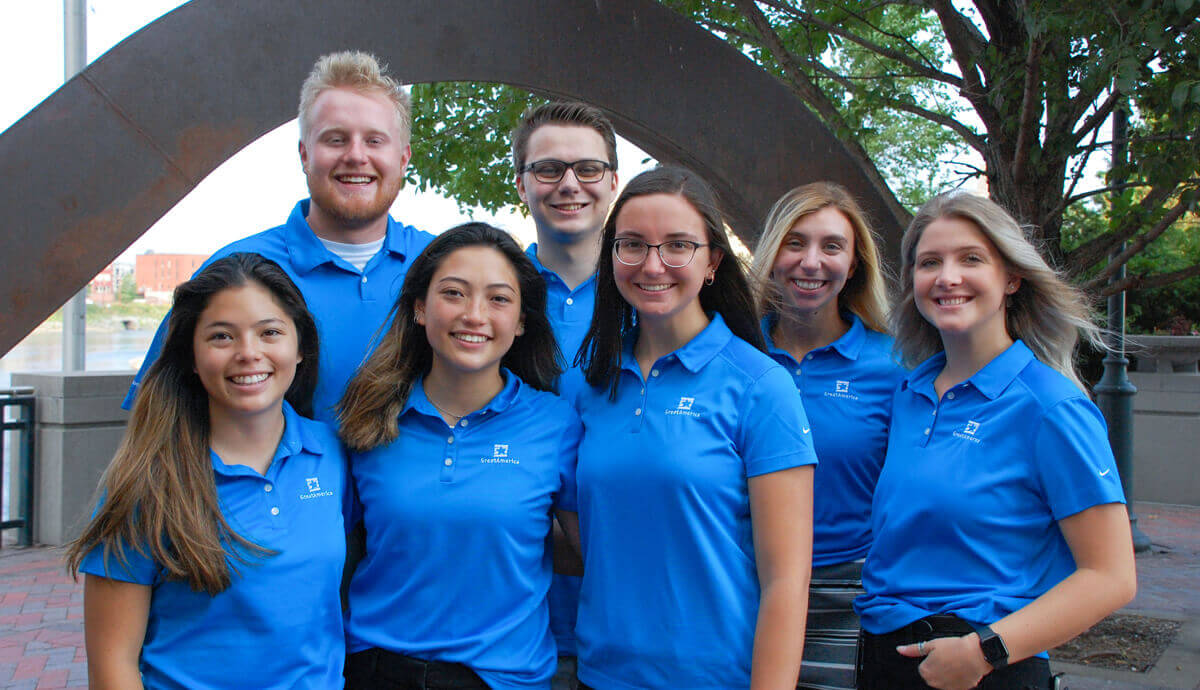 2021 Interns at GreatAmerica: Alexis Soukup, Cole Wright, Kloe Soukup, Logan Lindbloom, Kate Burns, Sylvia Clubb and Kenadee Dekko.
Provide opportunities for questions and learning
In an education-based experience like this, it's vital that interns are encouraged to ask questions. Often, some of our best questions started with, "Why?"
Our intern team had little to no knowledge or experience in financing. No matter who we were talking to, they set their own work aside to help us better understand the business or task at hand. This simple act made all the difference in immersing us in the GreatAmerica experience.
Create breathing room
It may be easy to think of your interns as "wet behind the ears." However, we're also young professionals who crave the opportunity to prove our own abilities. GreatAmerica never held us too close – we created our own work plans, had our own workspaces, and were given space to make projects our own. This more closely mirrors genuine boss–employee relations.
Never fear! We knew our leaders were close by and ready to lend a hand when we needed it. However, the autonomy given to us made the experience more rewarding – GreatAmerica trusts their interns to do their job!
Even more so, GreatAmerica holds their interns to the same expectations as full-time employees. GreatAmerica immersed us into new hire onboarding training, giving us the opportunity to learn directly about professional communication and workplace interactions.
Take time to understand your interns' specific interests
Our intern team is made up of seven unique individuals that approached this opportunity with different goals in mind. From one-on-ones to team lunches, each leader took the time to understand our personal and professional goals and how they could help us along that path. We were all given unique projects and opportunities that fit our interests.
Additionally, our leaders learned to understand how our group worked as a team. They helped us leverage each other's strengths to create a cohesive group unit that we wouldn't have been able to construct ourselves. All our leaders worked cross-functionally to help us understand our peers' talents. Our team mirrored realistic office life.
Build a long-term mindset
Our intern capstone project culminated in a product that will be used internally throughout the entire business. From the beginning of this project, it was made clear to us that our success equals success for all of GreatAmerica. We became invested not only in our individual contributions, but how those contributions made an impact on our team and our company and ultimately, our customers. We prided ourselves on contributing to their reputation of excellence.
Make your values clear
From hellos in the elevator to questions at our final presentation, we knew GreatAmerica valued our presence and outlook as much as any other employee. The level of respect we received cemented GreatAmerica's culture in our minds.
GreatAmerica created a workplace that champions personal and professional development, friendships, and fun. Day in and out, we were surrounded by positive and influential individuals who truly enjoy coming to work. Environment truly is everything: we agreed that GreatAmerica's shared mindset made us more positive and motivated individuals.
Together, we developed lasting skills we will carry into every future professional venture. GreatAmerica provided growth opportunities that will not only make us more desirable candidates, but better coworkers.
Interns At-A-Glance
Kate Burns is a first-year student at The University of Iowa studying Marketing and Journalism. She is continuing a project-based internship with GreatAmerica this school year.
Sylvia Clubb is a fourth-year student at The University of Iowa studying Journalism and English. She continues to produce content for GreatAmerica throughout the school year.
Kenadee Dekko is a fourth-year student at The University of Iowa studying Enterprise Leadership, graduating in December 2021. She will continue to work for GreatAmerica post-graduation.
Logan Lindbloom is a fourth-year student at Iowa State University studying Marketing. Logan is continuing his sales internship for GreatAmerica during the school year.
Alexis Soukup is a first-year student at The University of Iowa College of Law. She graduated in May of 2021 from the University of Iowa with degrees in Political Science and Philosophy. Alexis worked as a legal intern this summer at GreatAmerica.
Kloe Soukup worked as a marketing intern this summer for GreatAmerica. After the completion of her internship, Kloe accepted a role as a Sales and Operations Support Specialist.
Cole Wright is a fourth-year student at The University of Iowa studying Marketing. Cole is continuing his sales internship for GreatAmerica during the school year.
GreatAmerica
GreatAmerica is the largest independent, family-owned national commercial equipment finance company in the U.S. and is dedicated to helping manufacturers, vendors, and dealers be more successful and keep their customers for a lifetime. A $2.4 Billion company, GreatAmerica was established in Cedar Rapids, Iowa in 1992 and has a staff of over 600 employees with offices in Iowa, Georgia, Minnesota, and Illinois. In addition to financing, GreatAmerica offers innovative non-financial services to help our customers grow. www.greatamerica.com