Updated 8/1/2022. Originally published in the August 2021 issue of ENX Magazine.
We can't ask ourselves how we return to normal without first addressing what normal looks like for each of our businesses.
With all that is thrown at your business, confronting your company culture may seem like a backburner topic. Yet, what if we told you clearly defining and maintaining your company culture and values was the key to successful business interactions?
At PathShare® HR Services, we define culture as the values, beliefs, and behaviors required to fit in and thrive in an organization. While some think of culture as the celebration team within your office or business, company culture is about accountability in an organization, discipline, and the internal communication required to help a business thrive.
Having a clear understanding of your company's culture ensures you are communicating your values effectively at all levels, recruiting and retaining the right employees, and working toward your company's short and long-term goals.
Focus on your vision: "Where are we going as an organization?" consider your strategy: "What are the plans we need to execute on?" and pair it with your culture: "How are our people going to help us get there?"
Culture either accelerates the implementation of your strategy and vision or slows down or stops its execution.
Defining Your Culture
The past two years provided a great time for organizations to test their culture - to take a step back and ask, "What culture is needed to help our business and team members thrive?" For some, this means validating and confirming your current values. For others, it means updating the values needed to reach your goals.
We advise businesses who are defining their culture to take a look at their star employees. These are your very best team members – those who are culturally aligned with your organization. If you could hire 100 of them, you would tomorrow.
Those employees are the key to understanding what your company culture is organically and how you can share that culture with other employees who may not feel a strong affinity toward your company.
Discern the behaviors those employees practice in their daily work. Start by writing them on sticky notes and group like behaviors together. Define the values those behaviors emulate. Write them on a whiteboard - make them a visual entity you can absorb as you work on defining your culture.
Those values make a significant impact on your business' operations. If you were to have every employee live those values, think of the impact you could have on every part of the organization.
Leading with Intentionality
When PathShare visited with clients over the past eighteen months, we found the most successful organizations featured senior leaders who were proactive in addressing the pandemic and what that meant for the business. Constant, consistent, and transparent communication provided to team members helped establish guidelines and expectations without limiting company growth opportunities.
Related: The GreatAmerica Ops Review: How Transparency Shapes Our Culture

Additionally, those leaders were open and honest with their team members and worked to support them occupationally and personally through the pandemic. Asking, "How can I better support you?" shows care and opens the lines of communication for honest feedback and happier employees.
Culture is not about the "woo" factor; it is about cultivating opportunities to celebrate and recognize contributions to your business's success. Sometimes, that means creating a fun environment that allows your employees to celebrate and connect with each other. Other times, it means connecting with your team members to work through challenges facing your business. Building an impactful culture involves all manners of business operations.
Turnover Tsunami
Employee turnover is expected to rise; the race for A-level candidates is competitive, and we're recovering from a global pandemic. Current employees and new hires look for companies with well-defined cultural initiatives, principles, and values. You can't recruit and retain employees without understanding how your company values and culture may impact their decision to join, and stay, on your team.
According to Roy Maurer for SHRM, US employees are about to enter a voluntary turnover "tsunami" at the end of the pandemic. Engagement, burnout, work-life balance, benefits, pay, promotions, and career changes are all cited as reasons employees elect to leave their current positions.
To combat the expected demand for employees we're about to experience, revisit and engage in conversations with those star employees. As a leader, conduct regular stay interviews with your employees. Invest time talking with your top performers before they can even think about leaving.
Retaining Top Players
As leaders, it's easy for us to spend our time with our "problem employees." we really want that focus to shift: think about connecting with your very best employees and cultivating that relationship. Are you asking them how they're doing? Are you asking them for advice on work assignments? Be mindful not to burn them out – what can you take off their plate?
When you receive feedback from your employees, act on it. In a survey conducted by Achievers Workforce Institute, only 16% of respondents reported their company leaders always respond to their solicited feedback. Simply asking for feedback won't improve your employee's relationship with leaders and your company – you must acknowledge those responses and examine how they could impact your company's culture and employee's work experience.
Cultivating a positive relationship with your best employees makes them feel valued and important in accomplishing your company's goals.
Additionally, employees look for more opportunities for regular public recognition. The Achievers survey found 74% of respondents wished they received more recognition for their work, while 80% of respondents stated a strong recognition culture makes a company more attractive. The best part is that recognition doesn't have to come with a high price tag. Name recognition during a team meeting is often enough to make employees feel seen and appreciated.
To gain feedback from current employees free from influence, conduct regular engagement surveys with a third-party. These conversations can reveal potential risk factors that would result in the loss of an employee. A third-party interviewer ensures the employee feels comfortable expressing their thoughts and feelings without fear of offending their direct manager or leader.
At the end of the day, if you're not actively recruiting your very best people, you're the only one who isn't. Engage your star employees with your company to keep them motivated, happy, and excited to be working with you.
Related: To Win the Hiring War, Focus on Retention
---
Register for Our Upcoming Webinar
Retaining Top Talent for Future Success: Stay Interviews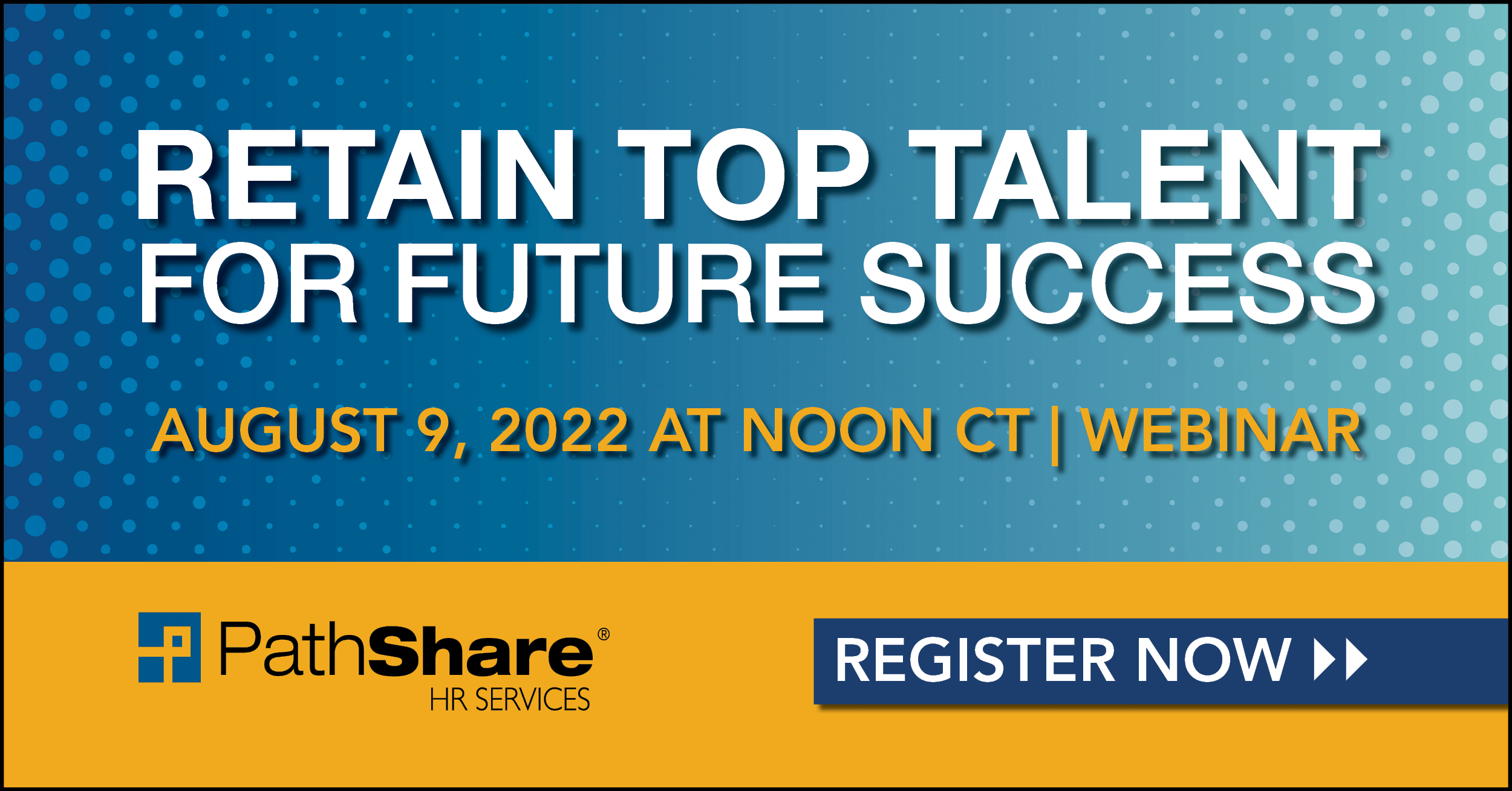 ---
Recruiting A-Level Candidates
It's easy to advertise your "great company culture" within a job listing. What's not so easy is staying true to your promises at each stage of your hiring process. Creating a clear picture of your company culture and values for candidates within the hiring process puts you another step ahead of the competition.
Finding great A-level candidates requires going beyond the branded social media job board posts; it requires reaching out to top talent at a personal level. Take the time to foster personal relationships with people who reflect your company values. (Remember your star employees? Ask for their recommendations for great candidates). Set up coffee meetings or quick phone calls periodically to lay the groundwork for a job when they're open to new opportunities.
Make the hiring process about the candidate. It's not about, "Are you worthy enough to apply for my company?" but rather, "Are we worthy of you looking at us?" Your conversations should reflect the good your company can do for a candidate.
Ask yourself, "Are we creating an experience during the interview process that helps people want to come on board?" Often, job interviews are a candidate's first direct exposure to the innerworkings of a company. Ensure your hiring process reflects positively on your company; create a meaningful interview process that focuses not only on a candidate's ability to perform a job, but also their fit within your company. We're living in a candidate's job market. Potential hires have the flexibility to turn down lengthy hiring processes and work environments they find undesirable. Create an intentional and expeditious hiring process by asking yourself three questions:
Does this candidate have the knowledge, skills, and ability to perform this role?

Does this candidate have the "will do" attitude, interest, and motivation to perform this role?

Is this candidate a good culture fit for our company? Do they align with our core values?
Prioritizing Culture
Placing your culture at the forefront of every business practice is the key to prolonged success. While you contemplate strategies for building a better business in a post-pandemic world, remember to reevaluate the effectiveness of your company's values and culture in your daily business interactions.
If you need help redefining or integrating your culture into your business practices, contact PathShare for help. Our unique approach examines your organization through seven culture levers to target each aspect of your business. To learn more about how we can help your business grow and succeed, visit our website.
The farther we travel from pre-pandemic practices determines our ability to bring our businesses into a post-pandemic world. Prioritizing culture, values, and the success of your current and future employees creates a path to victory for your company.
GreatAmerica
GreatAmerica is the largest independent, family-owned national commercial equipment finance company in the U.S. and is dedicated to helping manufacturers, vendors, and dealers be more successful and keep their customers for a lifetime. A $2.4 Billion company, GreatAmerica was established in Cedar Rapids, Iowa in 1992 and has a staff of over 600 employees with offices in Iowa, Georgia, Minnesota, and Illinois. In addition to financing, GreatAmerica offers innovative non-financial services to help our customers grow. www.greatamerica.com