---
Five Reasons Your Customer Resists Financing
Customers often choose financing because the option offers a predictable monthly payment for essential-use equipment – a payment that has been carefully selected to fit within their monthly operating budget. What's better than a full technology solution implementation at the cost of a convenient and affordable monthly payment over the course of several years? Perpetually obtaining new and advanced technology that is fully-supportable by you, the Service Provider.
Selling technology is not always easy – we understand the friction you may feel for a variety of reasons. In this blog, we want to prepare you to address five reasons your customer may show resistance when you introduce the term "financing" into the conversation.
RELATED: When Should I Introduce Financing in the Sales Process?
Resistance Reason #1: There are Hidden or Surprise Fees
While some finance companies regularly hide fees within their lease, this behavior is just something GreatAmerica does not believe in. As the Solution Provider, your role is to provide the best technology solution within your customer's budget – a budget that can be thrown off if a finance company slips in hidden fees. Though it varies from company-to-company, the fees your customer can expect throughout a lease could include the following:
Origination Fee
The origination fee is a fixed fee to cover costs associated with reviewing and booking the transaction. On GreatAmerica documents, there is a section of the Terms and Conditions addressing this fee.
Interim Rent
Some leasing companies have a provision in their agreement that allows them to charge for the use of the equipment for the time period between the installation of the equipment and the commencement of the agreement. Depending on when the recurring due date is set, it can result in a large and unexpected cash outlay.
Late Fee
As with most bills, leases are subject to late fees. GreatAmerica offers the option for enrollment in recurring ACH, along with other flexible avenues. Similar to the origination fee, GreatAmerica clearly addresses what to expect when it comes to late fees in the Terms and Conditions of the agreement.
For more on fees associated with finance agreements, check out the blog, What Fees Should Your Customer Expect on Their Technology Lease?.
Resistance Reason #2: There are High or Unknown Residuals
Because there is no simple answer to exactly what happens at the end of a lease agreement, below is a blog that addresses, in detail, what your customer can expect for a variety of lease types.
RELATED: What Happens at the End of a Lease or Another Finance Agreement?
Equipment that is documented on a Fair Market Value, or FMV, lease has a lower payment over the term of the agreement because the equipment has residual value at the end of the 3-5 year term. If your customer may consider purchasing the equipment at the end of term, communicating with them on what they can expect for a residual will ensure they are not surprised at the end of term.
Resistance Reason #3: There is an Evergreen Clause
With Fair Market Value or rental leases, leasing companies may require a letter of intent (LOI) at a certain time prior to the end of the term that advises what the customer is intending on doing with the equipment. Some leasing companies will invoke an 'Evergreen Clause', where the agreement is automatically renewed for a set number of months (anywhere from 6 to upwards of 24 months) if the LOI is not received by a certain time. This locks your customer in to making additional payments beyond the initial term. It is important to identify whether the lease agreement calls for a month-to-month renewal or longer. If your customer is not comfortable with the renewal language, the solution is simple: communicate the intent prior to the terminating date.
Resistance Reason #4: It's a Long Credit Application Process
At the time your customer decides to acquire your solution, it likely means they are ready to move NOW. They (and you) don't want to embark on a seemingly endless underwriting process where you are both waiting days for a response. The good news is… our goal is to get the decision back to you within the hour. As for the information needed prior to our credit review, simply submit the customer's:
Business Name
Business Address
Business Phone Number
Technology Solution Being Considered
Total Project Cost and/or Total Monthly Spend
You can call or email your designated team to submit an application, or use one of the many technology integrations we support.
RELATED: The Finance Process in Seven Steps
Resistance Reason #5: I'll Be Stuck with Poor Customer Service
Unhelpful auto-attendants, endless hold times, and CSRs that can't be bothered – word travels fast on the internet, and your customer's tolerance for poor customer service is very low. At GreatAmerica, we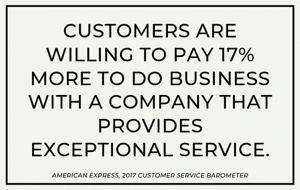 pride ourselves on outstanding customer service. Among the standards we hold for ourselves and each other are:
We answer the phone in two rings or less.
We provide one call resolution.
We do not have voicemail.
What does this mean for the GreatAmerica customer? This means a team member will pick up the phone and have a conversation with you OR your customer (the end user), feeling deeply determined to efficiently provide a solution, whatever it may be, and not quit until full satisfaction is reality.
The Key to Overcoming Resistance is Conversation
Talk about these topics. Educate your customer to ensure they feel comfortable, confident, and trustworthy of you and the solutions you are able to provide. GreatAmerica strives to provide resources such as this very blog in effort to further the education and end any stigmas around financing. We strive to make the monthly payment option simple. If you are curious to learn more, or want to have a conversation around other pretenses you've experienced, get in touch with us. We are ready and willing to evolve with you!
GreatAmerica
GreatAmerica is the largest independent, family-owned national commercial equipment finance company in the U.S. and is dedicated to helping manufacturers, vendors, and dealers be more successful and keep their customers for a lifetime. A $2.4 Billion company, GreatAmerica was established in Cedar Rapids, Iowa in 1992 and has a staff of over 600 employees with offices in Iowa, Georgia, Minnesota, and Illinois. In addition to financing, GreatAmerica offers innovative non-financial services to help our customers grow. www.greatamerica.com